---
Disclosure: This post contains affiliate links and we may receive a referral fee (at no extra cost to you) if you sign up or purchase products or services mentioned.
---
Beaches are prevalent throughout the country of Panama. Frommer's notes that there are over 1,000 on the Pacific side and more than 500 on the Caribbean side.
That's a lot of beaches in general, but a heckuva lot considering that the entire country of Panama is slightly smaller than the U.S. state of South Carolina! And with that many beaches comes a lot of Panama beach resorts.
In the province of Chiriquí where we live (that's where the cities of Boquete and David are located), there are a handful of beaches on the Pacific Ocean. Three popular Panama beach resorts in this province are Las Olas, Las Lajas, and Show Pony.
We've done the thankless job of spending a fair amount of time in all three of these Panama beach resorts. So now I can fill you in on the good and bad of each of them.
One note right off the rip though. It's so interesting to me that at all three of these beautiful beaches, they're empty… like truly empty.
Granted, we do make our trips during the week and I have heard they can be hopping on the weekends. But that wouldn't matter on the beaches in the U.S. – they're jam-packed pretty much all the time.
It's something that makes the beaches here even more wonderful!
Las Olas Beach Resort (Bonus: Las Brisas del Mar)
Playa La Barqueta (Barqueta Beach) is on the Pacific coast and is about a half-hour southwest of David or an hour and a half from Boquete. This makes it the closest beach for us living in Boquete.
It's interesting that you can drive an hour and a half and suddenly you go from 75 degrees to temps in the 90s. That's the best part of living in the mountains in Panama – beautiful temperature for walking around on a daily basis but only a hop, skip, and a jump away from beach weather!
At Playa La Barqueta we've stayed at both the Las Olas Beach Resort as well as a condo in Las Brisas del Mar. These two places are right next door to each other. We had a standard room at the resort and later stayed with a friend of ours from Boquete in the condo (we were her guests).
I'll break these down separately even though they're both the same beach. And I'm giving you info on Las Brisas del Mar since we've stayed there before even though it's not really a resort.
Las Olas Beach Resort
Our stay at Las Olas Beach Resort in February 2020 was different in general just because we decided to take the bus to get there. That made for its own adventure. We were also aiming to just take an inexpensive trip to the beach. We were successful at that and I discussed more of the details of our bus trips, the resort, and the beach in my post, A Beach Vacation Totaling $405? Yes, Please!
That idea of this place being less expensive is something they like to market as well. Their claim to fame that they tag in a bunch of places is that they were voted "The most affordable beach resort in the world" on Travel + Leisure.
I was curious about that though and did a little digging. The only mention I could find of that is that they were listed as one of the Best Affordable Beach Resorts… in 2011. It might be time to promote something a little more up-to-date, folks.
Overall, this was our least favorite of the Panama beach resorts. It's not that we didn't like it – we just liked it less than the others. We weren't very impressed with our stay there. It was ok and it was really just a place to sleep, but the room was definitely what we paid for and looked like it was unfinished – just 4 concrete walls.
The service was fine, the food was good (nothing outstanding), and the beers were cold. We had fun playing table tennis, but the pool was gross (grimy) so we didn't go in that at all.
The other problem is the ocean itself. That can't be controlled by the resort, of course, but Playa La Barqueta (Barqueta Beach) is known for its strong and regular rip currents. That means you don't want to swim in the ocean. You can go about knee deep, but that's about it – and even then you need to be careful. It's not unusual to hear about drownings happening on this beach.
That's a real downer and kind of a drain when you constantly have that on your mind, especially when you have a kid there. It's good to have a sense of awareness when playing in the ocean but if that's all you're thinking about the fun tends to dissipate.
There also didn't seem to be much in the way of seashells here either. Lisa and Faith enjoy looking for cool shells so this was another letdown.
So, we did a little bit of playing in the shallow part of the ocean, but we mostly played in the sand and did other activities. When I think of the ocean though, this isn't what's on my mind.
I feel like I beat this place up here, but that's not my intent. It's not a bad place at all – it's basically just a cheap place to stay near the ocean and it fits the bill. You get what you pay for and it's nice if that's what you want. But if you're weighing the pros and cons of different Panama beach resorts, you can find better places for just a little more money.
We paid about $175 (including tax) for our 2-night stay there in 2020. That cost is for the room only and doesn't include drinks, meals, etc.
Link to website: Las Olas Beach Resort
Las Brisas del Mar
Our second visit to Playa La Barqueta was in October 2021 as guests of our friend from Boquete. She and some other friends had rented a condo there for a few months and divided up the weeks. She invited us to stay with her there for a couple of nights during one of her weeks.
Though technically not a resort, it's hard to beat an invite for a stay at one of the Panama beaches for free!
So, even though we knew the ocean isn't safe for swimming, it still carries that ambiance we all love with the sound and sight of it. And we had a good time.
The condo was very nice and the community pool there was huge and warm (and no one in it!). We walked on the beach, played games, swam in the pool, and just had a fun few days.
Even without a restaurant on the premises (though we could have just walked to the Las Olas Resort if we wanted), we liked our stay here better than being at Las Olas Resort.
If swimming in the ocean isn't a big deal to you and you just enjoy laying out at the pool or beach and hearing and seeing the ocean, then staying at a condo like Las Brisas del Mar might be right up your alley!
I don't believe there's an all-encompassing site for the condos at Las Brisas del Mar. I think those can be found via Airbnb and other rental sites.
Las Lajas Beach Resort
Just a few weeks after our stay at Las Brisas del Mar in October 2021, we were already at another of the Panama beach resorts. This time we went to Las Lajas Beach Resort in Las Lajas. This trip was for a kid's birthday party and several families booked rooms there for it so that was fun.
Las Lajas is southeast of the city of David by about an hour and 20 minutes and is on the Pacific coast as well.
When looking at Panama beach resorts, Las Lajas Beach Resort is a big step up from Las Olas in my opinion. We had a standard room here and it was a little nicer than the one at Las Olas but still nothing fancy. The staff also seemed a little friendlier and the food was better.
One of the nicest parts about this resort is that you're right on the beach. All the other Panama beach resorts we're discussing are as well, but this one is absolutely the closest. You walk out of your room, go past the pool, and you're pretty much there… that's convenience!
And then there's the ocean… and we like this area of it! Warm water and nice medium-sized waves that are great for playing in! More importantly, rip currents aren't generally a concern here like they are at Playa La Barqueta where Las Olas is located.
For those who like to look for shells, they're much more abundant here than they are at Playa Barqueta as well.
In other words, Las Lajas takes the crown for the best beach and area of the ocean between the two locations.
An interesting note about the tide here is that when the tide goes out, it really goes out. In the mornings and evenings, the ocean was close enough to the palapas and chairs (it can sometimes even wash up onto them!). But late in the day, it was a pretty insane distance to get to the ocean – enough that it probably added a minute or so of extra walking to get to it.
Additionally, except for the condo, the pool here is probably the biggest of all three Panama beach resorts.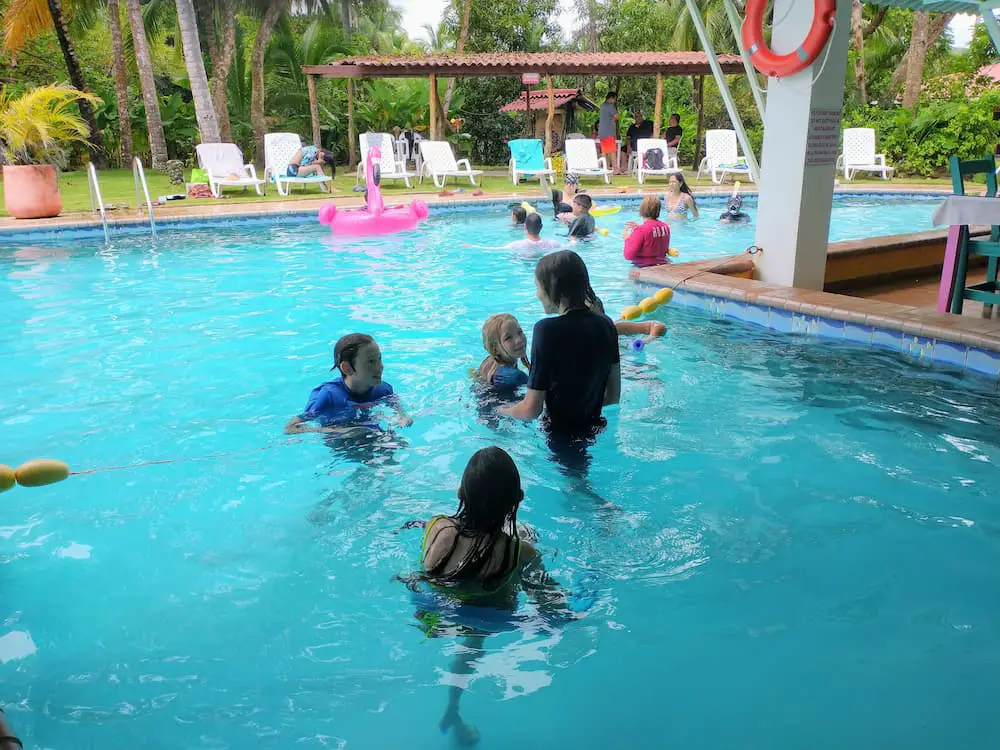 We paid about $303 (including tax) for our 2-night stay there in 2021. That cost is for the room only and doesn't include drinks, meals, etc.
Link to website: Las Lajas Beach Resort
Show Pony Beach Resort
Show Pony Beach Resort is just down the street from Las Lajas Beach Resort. So everything I told you about the ocean at Las Lajas is going to essentially be the same for the Show Pony Resort. And that's a good thing because we love the ocean in this area!
Other than that though, there are several differences between the two places.
I'll break this down a little differently for Show Pony since there's a lot more info. Let's go with the old pros and cons list…
Pros
■ There are only 2 junior suites, 8 villas, and "The Palace." Both times we stayed here we were in the villas, which we loved – a full kitchen with a fridge, a patio with a hammock, a private outdoor shower and tub, and plenty of room in the place.
Because there are so few rooms, all the rooms form a horseshoe around the pool with the bar/restaurant at the open end. So everyone gets a good room.
But the best part of this is that it's never crowded. In addition to having such limited rooms, they also sell up to 20 "day passes" on any given day. Both times we were there, we barely saw anyone regardless. On the busiest day of our visit there last week, there were a total of 4 rooms filled (including ours) and maybe a couple of active day passes.
■ I couldn't find this documented anywhere so I didn't add this into the comparison table in the next section. However, out of the three Panama beach resorts mentioned, Show Pony was the only one that seemed to allow you to bring your own food and drinks. And because all the rooms (except for the two junior suites) have full kitchens with fridges, this can save you good money.
Both times we vacationed here, we brought some food, snacks, and beer. We still got breakfast and dinner from the resort and had several drinks there as well. But, we made our own lunches every day (i.e. sandwiches and such) and we had beer and snacks for when we were just hanging around our room.
■ We enjoyed the food here, particularly the dinners. I'm not going to say that it's a 5-star restaurant, but it's really good.
Plus, the Monkey Lala is the most amazing drink for someone with a sweet tooth who loves chocolate and banana (and alcohol!)…
■ The atmosphere and the employees are great. I can't really explain it well but it just seems like a more personable and friendly place.
■ There's an ecological bridge that takes you through the mangroves where you might be able to spot a boa constrictor or two (in the open!) or other cool wildlife. This is directly behind the property so it's fun to walk through at different times of day to see what's different. And it's free, which of course, is my favorite price.
■ Remember that private outdoor shower I mentioned? Love it. Perfect for not dragging sand all over the place inside your room when you come back from the beach. I liked it so much, I did all my full showers there as well and not just my rinse offs!
Cons
■ Even though Show Pony isn't even 2 miles past Las Lajas Resort, that's probably going to be your least favorite part of your drive from wherever you're coming from. That's because it's all loose stone and gravel. It's a slow and bumpy ride and makes for a minor annoyance.
■ The distance from the resort to the beach is the furthest of all three of Panama's beach resorts that we're discussing today. That said, it's around 450 feet from the resort – no big deal!
■ The Wi-Fi is horrible here. You're guaranteed to get a good Wi-Fi signal from your room or on the resort grounds, but it's not going to do you a lot of good. Like, it's really bad. And we get absolutely no signal from our carrier (Tigo) while there so that bad Wi-Fi connection is all we've got.
Obviously, we're not at one of Panama's beach resorts just to play on the internet. However, at night before bed, I wanted to check my email and respond to comments on this site. I did it, but hoo-boy, that was a painstaking process!
■ My back didn't like the bed here. And this one shouldn't even be a con because it's a personal preference. At the same time as I was complaining about my back, Lisa was saying how comfortable she thought the bed was. So, you might love it and you might not!
As you can see, the cons aren't bad at all. I listed them just to be fair though since it was all I could think of to list.
We paid about $315 (including tax) for our 3-night stay there in 2021. That price did include breakfast each morning for us. However, it doesn't include drinks, meals, etc.
On our most recent stay there in March of 2022, we paid about $405 (including tax) for our 3-night stay there. As before, this included breakfast each morning but doesn't include meals, drinks, etc.
Link to website: Show Pony Beach Resort
Comparing the Panama beach resorts
Here's a comparison of the Panama beach resorts I've gone through. I included the condo at Las Olas as well just for comparison's sake…
| | Las Olas Resort | Las Olas (Las Brisas del Mar) | Las Lajas Resort | Show Pony Beach Resort |
| --- | --- | --- | --- | --- |
| General | | | | |
| How long of a drive from Boquete | 90 minutes | 90 minutes | 2 hours | 2 hours, 15 minutes |
| How long of a drive from David | 30 minutes | 30 minutes | 1 hour, 20 minutes | 1 hour, 45 minutes |
| Resort distance from beach | ~300 feet | ~300 feet | ~125 feet | ~450 feet |
| All-inclusive | No | No | No | No |
| | | | | |
| | | | | |
| Ocean | Pacific | Pacific | Pacific | Pacific |
| Ocean temperature | Warm | Warm | Warm | Warm |
| Waves | Medium | Medium | Medium | Medium |
| Regular rip currents | Yes | Yes | No | No |
| Seashells | Not many | Not many | More abundant | More abundant |
| Palapas and seating on the beach | Yes | Yes | Yes | Yes |
| | | | | |
| | | | | |
| Public amenities | | | | |
| Bar | Yes | No | Yes | Yes |
| Restaurant | Yes | No | Yes | Yes (very good food) |
| Public Wi-Fi | I believe so | No | I believe so | Yes (horrible) |
| Public outdoor showers | Yes | Yes | Yes | Yes |
| Pool | Yes (was grimy) | Yes (very nice and also big!) | Yes | Yes |
| Gym | Yes | ? | No | No |
| | | | | |
| | | | | |
| Standard room amenities | | | | |
| Room types available | Standard rooms and suites | Full apartments | Standard rooms and suites | Suites, villas, or "The Palace" |
| Private outdoor shower | No | No | No | Yes (Private) |
| Full kitchen | Only in the suites | Yes | Only in the suites | Only in the villas and Palace |
| Refrigerator | Only in the suites | Yes | Only in the suites | Yes |
| Wi-Fi | Yes (but I think we just used our cell data) | Up to each condo owner | Yes | Yes (horrible) |
| | | | | |
| | | | | |
| Other | | Public grill you can use | | Ecological bridge through mangroves on premises |
I didn't throw the costs into these since those can fluctuate so dramatically depending on the days, time of year, type of room, and so many other factors. But from our visits, here's what the average per day prices ran us for the rooms (including tax):
Las Olas Beach Resort – $87.50
Las Lajas Beach Resort – $151.50
Show Pony Beach Resort (Visit #1) – $105.00 (included breakfast)
Show Pony Beach Resort (Visit #2) – $135.00 (included breakfast)
And like you can see in the table, none of the Panama beach resorts mentioned are all-inclusive. Plan on paying up for drinks and food. It's also important to note that Lisa follows the social media of many Panama beach resorts to keep an eye out for promos. That's how we got some deals on these places.
Our favorite of these Panama beach resorts
Without a doubt, the Show Pony Beach Resort is our favorite of these three Panama beach resorts. On both of our three-night trips, we got to know different folks managing the resort and they are all just great, friendly people and it made for a more welcoming experience.
We didn't have that same kind of connection at the other places. That's not to say that that's a deal-breaker, but it sure makes a difference. The atmosphere at Show Pony just seems more laid-back and friendly.
Having a full kitchen and fridge in the room makes life much easier, too. Plus, being able to just lounge around at your patio around the pool or lay in the hammock is great, too.
And obviously, the ocean is the biggest reason we're going to any of the Panama beach resorts in the first place. Las Lajas Beach Resort and Show Pony both share a great stretch of the ocean but Show Pony just seems more up our alley. That said, we do have friends here who like Las Lajas Beach Resort better, so it's up to you to decide what fits your bill the best!
---
If Panama's on your radar as a possible place to retire to, check out Retire in Panama Tours. It's a first-rate way to see different parts of the country, learn about the pros and the cons of living here, meet other ex-pats living here, and gain a lot of the right resources to make the transition easier (immigration attorneys, for example).

Oscar, Rod, and Megan are great people, too. They have the knowledge to guide you through Panama, answer your questions, and ensure that Panama's the right place for you. Check out Retire in Panama Tours for more info!
Plan well, take action, and live your best life!
Thanks for reading!!
— Jim