If you're not familiar with Paula Pant from Afford Anything, you should take the time to check out her site… especially her podcasts, which are fantastic.
I'm usually a little behind on my podcast rotation, but I just listened to another good one recently that fascinated me.  Clark Howard was her guest in #47: How to Stop Being Your Own Worst Enemy.
I've always enjoyed Clark Howard – I'm not sure if it's how down-to-earth he is for a guy who reached financial independence at 31 or just how happy the guy always seems to be.
Either way, my wife and I used to really enjoy watching his show that was on HLN a number of years ago.
What really stood out to me in this podcast was just how intelligent Clark is.  We were always able to tell from his TV show that he was a smart guy, but listening to him on this podcast really gave him an opportunity to shine.
That's great Jim, but why are we sitting here talking about Clark Howard?
Here's why – Clark mentioned a couple great things on Paula's show that I really thought stood out.  Here's one of them…
Not everybody's gonna be able to become financially independent… you can only grow the pie overall so much.  It's really almost a Darwinian process of who is going to choose to be the individual who creates financial space and independence and freedom in their lives and who doesn't.

And so it's a winnowing of the herd and it's a natural selection process.  The thing is, there are lots of people who talk a good game – it's executing it and sticking to it over a long period of time.
Clark's talking specifically about how most people are not going to be able to become financially independent.  In other words, not everyone is going to have enough money to be able to quit their jobs when they want to.
But the question is… why?
The answer may vary, but in my opinion, I think a lot of it has to do with what people actually do with their money.  Sure, some people barely make enough money to get by, but what about the rest of the middle class?
You would think that most everyone should be able to become financially independent if they wanted to do so, right?
We're struggling as a society…
Look at this chart showing the ages when Americans are retiring…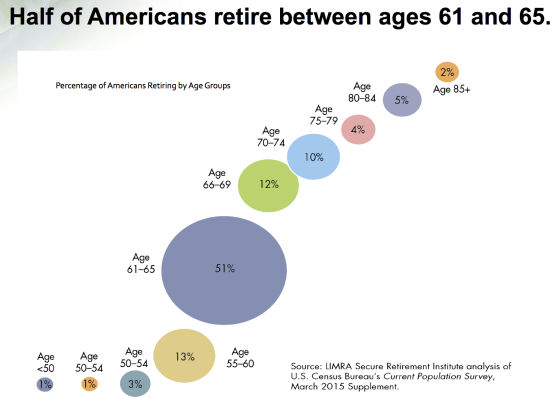 What makes me raise an eyebrow is just how few people are retiring before their sixties (or even after that!).  Now, this might not tell the whole picture.  I'm sure that some folks are able to retire, but just don't want to.
However, I'm going to guess that for the majority of people, becoming financially independent and actually being able to retire when they want is just a far-out dream.
Personally, I don't think the problem is that people don't make enough money to make this dream a reality.  I think the problem is that a lot of folks just do the wrong things with their money.
If you've seen some of the headlines recently, this probably doesn't surprise you:
In a nutshell, people are still struggling to save for their retirement.
But why are they struggling?  Is it that they don't have a desire to become financially independent?
I doubt that's the case.  I swear everybody and their brother has the dream of hitting the lottery and quitting their jobs.  I probably hear that once a week from different people.
Call me pessimistic, but I'm thinking that the odds of winning the lottery are a little low.  I know, I know – I'm being a Debbie Downer on this… sorry about that.
So why aren't people saving more for retirement?
I think a lot of it comes down to drive.  The Steps to Wealth aren't far-fetched and I think anyone can get on the right path and make it happen.
The problem to me seems similar to trying the latest diet fad.  If you or someone you know has ever tried to get on a diet, you know that they rarely work.
And why is that?
It's because it ain't easy and people don't want that.  In general, they want results now and they don't want to give up anything along the way.
That's why those who don't try to just diet and instead make it a lifestyle change are the ones who are successful and are rewarded for it.
Becoming financially independent is similar – it doesn't work to just try to save some money and call it a day.  You need to make a lifestyle change and work for it.
In actuality, it's not that hard, but it is a change in mindset.  But if you do make the change, you'll definitely be rewarded for it.
So what needs to be done to make it happen?
Stop buying crap and start doing something!
One of the struggles I see with some of the people in my life is that they struggle with FOMO.  They spend money like it's going out of style.  They buy crap they don't need and then try to justify it to themselves with the "you only live once" mantra.
I'll tell you what – that mantra is being poorly used in this scenario.  It's true that you only live once and it's also true that you need to take the bull by the horns and make the most of your life
However, that doesn't mean you should go out and buy the biggest house and TVs and brand new shiny cars you can afford… because you probably can't truly afford them in the long run.
If you're buying all kinds of crap because you've convinced yourself that you only live once, you're probably going to be working for the rest of your life.
As Paula's Afford Anything podcast continued, Clark talked about how spending was an issue in his family…
My dad got fired from his job that he'd worked at for 29 years when I was a teenager.  I thought that my parents had plenty of money… they had plenty of possessions, but they didn't have plenty of money.

When my dad lost his job, they were living on fumes and I was trying to figure out how I was going to get through college.  It's never what you make, it's what you don't spend that actually matters.
Most of us know this scenario.  Whether it's you or your family in this situation, it's time to turn things around and build a secure future.
Beat the odds and be one of the 1%!!
If you look at that chart earlier in this post again, you'll see that less than 1% of people are retiring before age 50.  If you're under 50, put this on your radar to become financially independent.
Whether you actually decide to retire by 50, don't you want the option to decide?
Some of you might think pushing 50 to retire is just dreaming.  But, I can tell you that if you think that's the case, you're in for a shock.
Many people in the younger generations don't want to work forever and plan on retiring early.  Here are just a handful of the more well-known peeps out there who have already become financially independent at a younger age:
---
Believe it or not, retiring at 50 is not that far of a stretch for most of us.  It's definitely possible, but you can't just want it to happen, you need to make it happen.
Aim high and actively work toward your goal.  Save a high percentage of your income and work to build up other income streams such as a rental property or owning your own business.
Before you know it, becoming financially independent will be more than just a far off dream and you'll be free to live the life you truly desire.
Is becoming financially independent on your radar or is that just something you consider wishful thinking?
Thanks for reading!!
— Jim