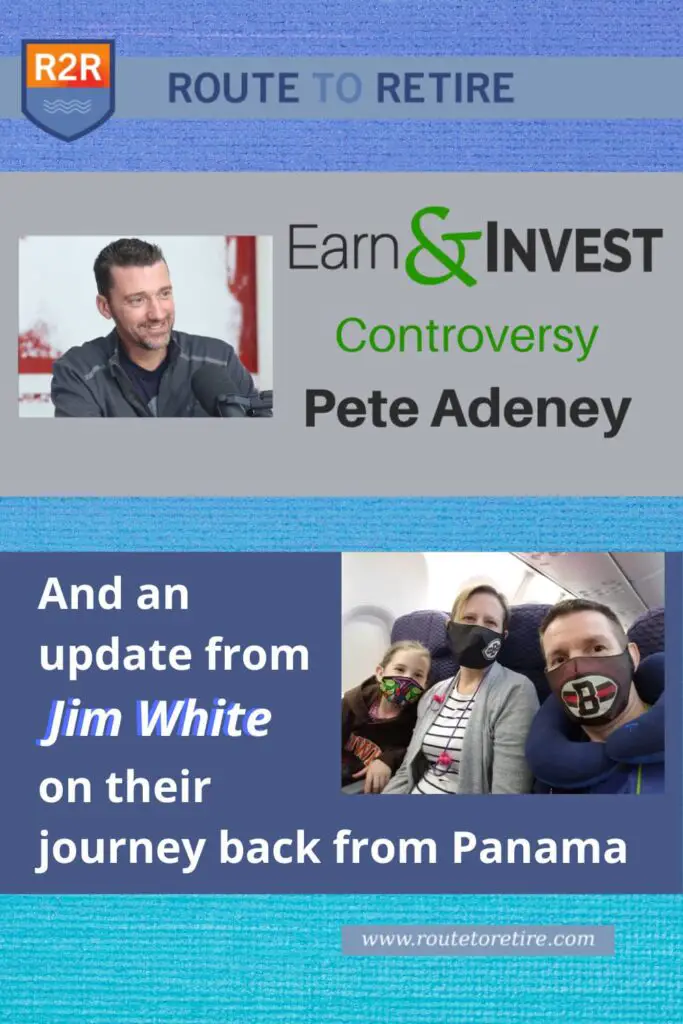 One of my favorite podcasts is the Earn & Invest podcast with Doc G (formerly the What's Up Next? podcast).
I've known Doc for a handful of years now. We met at FinCon years ago and I've been on his show on a couple of times since then. The first time I was on a panel to discuss the topic of whether passive income can really be passive. The second appearance was with my wife, Lisa, along with Amon and Christina (from Our Rich Journey) as we talked about geoarbitrage.
When Doc heard about our trip back from Panama recently, he hit me up and asked if I could come on the Earn & Invest podcast again to talk about our journey in more detail. After all, there aren't a ton of people traveling right now, much less internationally on a humanitarian flight.
It was just a short segment and I was more than happy to oblige.
We talked a lot about how we got to this position and how we made the decision to come back. We hit on the grueling travel details coming back to the U.S. And probably most importantly, we discussed our plans on the future… will we ever get back to Panama?
The first segment of the Earn & Invest episode is an appearance from the famous, Pete Adeney aka Mr. Money Mustache. He's probably one of the most well-known FIRE (financial independence / retire early) bloggers out there and he never disappoints. In this episode, Pete talks about a tweet of his that sparked some controversy in the personal finance community.
So one way to look at this is to say that Pete's the star and Doc just needed some time to fill on the Earn & Invest episode… which is really 100% true.
However, I prefer to think of it like I'm the headliner and Mr. Money Mustache is my opening act! It's all about perception, right?! 😉
Regardless of how you want to look at it, it was fun as always to be a part of the show and I hope you'll check it out. Through the power of technology, you can listen to it right here:
I come in around the 41:42 mark. You can also find it on your favorite podcast player or head over to the episode page on the Earn & Invest website:
https://diversefi.com/2020/07/13/123-when-a-tweet-sparks-controversy/
I hope you enjoy it! Feel free to share your thoughts or questions below.
Thanks for reading and listening!
— Jim