Around most of the world, there is obviously some trepidation with traveling because of the pandemic. Then you toss in the idea of traveling internationally and the uncertainty is even more intense.
As most of you know, we've been living in Panama since August of 2019. When this pandemic initially came around, we decided to stay put living abroad.
That went well for a while, but it got tougher and tougher being stuck in lockdown without family nearby, particularly for my wife, Lisa, and my daughter, Faith.
When they once again extended the suspension of opening the airports for an indefinite amount of time, we made the incredibly difficult decision to head back to the U.S. on a humanitarian flight.
The thought of traveling internationally was not something we took lightly. Not only were we leaving from a location with so few cases in our area to head back to the epicenter of it all, but we were also putting ourselves at a bigger risk in our travels there.
So now you'll get to see a little bit of what traveling internationally is actually looking like right now.
Our shared drive to Panama City
We hired a driver to take us from our condo in Boquete, Panama to Panama City. Normally, we'd just head to the city of David and take a puddle-jumper plane to Panama City. However, all the airports are closed so we had to make the 8-hour drive across the country instead.
The driver was excellent – he kept us informed from the time we booked him, was early to pick us up, spoke excellent English (bonus!), and handled everything for us. In case you ever need him, keep the name Luis Arce in your back pocket. With the tip, we paid him a total of $240 to get the three of us across the country.
Now, you know that we were very adamant about being extremely careful while traveling internationally on this trip. In fact, here's a photo of us in the van with our masks on…
But, unfortunately, it's not just about what we're doing. We shared the van with four other passengers. The two other women wore their masks the entire trip while the other two men didn't.
You might have your own opinion, but I think that's completely selfish. The mask isn't to protect you, it's to protect others. Don't be the jackass complaining about your freedom being taken away and other preposterous excuses. If you're in public, wear your mask, and stop acting ridiculous.
Staying in a hotel in Panama City
We arrived in Panama City around 3 pm and our flight wasn't until 3 am. Because of that, we had booked a room at the Riande Airport Hotel around the corner from the airport.
When we walked in, they had hand sanitizer on a table by the entrance but no one was standing there. Eventually, someone chased after us to take our temperature while we were checking in at the front desk.
We pulled the bedspreads off the beds in the room and spent the beginning of our stay wiping down and disinfecting a lot of the room.
Although we could have gone to the restaurant at the hotel, we didn't want to expose ourselves to yet another place. We also didn't want to wait for it to open. So we ordered room service for dinner instead – oh, and a beer…
Other than that, we stayed pretty quiet and kept to our room the whole time. Faith and Lisa fell asleep for a handful of hours while I just rested (I couldn't fall asleep).
The hotel provided a shuttle from the hotel to the airport at midnight since Copa wanted everyone at the airport three hours before the flight. Don't ask me why – even though we're traveling internationally, when you have only one flight at the entire airport, that seems a little excessive.
But it is what it is – we took the shuttle there along with another family and one other passenger. Fortunately, everyone was wearing a mask for this trip.
Traveling internationally from Panama City to Miami
Onto the creepy part of the trip! Panama City reminds me a lot of Miami – very busy, very trendy, and very expensive. Tocumen Airport in Panama City is along those same lines… usually.
In this case, though, the airport was closed. Our humanitarian flight was the only flight there that I'm aware of and it was a little weird.
Checking in was straightforward enough though. Masks were mandatory there and they spaced everyone out in line. I initially thought that our temperatures were not taken there. But I found out later that they're now using thermal cameras for temperature screening right before you pass through security.
We then walked through the normally crazy-busy airport to get to our terminal. So strange…
Most people that were there for the flight seemed to cram around the terminal area… why? The smarter folks seemed to find their own areas a little further out during the long wait time. I'm going to lump us into the group of smarter folks because that's what we did as well. We found a little area right nearby where no one was hanging out and set up shop there…
We had heard from passengers on prior humanitarian flights out of Panama that nothing was open here, so we had packed some snacks. Although we didn't really have a desire to eat at 2 am, it was good to have something on-hand just in case.
Hey, look – there's our plane!
Our plane wasn't sold out, but when I checked the seat map through the Copa app before the flight, it might as well have been:
We had to go through a second security check, which seems to always be the norm when going from Panama City to Miami. However, everyone seemed to forget about social distancing this time around. People were all crowded up in each other's business and the security staff was all touchy-feely on everyone's stuff. I think we basically showered in hand sanitizer after we got through that mess.
Once we boarded the flight, I snuck a photo of one of the flight attendants…
I guess this is better than not wearing any protective gear but is the gown and shower cap really helping that much? Seems a bit overkill, but maybe it helped them or other passengers feel a little more at ease (or maybe it did the opposite!).
Masks were mandatory at the airport and on the flight. But get this – I saw one of the same guys who wasn't wearing a mask on our van from Boquete to Panama City. He wasn't wearing one in the airport and I saw him walk onto the plane without one.
I heard a couple of people near me on the plane complaining about him as he boarded and I just rolled my eyes when I looked up and saw him. Thank God he was probably about 15 or 20 rows in front of us. I don't know if anyone said anything to him but I wish they would have just thrown him off… wear a mask!
The flight took off on time at 3 am and headed to Miami. Lisa and Faith slept on the flight but I guess I was still anxious and didn't sleep again.
They also passed out bags of supplies to everyone. Each bag had a bag of fried plantains (mmm, delicious!), a bottle of water, a mask, and gloves.
That was a nice surprise, but what I thought was a little strange was that it got passed out quite a ways into our flight. Wouldn't the protective equipment have been more useful to pass out as people were boarding rather than later? Give one of these to the guy who boarded without a mask on!
Anyway, the flight was as close to normal as you get for a red-eye flight while traveling internationally except for seeing people in masks everywhere. The lights were out and most everyone slept.
Miami airport was pretty dead when we arrived around 7 am. Going through customs was a cakewalk. Even without our Global Entry and no line, this would have been an easy one since the regular lines weren't very long this early in the morning.
Flying first-class from Miami to Akron/Canton
You might already be aware, but due to the pandemic, tons and tons of flights have been cut from the daily schedules. I had heard numbers ranging from 70% up to 95% of flights had been eliminated at one point.
That meant we didn't have a lot of choices when we booked. And believe it or not, the prices weren't that impressive. I'm so glad that we've racked up some solid frequent flier miles through credit card rewards over the past few years!
We had booked a flight with American Airlines using some frequent flier miles on Lisa's account. We had a unique experience though in that it was actually cheaper to book first-class than economy. I'm told that's a pretty rare occurrence, but we gladly ran with it.
There were two downsides to the flight though (not that we had a lot of choices):
The flight wouldn't leave Miami until 3:55 pm. That meant 8 hours or so of hanging at Miami airport.
It had a layover. That meant yet another airport and plane to add to our exposure risk.
We figured that we could get day passes to the American Airlines Admirals Club to waste some time. However, when we talked to them, they didn't have any food other than some pre-packaged foods like trail-mix. We decided it wasn't worth the $59 each and so just walked around the airport and chilled out serving our time waiting.
We were both surprised by how many folks at the airport were wearing masks. Not everyone, but a lot more than we anticipated seeing.
I believe I've only ever flown first-class one other time and that was with Lisa years ago. It was kind of nice to have a little more breathing room. On both the flight to our layover in Charlotte and on the final leg to Akron/Canton, we were in row 1.
Not that we plan to fly first-class much, but we did learn that row 1 has the downside of not having seats in front of you. That only matters because it means you don't have a place for your carry-on. We had to put our bags in the overheads on both flights. And on the first leg, it all went so fast that we had popped them up there without first grabbing our hand sanitizer and disinfectant wipes… ugh.
Regardless, we made it through about a day and a half of traveling. I even finally fell asleep for about 20 minutes on that last leg to Akron/Canton.
We got in around 9:15 pm but had some more good news – it seemed like we were the only flight at Akron-Canton Airport. It's nice not having crowds.
We got our bags quickly – they came out first because they were tagged from our first-class tickets. Then we called for the hotel shuttle.
Rounding out traveling internationally with another hotel stay
We stayed at the Hilton Garden Inn Akron-Canton Airport right by the airport. The shuttle driver was wearing a mask and was just one helluva nice guy.
We got to the airport and checked in. There was hand sanitizer at the entrance and the person working the front desk was behind a Plexiglass wall.
We were beat but still hadn't eaten. Dave, the shuttle driver offered to take us to get fast food and we took him up on it. Taco Bell and a Budweiser I picked up from the gas station never tasted so good!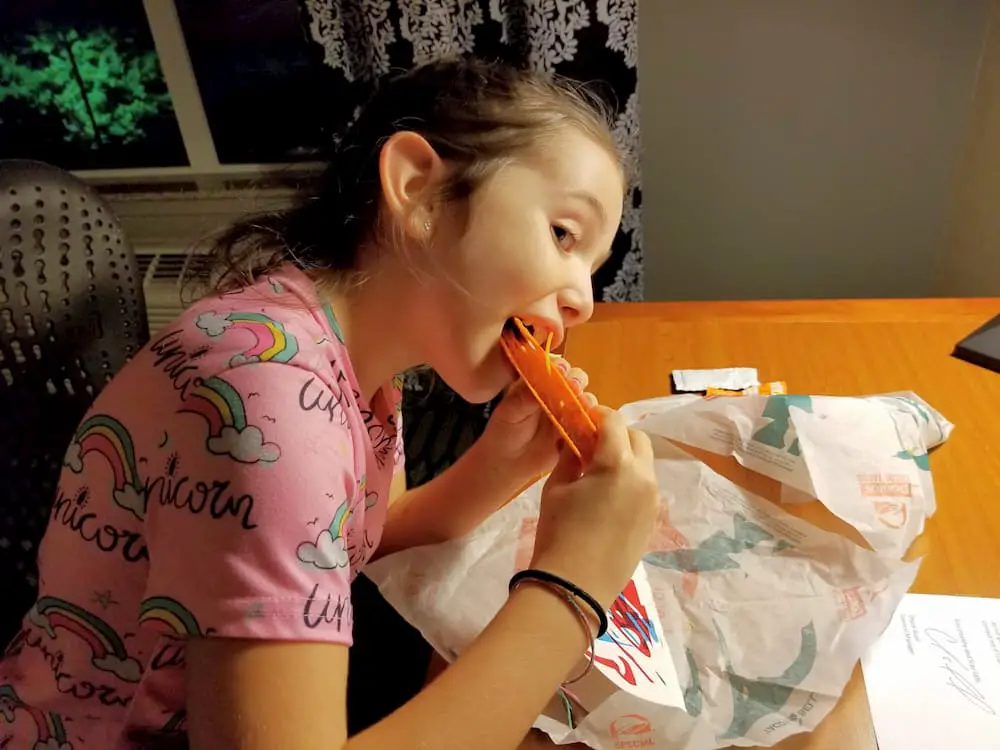 And that's it – we conked out immediately after eating. I finally fell asleep for a solid 10 hours!
---
This post is just shy of a week after our fun trip of international traveling and we're hunkering down in self-quarantine. So far no symptoms. Let's hope that keeps up for another week!
Traveling internationally isn't something that we wanted to do (when's this teleportation stuff going to become real?!). However, it wasn't as horrible as we anticipated either.
Does the idea of travel right now make you a little squeamish or does that not bother you?
Thanks for reading!!
— Jim