I'm writing this post on the airplane coming back from Orlando.  I just got finished another great FinCon conference.
Not only that, but I'm writing it while on the plane the old-school way – pen and paper.  Sure, I've had to rewrite the whole thing to get it online because I bailed on bringing my laptop to the event.  But I care about you guys so much that it's worth the effort… you're welcome.
This is the second year I attended FinCon.  Last year, I wrote a couple of posts recapping the event – My First 24 Hours with the J. Money Mohawk and My 6 Favorite Fincon17 Moments.
This year, I decided I wouldn't go into FinCon with a specific post idea in mind.  I just wanted to see how things would flow and take it from there.
The days went by though and nothing jumped out in front of me as the right topic to write about.  I was having a blast, but I was starting to wonder if that special idea would ever rise up… and then it hit.
On the last evening of the conference, I finally had a moment of quiet.  I was just sitting and talking with Amy from Life Zemplified (which won a Plutus Award this year) and Women Who Money (cofounded with Vicki and nominated for a Plutus this year).
For the first time in days, I wasn't in a rush to get anywhere for a short bit… so we talked and reminisced.  I met Amy at last year's FinCon and felt like I had already known her for years.  We started talking about the tight-knit group of friends that seemed to creep up among us since meeting last year.
And that's when the epiphany came on what an important post this is.  You see, not only did I meet Amy and feel like we were great friends already, but I felt that way with so many folks out there.
I made so many friends at last year's event that this was really like a big reunion.  And that's when I realized…
FinCon is really all about the people.
I'm not even talking about the networking and business relationships (even though those are valuable).  No, I'm talking about real friendships with real people.
The "Other" Guy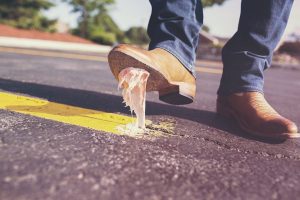 I've gone to a fair number of conferences over the years for work.  These have all revolved around information technology in one facet or another (that is my career after all).
But here's the thing – they suck.
I love the travel and the time away from work and really, just doing something different.  However, attendees at the events don't seem to care.  Most folks are there for the same reason I am – their employer is making them go.
I get it – each conference is an opportunity to learn more about the business and bring back some fresh ideas.  In the meantime, you're able to do some schmoozing and networking along the way.
There's only one problem – people at these conferences aren't excited to be there.  Moreover, they're not ecstatic to talk to people they don't know either.  It happens, but most of it tends to come across as forced by circumstances and a little fake.
The good news is I'm done with these conferences since I'm leaving at the end of the year.
Then There's FinCon
If you're not familiar with the FinCon, it's an event that Philip Taylor (aka PT) launched back in 2011 to help bring like-minded personal finance content creators together.
While there, you have the opportunity to learn more best practices for your business.  You also come back with a lot of fresh ideas that can help you take your business to new levels.
Sounds similar to the other conferences I mentioned, right?
Nevertheless, there's one small detail that actually makes all the difference in the world – the people.
The people at FinCon are different from those at your normal conferences and events – in a good way.
The FinCon People
The folks attending FinCon are excited to be there.  They want to learn, but more importantly, they want to meet other like-minded people.
At this conference, there are a lot fewer people playing on their phones just to dodge eye contact with others.
In fact, it's exactly the opposite.  Folks are constantly walking up to one another and introducing themselves.  And you know what – the people that are getting the introduction are happy to meet and talk.
This year, FinCon had over 2,000 attendees.  That's a decent size event.  But it was almost like 2,000 friends getting together for a big vacation.  All these harmonious people excited to be a part of this one event… it's almost magical.
Yes, there are "celebrities" in the FinCon world, but they're just people too.  For instance, while at the conference, I talked to Jim Wang from Wallet Hacks and J.D. Roth from Get Rich Slowly who are both well-known throughout the community.
I had met Jim at last year's conference and he introduced me to J.D.  I swear – both of these guys are the most down-to-earth people you'd ever meet.  They love what they do and you can tell – they love the folks at this conference.
Regardless, it just seems that friendships are easy to form and a lot of laughs are shared.  A good example of that is Amanda from Why We Money.
I had just gotten in and registered when I passed Amanda in the hall.  I recognized her and introduced myself and we had lunch together.  Ok, fine, she had lunch and I had a beer – don't judge me!
We talked as if we've been friends for years and for the rest of the trip, she was pretty much stuck with me (unlucky for her!).  Along with the rest of the gang, we had a ton of fun throughout our time there.
The point is that the relationships are real and the people are fantastic.  When you get folks together who share a common, excited interest, bonds are instantly formed that are destined to last.
How I Do a FinCon
A lot of folks attend FinCon with a business agenda in mind.  The goal is to come away with some great business takeaways.  Nothing wrong with that at all.
However, I roll a different way and, after talking with many of my friends there, it seems I'm not the only one.
I do attend the sessions I really want to see, but honestly, that's not my main objective.  In fact, I believe I only went to four sessions and panels while in Orlando.  They do record them so you can watch them any time after the conference if you get the virtual pass, but I noticed I didn't get around to utilizing that last year.
Instead, I like to attend the conference to meet and talk to people.  I just want to get to know the folks in the community.  It's fun to just have actual conversations and learn about them that way.
Please don't try to sell me on what you do.  I'll learn from just a regular discussion if there's a fit or a possible opportunity to work together.
Instead, let's just have a beer and talk about life.  More comes from that than anything else.
I met so many incredible people last year that led to some great things.  I started doing podcast appearances this year beginning with one from Pete from Do You Even Blog.  I also met John from ESI Money who gave me a chance to do guest curation for the Rockstar Finance email and also a couple posts on John's site.  In addition, I learned a few tactics to help build a little more stickiness with my readers.
These relationships and learning experiences though evolved from sincere conversations.  These opportunities were just through conversations and a lot of laughs with various folks across the event.
I imagine that the fun of growing my blog will continue based on some of the conversations that took place this week as well.
Just for fun, here are a few pics of some of my FinCon friends just spending some quality time together in Orlando…
And don't worry, if I didn't include you, it doesn't mean we're not friends.  I love you death, but I don't have a ton of pictures and still haven't gotten the ones I do have together yet.
---
There's no right or wrong way to do FinCon, but it's important to remember that it's the people that matter.  This is a fantastic event for anyone with a strong mindset in personal finance just looking to be around others with the same interest.
Even though the event originated for content creators, there are plenty of folks attending who don't run a blog, podcast, or YouTube channel – they just want to hang out with like-minded folks.  Some even get the itch to start doing their own blog or whatever else after attending and feeling the excitement.
Unfortunately, I won't be able to make it to FinCon in 2019 since we're making our move to Panama right around the time frame of the event next year.  However, I do plan to get back to the event in 2020… I already miss my friends from Orlando!
Thanks for reading!!
— Jim