---
Disclosure: This post contains affiliate links and we may receive a referral fee (at no extra cost to you) if you sign up or purchase products or services mentioned.
---
I'm usually not a fan of the home workout because I don't feel like I'm getting a strong enough workout in… not enough bang for the buck so to speak.  It also doesn't help to have distractions around (kids, anyone?) so it tends to take much longer.
I recently talked about how I've been on a roll going to the gym here.  Even since that post, I started adding a little more variety into my regiment and changed how I was doing things.  I started increasing the weight and shortening the reps after each set.
Things were starting to become a habit… still not a habit I liked to do, but a habit nonetheless.  I was on a roll!
Enter COVID-19/Coronavirus.
Well, that's certainly thrown everyone's world out of whack, hasn't it?!
And now, as of Wednesday (3/25/20), the entire country of Panama is in lockdown.  That's right – no leaving your residence even to go for a walk.  The exception is that you can get groceries, medicine, or see a doctor during short times based on the last digit of your cédula or passport.
In an instant though, I can no longer head to the gym at all… home workout it is!
Even if you're not in lockdown (yet), I thought I'd share my home workout with you to help provide some ideas.  Because we have a full gym in the community, we don't really have any equipment at home here except for a set of resistance bands and a couple of yoga mats.
I realize that I just shared my gym workout recently, but with this pandemic, I thought it worthwhile to share my routine while stuck inside.  My hope is to help others who might be looking to hear what others are doing during these odd times.
So if I can personally figure something out to keep from turning into a jellyroll, so can you.  As a bonus, Faith decided to demonstrate some of the exercises with me so you've got someone much more qualified than me on the job!
Disclaimer
This should probably go without saying, but I'm not a professional – haha, far from it!  But I do think it's fair to share with you what I'm doing to help get you motivated.  My goal is just to keep moving while stuck here in lockdown.
Consult someone who actually knows what they're doing to avoid any injuries.
Home Workout Exercise #1:

Bicep curls
The only exercises I'm doing here on lockdown with any real piece of equipment are bicep curls.  I was lucky that I had bought a set of resistance bands a few months before we even pushed off for our July adventure last year.  That at least gives me something to work with.
I ordered and really like the set I got from Amazon at the time: Fitness Insanity Resistance Bands Set.  It was only $16.99 and came with:
5 Stackable Exercise Bands with Carry Bag
Door Anchor Attachment
Legs Ankle Straps
Cushion Handles
Workout Guide
As I'm looking right now, it looks like it's unavailable (at least right now).  But there are plenty of similar options out there.  This one looks like a worthwhile set or this page of Resistance Bands on Amazon should give you a number of options to choose from.
I  also like that I can combine multiple bands to create a stronger set.  I'm using a 25 lb. and 30 lb. band together right now…
To make it count, I do these slowly instead of trying to rush through each rep.
My regiment: 3 sets of 15 reps
Home Workout Exercise #2:

Hollow Hold
Abs?  I'm not sure if I even have any of those.  So throwing in something like the hollow hold in the mix is worthwhile for the home workout.
The idea is to raise your legs and arms about 4-5 inches off the ground and hold the position.  Looks easy, right?  It's not.
Looking at this article from Men's Health, it looks like my hollow hold needs a little more work.  I guess I'll have to try to master this a little more!
My regiment: 3 sets of 30-60 seconds
Home Workout Exercise #3:

Forearm Side Planks
Similar to the hollow hold, planks are great for strengthening up your abs.  Other than the basic forearm planks, I've been doing these forearm side planks as part of my home workout…
The goal is to try to be as straight as you can while doing them (hence the name "plank").  If you haven't tried these before, it's harder than you think to get in this position and hold it for a long duration.
My regiment: 3 sets of 30-60 seconds on each side
Home Workout Exercise #4:

Push-Ups
If you don't know what a push-up is, you should probably get out of the house a little more – just not right now during this pandemic!  This is such a basic exercise to help build upper body strength, it should almost always be included in any home workout.
If you want to throw up a little, take a look at these record-breakers with push-ups.  For instance,  it says that "the record for the most push-ups non-stop was 10,507, set by Minoru Yoshida of Japan in October 1980."  Holy crap!
My regiment: 3 sets of 25 reps
Home Workout Exercise #5:

Daughter Bench Presses
This one's a little unique in that you have to have a child who's the right size for your presses.  They also have to want to partake in this.  Faith loves it so I'm ahead of the curve right now…
I've found that she's not an even weight though.  Because her legs are a lot lighter than her upper body, I have her switch directions with each set.
If you don't have a right-size kid laying around, get creative.  I'm sure you can find something to fit the bill for your workout.
My regiment: 3 sets of 15 reps
Home Workout Exercise #6:

Daughter Leg Presses
This is my other hillbilly exercise… leg presses with Faith on a chair.  And these chairs are heavier than they look so that makes it even more fun.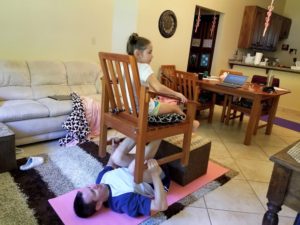 You'll notice that I use my hands to guide the chair so it doesn't tip over.  My legs are really doing all the work.
The nice thing about this is that I can add more weight if needed by having Faith hold one of those bulk-size jugs of laundry detergent, for instance.
Get creative.  If a kid on a chair is too much for you, start with just a chair.  Then add something secured onto the chair as you need to build up the weight.
The big advantage to a kid though is that she hops on and off using the ottoman you see there.  She's able to assist with getting the chair set up and taken down as well while I'm laying there.
My regiment: 3 sets of 15 reps
Wrap-up
Ok, you've seen some of the exercises I'm doing.  Some probably seemed like good ideas while others made you shake your head in disgust.
The point is that it doesn't matter where you're at or that you don't have a home gym.  Choosing to work out is on you.  Don't be part of the influx of Internet traffic just sitting around watching Netflix or some other streaming service all day.
Use this pandemic as an opportunity to do something smart – get yourself moving!
I'll probably change up the exercises I do as the lockdown continues.  Having those resistance bands, especially with the door anchor attachment, gives me a lot of different options to choose from.
I'm also going to start walking up and down the stairs here (we're on the third floor) just to get my legs moving a little more.
Look, we all know I'm not a gym nut.  As someone newer at this, I'm also aware that there are so many great exercises out there that I'm not doing.
If you have some suggestions, please feel free to share them in the comments.
Have your workouts died since you've been in social isolation or are you sitting on your butt at home watching Netflix all day?  Think doing a home workout regularly might be the answer?
Thanks for reading!!
— Jim