---
Disclosure: This post contains affiliate links and we may receive a referral fee (at no extra cost to you) if you sign up or purchase products or services mentioned.
---
When it comes to solving the world's problems, I'm the man.  I've got it all handled.  Call me "Mr. Fix-It"!
Ok, maybe that's far from true.  I'm not solving the world's problems at all.  In fact, I sometimes struggle to handle my own problems.
But, I'm good at adapting and actually enjoy change.  I have an engineer's/programmer's mindset and like to logically find an optimal solution to problems.
And now that we're living in Panama, I get to push my problem-solving to a different level.  We live in a small town in the mountains called Boquete.  There's no Walmart, Target, or Home Depot here.  The closest counterpart I've got is a small discount store called Novedades La Reyna and a tiny hardware section of a grocery store called Supermercado Mandarín.
We can also head to the bigger city of David (about 45 minutes away) to find some real choices.  There's Conway (a store like Target only much larger), PriceSmart (a warehouse club), or Doit Center (like a smaller version of Home Depot).  There are also some stores around there that stock computer parts like Panafoto.
But don't forget, we intentionally don't have a car here.  That means we could take the bus or a taxi down there, but if you can imagine, buying any big items poses a problem.  Carrying tons of bags or large or heavy items to the bus stop or trying to stuff them in a taxi becomes complicated.
You can just order what you need online though, right Jim?  Wait, what do you mean that Amazon doesn't deliver to Panama?  How could anyone live without Amazon?!
Relax.  There's a workaround for Amazon that I'll get to shortly.
The point is that not everything's at your fingertips here and sometimes the quality can be lacking compared to what we're used to in the U.S.  So maybe I'm not solving the world's problems, but figuring out things around here can be a challenge in itself.
I thought it'd be fun to take you through some of the adjustments we've been working on here lately…
Online shopping – No Amazon?!!!!
So yeah, like I said, Amazon doesn't deliver to Panama.  But before you close out this page and start cursing Panama as a third-world country, know that others have already solved this problem.
There are a handful of companies that give you an address in the U.S. and then forward your packages (or mail) to their location here in Boquete.  It generally takes about 3-4 business days to reach their location here after it gets delivered to your assigned U.S. address.  The company then lets you know to pick up your package at their office.  They charge you shipping costs based on weight and sometimes volume.
Probably the most well-known of these companies is Mail Boxes Etc.  When we first got here, I created a free account online and got my assigned Miami address.  I ordered a package from Amazon to be shipped to my address there and like magic, it showed up here in Boquete a handful of days later.
So yes, you do get charged shipping, it takes a little longer to get, and you have to go to town to pick up your package.  But it really hasn't been a big inconvenience for us.  It's actually fantastic to know that if there's something we can't get here, we can still get it from the almighty Amazon (or any other online merchant).  Heck, you can even have friends or family send you something if you're willing to pay the cost of the shipping once it arrives.
After we got settled, I learned that Mail Boxes Etc. wasn't the only game in town.  In fact, they're a little more expensive than the others, likely because they're so well-known and have a front-facing store in the middle of town.
Over the past month, we found a few other guys out there that fellow expats have been using that are just as convenient but not as recognized…
Airbox Express – We found this place, but the prices weren't that much cheaper than Mail Boxes Etc. so we haven't done anything with them.
eShop Boquete – Expats tend to love this place.  They swear by the customer service, the English-speaking workers, and the lower costs.  We swung by there and created an account but haven't placed an order through them yet.
Servitechnics Courier – This might be the least well-known, but the pricing looks good, especially for smaller packages.
I stopped into Servitechnics last week.  It's a little, hidden place downtown and it took me a little bit to find it – thank goodness for the assistance of an expat and a local.
That said, I liked the simplicity they have going.  You don't create an account at all there.  They have just one address for everyone to use in Doral, Florida (but you do include your name in the addressing).  The key is that you email them the tracking number for your package so they're in the loop.  Once the package arrives here in Boquete, they just email you back to let you know it's here.
I have a package that should be arriving here any day that I ordered and had sent through Servitechnics.  Assuming I have no problems, that'll be the service we use from here on out.  Cheapest prices and simplicity at its best… my favorite combination!
I tried to get all the info I could on the pricing, but it's not as easy to gather as it seems.  Just to give you some kind of price comparison though, here's what a package could run you depending on where you go:
| Estimated total price (before tax) for: | 1 lb. | 2 lbs. | 5 lbs. | 15 lbs. |
| --- | --- | --- | --- | --- |
| Mail Boxes Etc. | $9.50 | $9.50 | $21.54 | $64.64 |
| Airbox Express | $7.85 | $9.39 | $20.95 | ?? |
| eShop Boquete | $7.00 | $8.56 | $21.93 | $61.52 |
| Servitechnics Courier | $5.50 | $8.50 | $21.25 | $60.00 |
As a side note, for packages with a CIF (Cost, Insurance, and Freight) value of over $100, there are also additional charges (customs and import taxes).  This generally comes out to be about 15% of the value.
In other words, it ain't cheap, but sometimes it's worth the extra cost on those few occasions when you need something you can't get here in Panama.
Pretending we're still in the U.S…
We're enjoying being in Panama a lot.  But sometimes we still need to be in the U.S. for a few hours.
Wait, what?
Well, let's say that we want to stream movies or shows from something like Netflix.  Ok, in all reality, I'm cheap and got rid of Netflix months ago.  But we use a Roku Streaming Stick (awesome!) and there are plenty of streaming services to keep us busy including Amazon Prime, The Roku Channel, Tubi, Pluto TV, Crackle, and Kanopy.
Here's the problem though – the companies that provide the streaming media are obligated to only allow content in specific regions.  In other words, licensing agreements make it difficult for them to permit you to watch what you normally could if you were in your home country.
So when we go to different streaming sites here, we get garbage like this…
or this…
That sucks, right?  The good news is that this can be fixed.
Time to solve the world's problems again!  NordVPN to the rescue!!!
I won't get too technical since this isn't a technology blog, but here's the gist of what needs to be done.  A VPN (virtual private network) encrypts and tunnels your network traffic from one location to another.  Maybe you work from home and use a VPN to operate your computer as if it's on the same network as your work.   You can then access the same resources as if you're there at the office.
Hmm, so maybe we could do something similar to make it seem like our computers here in Panama are in the U.S.  Well, of course, we can!!  There are several different VPN providers out there that offer software to do exactly this for you.
Having spent just shy of 20 years in the world of IT, I nerded out and tested tons of these.  In a nutshell, though, the free ones you see offered aren't going to do a good enough job – they're slow and limited.  But there are a couple of them out there with a low monthly cost that work extremely well.
The one I liked best and subscribed to was NordVPN.  I bought a three-year subscription because I'm that confident that this is the right software for us living as expats.
So what the heck does that give you?
Well, it gives you the ability to install their software in one or more places to tunnel your Internet traffic to make it appear to be coming from anywhere in the world you want it to be.
Some routers allow you to configure VPNs right on them so you can ensure that all traffic on your network passes through the VPN.  But if you're not technical, there are plenty of other options.
For instance, NordVPN has an app you can install on the Amazon Fire TV Stick.  Once you log in with your NordVPN credentials and turn it on, you'll appear to be coming from the U.S. (or whichever country you choose) for anything you stream.
So, suddenly all those apps like Crackle and Pluto TV work just fine.  The same goes for Netflix and Amazon Prime Video except those can sometimes be a cat and mouse game as those companies try to block VPN traffic.  Using a VPN is completely legal, but those bigger companies simply need to show the content providers that they're attempting to only allow access to the regions they're allowed.
So NordVPN gives you access to your streaming, but they also provide free apps with your subscription for your cell phones, computers, and browsers.
You know how you hear that you're supposed to be careful connecting to open WiFi spots when you're out and about?  Not for you!  Once you connect to the insecure WiFi, you just turn on the NordVPN app on your phone and all your data is now encrypted.  Super secure!
My situation is a little more complex since I'm the former IT guy and went a little more elaborate, but just to fill you in, here's what I did.  We have a lot of digital movies, home movies, music, photos, etc. that we've always had on a Home Theater PC (HTPC).  We then could use software like Plex to watch all this on our TV.
Long story short, I bought a new computer through Amazon that was shipped here through Mail Boxes Etc.  I set it all up and got everything ready.  I don't have access to the router here since it came with the apartment (gotta love fully-furnished!), but I want to tunnel all traffic here as needed.
So I installed and configured the NordVPN client on the Home Theater PC and set it up to automatically connect to the U.S. every time it boots.  Then I created a mobile hotspot on the computer and configured it so any devices that connect to it go through the VPN.  I scripted that to turn on with each boot as well.
Finally, I connected our Roku Streaming Stick and Amazon Fire TV Stick to the new WiFi hotspot.  So anything those two devices do will automatically go through the encrypted tunnel to the U.S. from NordVPN.  It's actually pretty bad #$%!
The same goes for all our other devices.  If we decide that we need one of our Chromebooks to go through the tunnel and connect to the U.S., we just connect to the hotspot – very simple for the user experience (Lisa and Faith).  But I also have the client installed on all our devices for when we're out and about or traveling.
Solving the world's problems again… or maybe just mine.  But I am pretty awesome!
For most folks who aren't as technical, just using NordVPN on your Fire TV Stick would be the way to go to cover your streaming.  And installing the app on your phone will give those devices access to U.S. content and protect your traffic as well.
Overall, I'm very excited about how well this works.  Regardless of whether you're an expat, world traveler, or just want protection on your Internet traffic, you need a VPN.  And NordVPN works so well at such a minimal cost.
I am an affiliate so if you sign up through my link, I do receive a referral fee at no extra cost to you (much appreciated!).  But be aware that I signed up for the program only after I realized how well it works and purchased my subscription.  I'll never recommend something to you that I don't use or think is a great resource… and this is a great resource!
Other ways I'm selfish and not solving the world's problems…
The wheel was invented for a reason!
For the time being, we decided not to get a car.  It's less expensive to not have one and with us being 1/2 mile from town now, there's no need.  When we go elsewhere, we can just catch a cab or the bus.  Both options are cheap, easy, and convenient (taxis are everywhere).
Grocery shopping is the one area we struggle with though.  When we buy a few things, it's not a big deal to haul it back.  But what about when we need to buy a lot of groceries or bigger items?
We could get a cab, but I'd rather walk if possible.  Well, in the midst of one of our struggles, Faith came through for us a few weeks ago.  We were standing in line at the grocery store trying to figure out how we were going to fit everything in the bags we had brought and carry it all back.
Faith pointed out some cheap hand truck-type carts they had for sale a couple of aisles over.  Yup, we bought one – hey, it was only $6 so it was worth a shot.
Now when we know we'll be doing heavier shopping, we roll in rocking the cart.  I mean, how can you look any cooler than this?!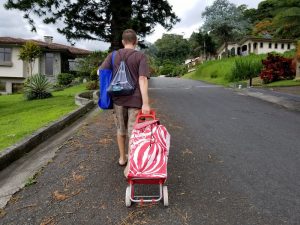 Ok, maybe it sounds like a stupid idea, but it does the job.  And remember that computer that I had to pick up from Mail Boxes Etc.?  Well, it was a perfect fit on this cart for the walk back home…
Filling in the cracks for shopping
Now that I calmed your nerves earlier letting you know that you can get things from Amazon when you need them, let's talk about some other options.  After all, it can be pricey to pay the extra costs for the international shipping if you're doing it all the time.
We know that Boquete is limited in what they offer and so we have to remember that, like most expats here, a periodic 45-minute drive to David, Panama becomes the norm.
Here's something cool – they also have a place called PriceSmart there.  If you haven't heard of it before, that wouldn't surprise me as they tend to focus on Central America and the Caribbean.
But I'm guessing you've heard of Costco, right?  Yeah, well it's pretty much the same thing.  In fact, they had ties together decades ago and there's speculation that they might find their way back together again at some point.
For less than $38, we got an annual membership with two cards.  That should pay for itself easily over a couple of visits.
On top of that, we found someone who is solving the world's problems.  Margie Brooke started a company called Boquete Concierge Service and one of the services offered is delivery from PriceSmart.  That's right – every week they do a run and for I believe around $11, they'll pick up what you need.
$11 sounds like a big shipping charge, but again, we don't have a car.  Between the cost of cabs or buses for the three of us and the time involved for us to go, that's a steal!  We haven't used the service yet, but I'm sure that'll come in very handy over the months to come.
And finally, we were just reminded recently about using the Facebook expat groups when looking for things we need.  For instance, we were planning on getting some of those Sterilite storage bins with drawers from PriceSmart.  However, we'll start by checking the Facebook groups first.  With folks coming and going here, we should be able to find something close to new for a much lower price.
Protecting the electronics
If you're not already familiar, the electric in Panama is interesting.  The power goes out almost every day generally for a few minutes in the late evening or overnight but sometimes it can last longer.  Don't ask me why – bad infrastructure?
We don't mind when it happens – it's just how it is here and doesn't really affect us very much.
Regardless, electronics hate power interruptions.  Not so much when the power goes out, but they definitely don't like the surge when it comes back on.  Additionally, I'm told that the power isn't very clean here in general (problems like voltage variations) which can wear down the life span of devices like computers.
So I had to put some precautions in place.  I added at least one good surge protector in every room for any devices that we care about.  After all, we have a few Google Home Mini devices around here we need to protect, people!
But seriously, between those devices, the Chromebooks, our cell phone chargers, the TV's, and the old-school Nintendo Wii we're rocking, I need to protect them from getting fried.  As a side note, we have way too many electronics floating around!
Then I picked up a UPS (uninterruptible power supply) from Panafoto when we were in David for about $50.  The UPS does all sorts of good things.  It protects against surges, gives us voltage regulation, and it also gives a battery backup to keep the power going for a little bit when the electric's out.
I have the Home Theater PC, wireless router, Roku Streaming Stick, and a Google Home Mini plugged into that.  When the power goes out, it should buy a little time with the battery before any of those lose power.
---
So yeah, it's little things like working these problems out and setting up new solutions that have been keeping me busy lately.  C'mon – that should count for solving the world's problems, right?  🙂
Eventually, I'll work on eliminating world hunger and solving the world's problems in general.  But for now, I'm knocking things out for us here in Panama.
What do you think about living in Panama?  Minor inconveniences or too much for your mind to handle?
Thanks for reading!!
— Jim