The idea of retiring early is something that most folks in the personal finance and FIRE world understand.  When I tell people in the community that I'm retiring early at the age of 43, they say "good for you" and move on.
Nevertheless, when friends or family ask me what we're planning to do once we move to Panama (that is after they get past the idea that we're moving to Panama!), it gets a little weird.
Ok, it gets a little weird, but really just for me.  I hem and haw and then say something along of the lines of…
"Well, uh, I've been working on building up my blog for a while and that's starting to generate some income so I'll be continuing to do that along with some other projects I have in mind.  Um, and then we have the rental income…"
Then it starts to get worse as I realize in mid-thought that this isn't something to be ashamed of saying.
So I end up following it up with something like…
"… but we've saved a lot of money and we're in a position where we probably won't have to work if we don't want to."
Then I start to feel like I'm bragging so I taper it back with a line like…
"… well, at least for a few years anyway."
Ouch.  Similar conversations have already happened too many times already.
What the @#$% is wrong with me?  Total mess!
A better answer…
I get it – my answer to people is ridiculous and a horrible response.  Here's how my side of the discussion should go instead…
"Well, actually, we've been dedicated to aggressively building our savings and investments over the years.  We've worked hard to learn what we could about personal finance – specifically with the goal of retiring early.
"Not only are we paying ourselves first and living on a lot less than we make, but we also sacrifice some of our time outside of regular work hours with some side hustles to generate some more income.
"I'm sure that I'll come up with some projects to keep me busy and that'll probably bring in some income once I quit working.  But in all reality, we're blessed to be able to say that we won't need to work again if we don't want to."
Haha, could you imagine if I actually said that to people?!  Their jaws would either just be left hanging open or they'd be angered as if it was an insult to them and punch me in the face.  I prefer the former, but neither option would likely end well.
Retiring early isn't something I take lightly
Here's the deal – any of you that have already retired early or are planning to retire early (myself included) are in a unique position.  This is not the norm… not at all.  This chart is starting to become a little dated (2015), but it can still give you a general idea of what we're looking at: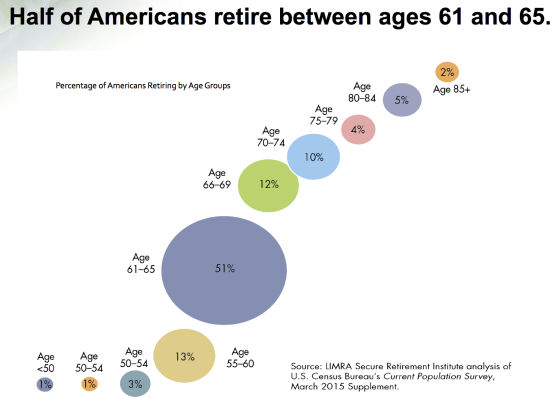 In my case, I'm 43 as I write this and less than 1% of Americans are retiring at an age of less than 50… less than 1%!!
None of my family and friends are currently on the path to FIRE.  Some would like to be and another one or two have even considered following in my footsteps, but no one in my inner circle (outside of the personal finance community) is making this kind of thing happen.
There's no doubt I'm excited about retiring early – I'm thrilled beyond belief!  However, I also realize that we're in such a unique position.
Most folks in life will never be able to retire early and some may never be able to retire at all.
So many people out there are struggling to pay their bills and make ends meet.  And here I am telling people that we're in a position where we never need to work again.
I don't want to say there's a feeling of guilt necessarily (there's not), but I don't want others to feel bad that we're in better shape financially either.  With that in mind, there's a side of me that is very cautious in telling others what we're planning.
Nothing to be ashamed of…
But then there's the other side of the coin.
So many folks struggle to make ends meet because they put themselves in that situation… and continue to.  They just can't seem to figure out how to live on less than they make.
Hell, one of Financial Samurai's most controversial posts was about a real couple who has a hard time making ends meet on $500,000 a year.  They're basically living paycheck to paycheck… insane, right?!
The point is that a lot of people could put themselves in a better financial position if they want to – they just choose different priorities.
And please don't get me wrong, I'm not naive to the fact that there are struggling families out there that are sincerely in a tough financial state.  A perfect example is the waitress Fritz and I met while at dinner a few months ago.  Her husband suffered an unexpected disability and she's working two jobs just to make ends meet.
I get it – @#$% happens and you can't always be prepared for that.  Although we try to set up protections to help minimize things that could affect our financial situation, you can't bulletproof yourself.
There will always be disasters that could happen to us and knock us right back to square one.
However, most of the folks I see driving to work every day in their brand-new BMW or Lexus are likely making a salary that doesn't justify those material things.  Then they head home to their fancy over-priced homes with the latest and greatest electronics and home remodels.
If you have the money for these type of things, great – go for it.  You're a special case and can easily afford those luxuries without hurting your financial future.
But when I say, "have the money for", I mean that you literally have the money for it without throwing yourself into debt and that your savings and retirement accounts are where they need to be first.
And most of the time, that's not going to be the case.  What we've learned from The Millionaire Next Door is that most of the real rich aren't flashing their wealth.
The majority of these people aren't really rich.  They're just regular folks making the wrong decisions – whether consciously or not.
It's that knowledge that makes me feel more at ease about saying we're retiring early.  We've made some intentional decisions in how we earn and save money that most of our friends and family could do as well if that's what they choose.
Putting it into perspective
The closer we get to our FIRE date, the more that our retiring early is becoming "public knowledge" with friends and family.
And the more I tell people our plans, the more I realize that I'm not giving people enough credit.  I've probably been overthinking this a bit.
When I stumble through my explanation of what we're doing, they understand.  They know us and they also know that we're not big spenders.
As I go into a little depth of the nuances of our game plan, they get it.  They're not too surprised to realize that we've been saving so much over the years.
Most people (most!) realize that this is a matter of math and give us credit for being able to make retiring early a reality.
So really I just need to find a way to meet somewhere in the middle on the way I answer people when they ask what we'll be doing for money once we move to Panama.
Maybe my "better answer" from above wasn't really too far off.  Perhaps something along these lines would make more sense…
"Well, actually, we've been very dedicated to building our savings and investments over the years.  I'm sure that I'll come up with some projects to keep me busy that'll probably bring in some income once I quit working.  But, we're blessed to be able to say that we won't need to work again if we don't want to."
I think it's fair to be proud of our achievement and that we should be able to talk about it when the subject comes up.  The key is not to come off as if we're bragging because that's certainly not the case.
In addition, everyone's a little different so it's probably just a matter of feeling out each instance.  I'm going to keep it simple (maybe simpler than the above response) and then expand as needed if we're asked more questions.
The idea of retiring early isn't that crazy, but it's still something that's not the norm out there to do.  Because of that, I think it's important that we openly discuss our plans in a way that helps to educate and possibly motivate others who might want to do the same.
Think telling people you're retiring early should be uncomfortable?
Thanks for reading!!
— Jim