It's not what you know, it's who you know.
I've always hated this saying.  It implies that hard work won't get you as far as knowing someone will.
As if you can get further just by knowing people instead of busting your butt!
It's insane… but I think it's true.
From my first job, all I ever did was bust my @#$ doing the best I could.  While others played around at the companies I was at, I always focused on the job at hand.
In my mind, that's what I was getting paid to do – work.  So that's exactly what I did.
It wasn't that I was a non-social guy before – I just figured that if someone's paying me for my time, it should really be spent doing what I was hired to do.
And don't get me wrong, I've done all right in my career life.  In fact, somehow I seemed to find my way into middle management at almost every job I've had.
Funny enough, middle management might be the worst position at any company – non-management employees don't have the same stress and those running the companies enjoy the big bucks.  Meanwhile, you get stuck in the middle!
Regardless, I don't mind it and I've been the Systems Engineers Manager at my current employer for the last 13 out of 19 years I've worked there.
But is putting your nose to the grind the optimal way to go in life?
Shall we do some networking?
Networking… yuck.  I've never been in sales, but between the sales department at my job and my brother who also does this for a living, I've seen up close how this goes.
A regular part of the job is to entertain clients.  It might be as simple as taking the customer out to lunch or possibly drinks after work.  Or maybe it's taking the client out golfing or to a ball game.
From those that I talk to, they seem to enjoy it.  It comes with the job and they seem to make some good relationships out of the deal.  It's something that some people are just born good at and instinctively enjoy.
However, there will always be some real jerks or pain-in-the-butt customers that you have to entertain as well.  And that sounds miserable to me.
I always found that odd – it's a business – why should you have to kiss someone's @#$ to keep their loyalty?!
Nevertheless, it's something that the account managers I know tend to enjoy.  Maybe I have more of an engineering mindset than a sales mindset.
Regardless, those that are good at their job always seem to have good connections when they need 'em.
Hmm, maybe an important part of life really is who you know?
The Connection King
I've realized from the masters that relationships matter… a lot.
The VP and sales manager of our IT company (who's also my mentor) might be the king of networking.  He makes it his entire business to build relationships and forge connections and he does a fantastic job of it.
He connects people looking for jobs and needing good help.  He pulls strings to help out others whenever he can.  He finds ways to fix issues and make people happy.  That's just what he does and he loves it.
In essence, though, he's built such a vast network of contacts over the years that he can solve most of his problems with a simple phone call.  It's actually pretty incredible.
When people need help with something, he generally comes to mind and they reach out to him.  I wouldn't say that others then feel obligated to him, but they're always more than willing to go out of their way whenever he needs a favor.
This is the epitome of "who you know" in action.
Making some relationships of my own
I'm a sociable guy – it's just my nature.  When I'm in line at the store, waiting to order beer at the bar, or talking to customer service on the phone I strike up a conversation.  It's just small talk, but it tends to put people at ease.
At work though, I've always just focused on the actual job at hand.  Weird, right?
However, over maybe the past couple of years or so, I've decided to start opening up a little more while at my job.  Instead of just putting my nose down and focusing solely on what needs to be done, I've been taking more time to talk to coworkers and the bosses.
It's interesting because it bothers me when I'm not getting everything done in the most efficient manner as possible.  But, on the other hand, it's good to get to know my peers and bosses at a deeper level.
And guess what – I've seen a change.  I noticed that the more I get to know people, the more they want to open up.  And the more they open up, the more connections or opportunities seem to arise.
Some things were pretty straight-forward and simple.  When my wife and I wanted to see a big show, one of my contacts stepped up, reached out to some others, and got us front-row, center-stage tickets for the event.
Other opportunities were more valuable.  For example, when I was focused on getting into rental properties, I had a good friend that stepped up to be another financial mentor of mine.
Not only did he help me understand the numbers and what to look for better, but he actually spends hours of his time touring many of the properties with me.  That resulted in us purchasing the solid cash-flowing duplex we now own.
Who you know in the blogosphere
Even today with Route to Retire, I'm learning that relationships matter and who you know helps.
I think the biggest difference with the blog vs my 9-5 employment has to do with the people.  Most of the folks I meet at the technology conferences or the IT vendors that come into the office turn me off.  It's a world I no longer have an interest in.
However, I thoroughly enjoy meeting new people at personal finance meetups and conferences.  The friendships are real and have happened organically.  But the relationships are also valuable.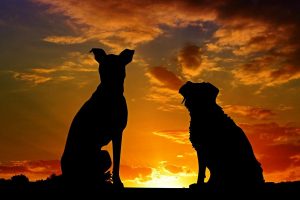 Here's an example.  When I decided to go to FinCon for the first time in 2017, I had a choice.  I could concentrate more on the sessions or focus on meeting people.
Because the sessions are recorded and can be viewed later, I attended a lot less of the sessions than I normally would for conferences for my regular job.  Instead, my main goal was just to get to know all those like-minded folks out there in the personal finance community.
There was no pressure and I wasn't after anything.  I sincerely just wanted to get to know as many folks as I could and share some laughs… and of course, some beer.
However, those real relationships turned out to be more than just chummy friendships.  Sometimes knowing people makes a difference.
For instance, I met John from ESI Money at FinCon and didn't really know who he was at the time (sorry, John!).  But we hit it off (he'll deny that), laughed a lot, and hung out quite a bit while there.
What I didn't know was that he was in the process of buying Rockstar Finance.  And it wouldn't have mattered regardless.
However, a number of months down the line, John was gracious enough to ask me to be the guest curator for Rockstar Finance.  He also recently invited me to write a guest post for his site, which draws a large amount of traffic.
Both of these are fantastic opportunities that I'm truly grateful for.
But I'll be honest – if I had just put my nose to the grind and focused solely on the business side of my blog and attending all the sessions, I probably wouldn't have met John or been presented with those opportunities.
I'm not saying that working hard isn't important – far from it.  I'm just saying that sometimes the best shots in life come from those who you know.
And to make it clear, I didn't meet or hang out with John to get those breaks.  He's just a good guy who wants to help others be successful at what they do and because he now knows me, was willing to give me (along with countless others) a shot at some opportunities.
Making it real
I think we all know that who you know can be helpful in life.  I just never realized until the past couple of years that it can sometimes be even just as valuable as the work itself in a lot of scenarios.
And now I know.  But I've also realized that I don't want to just make connections with those that I think can help me get further.  I think that's a bad start to any relationship and totally phony.
Instead, I plan to continue to focus on just meeting like-minded people and finding that authentic rapport that actually matters.  Real friendships with real people.
These are the folks that I'll continue to help out when they need it.  And from there, I would bet that if and when opportunities arise, I might come to mind for someone to reach out to.
What do you think ends up being more important – what you know or who you know?
Thanks for reading!!
— Jim