---
Disclosure: This post contains affiliate links and we may receive a referral fee (at no extra cost to you) if you sign up or purchase products or services mentioned.
---
I recently wrote a post called Teaching Kids About Money – Valuable Lessons Instilled. As I was in the process of writing it, I got motivated to open a custodial Roth IRA for my daughter, Faith.
If you're new to this blog, Faith is 10 years old (11 in a few months). When you hear that, you might be thinking, "What the @#$% does a 10-year-old need with a retirement account?" or "Um, Jim, don't you need to have earned income in order to have a Roth IRA?"
Both of those are fair questions and I'm going to answer them shortly. I'm also going to tell you why opening a custodial Roth IRA for her might be one of the best financial moves ever.
And because I'm such a nice guy, I'm also going to walk you through how to open a custodial Roth IRA at Vanguard (you can't just do it online).
So let's get started and have some fun!
Oh, and just a reminder, here's your disclaimer that I'm not a certified financial advisor and don't have any cool acronyms after my name. I'm just presenting information on something we're doing. Be sure to talk to a professional before doing anything you don't fully understand. Get it? Got it? Good!
What's a Roth IRA?
Just to make sure we're all on the same page, let's start with a quick recap of what a Roth IRA is.
A Roth IRA is a retirement account that you're allowed to contribute to using after-tax dollars. Hear that? "After-tax dollars."
In other words, you're contributing money that's already been taxed – like the money you get deposited into your bank account from your employer after taxes have already been taken out.
That's an important piece of information because that's money that's never going to be taxed again. It's the opposite of accounts like a traditional 401(k) or traditional IRA where any contributions are made before taxes are taken out.
Essentially, when you take money out of pre-tax retirement accounts later in life, you'll still owe taxes on anything you withdraw. So, if you're looking at your 401(k) statement balance and trying to do your financial planning, keep in mind that you're going to lose some of that well-earned money to the taxman.
But with a Roth IRA, what you see is what you get! When you pull money out of a Roth IRA, you don't get taxed on it. Nice, right? See how this can be extremely valuable?
And because it's a retirement account, you're shielded from being taxed on dividends and capital gains as well. These are huge benefits!
As far as contributions go, here are two important things to be aware of:
The IRS sets the contribution limit each year. For 2021, that limit is $6,000 ($7,000 if you're age 50 or older).
You can only contribute an amount equal to or less than your earned income for that year up to the limit. So if you're making say $60,000/year, you can contribute up to the limit ($6k or $7k depending on your age in 2021). But if you're just working a little and only make $3,500 in income for the year, you can't contribute more than that into your Roth IRA.
Both of these points are important to consider with Roth IRA accounts… including custodial accounts.
Why you should consider opening a custodial Roth IRA for your kids
Ok, so now you know that a Roth IRA is a valuable account to have. And we all know that the earlier you start saving, the better. Check out this chart from Vanguard that shows you how $1 saved at age 55 can be worth $1.48 by age 65. However, $1 saved at age 20 can be worth $5.84 at age 65. Now imagine that with big numbers!
The power of compounding interest can be crazy valuable for an investment portfolio. Invested money and time on your side can make a tremendous difference in your portfolio value later in life.
And with a Roth IRA being one of the most coveted accounts to be able to invest in, how do get one of these babies for your kid?!
The good news is that as long as your kid has earned income, they can qualify. Even informal self-employment work like babysitting or mowing lawns is fair game.
My recommendation is to open an account at one of the "big three" discount brokers who seem to have your interests at heart more than many others:
Any of these three companies are a win for you so choose what makes sense. If you already have an account at one of them, it probably just makes sense to keep it simple and go with that one.
In our case, I went with Vanguard because Faith already has a custodial taxable brokerage account there. I also value that the company is owned by its customers (similar to a credit union).
Because Vanguard's the one I've gone through the process of opening a custodial Roth IRA with, I'll take you through the process.
How to open a custodial Roth IRA at Vanguard
I was excited that Vanguard offers custodial Roth IRA accounts since that's where we have all our investments. However, they don't make it as easy as the others for some reason. It's not difficult but for some reason, you need to talk to someone first – you can't just log in and open an account online.
Instead, you first have to call their "retirement specialists" at 800-551-8631. You tell them that you want to open a custodial Roth IRA and then they send you a "special link" for you to start the process. Essentially, you're still opening the account online, but you still need to call them first to get the process started… why?!
---
UPDATE 05/03/21: One of my readers gave us some great information as a comment to this. It looks like you don't necessarily have to call Vanguard and sit on hold. They provided him with the following info:
I found a way to open the custodial IRA with Vanguard without having to call! (Of course I did have to call the first time and wait on hold FOREVER.) Then they told me how to get to the correct form without needing a link.

Sign in to your Vanguard Account.

Go the the "Forms" menu on on top-right of screen.

Select "Open or transfer a retirement account".

Select "Open a personal IRA".

Select "Open or upgrade a retirement account".

Follow the rest of the process exactly as you described.
That might save you some time… thanks for the info, Ryan!
---
Anyway, it's pretty straightforward from there except for one very important step I'll mention as we're going through this. I opened Faith's account recently (March of 2021) so if you're reading this sometime in the distant future, be aware that the steps may have changed.
Also, be aware that you can click on any of the screenshots to see a larger version. And if you hold down the CTRL key when clicking on it and it'll open in a new tab. Cool trick, right? This works for most links on other websites as well.
When you first click on the special link Vanguard gives you to open a custodial Roth IRA, you'll start with a disclaimer that you need to accept to continue…
Now, you're ready for some fun. On the first step of the application, you're going to choose that you're opening a Vanguard Brokerage Account IRA…
The type of IRA you want is a Brokerage Roth IRA…
The owner of the IRA is going to be a minor. Your child will own the IRA even though you'll be the custodian of it until they turn 18…
Then you get to fill out the account owner information. As a reminder, this is the info for your child, not you…
Next, you'll select whether you're the child's guardian or custodian. Since I'm Faith's parent, I chose "Custodian" here…
Because I was already logged into Vanguard with my account, it filled in my info automatically. If this isn't the case for you, you'll need to manually do this…
Then they ask you some information that's really none of anyone's business but I believe they're required by law to gather it regardless…
Then it'll ask you about whether you're connected to anyone in the biz…
With this next option, you'll choose what to do with dividends. With a custodial Roth IRA account that we're hoping will just continue to grow over the years, I would think most folks would just want the earnings reinvested. However, that's up to you…
Now, here's where it gets a little weird. They ask you how you want o make your initial investment. The first time I filled out this form, I checked the option to transfer funds from my bank. Once I got through with the entire application, it created an 87 page PDF document. The site then told me I had to sign and mail a good chunk of those pages back to Vanguard to complete the process.
With us in Panama right now, that makes this a complex process. So I called Vanguard again and the rep was surprised that it wasn't letting me sign electronically. When I asked if it was because I chose the options to fund from my bank account (where I'd also have to send in a statement or voided check), she was pretty sure that was the cause.
So she sent me another application link and I started everything over. This time, I chose "Fund at later date" and I was able to just sign everything electronically. Better yet, when all was said and done, I was able to just fund the account from my bank account that was already tied to my other Vanguard accounts.
I'd suggest you choose "Fund at a later date" just to get the account open without hassle. After that, you can get the connected bank account done separately if you don't already have one tied to Vanguard already…
More information that's none of their business…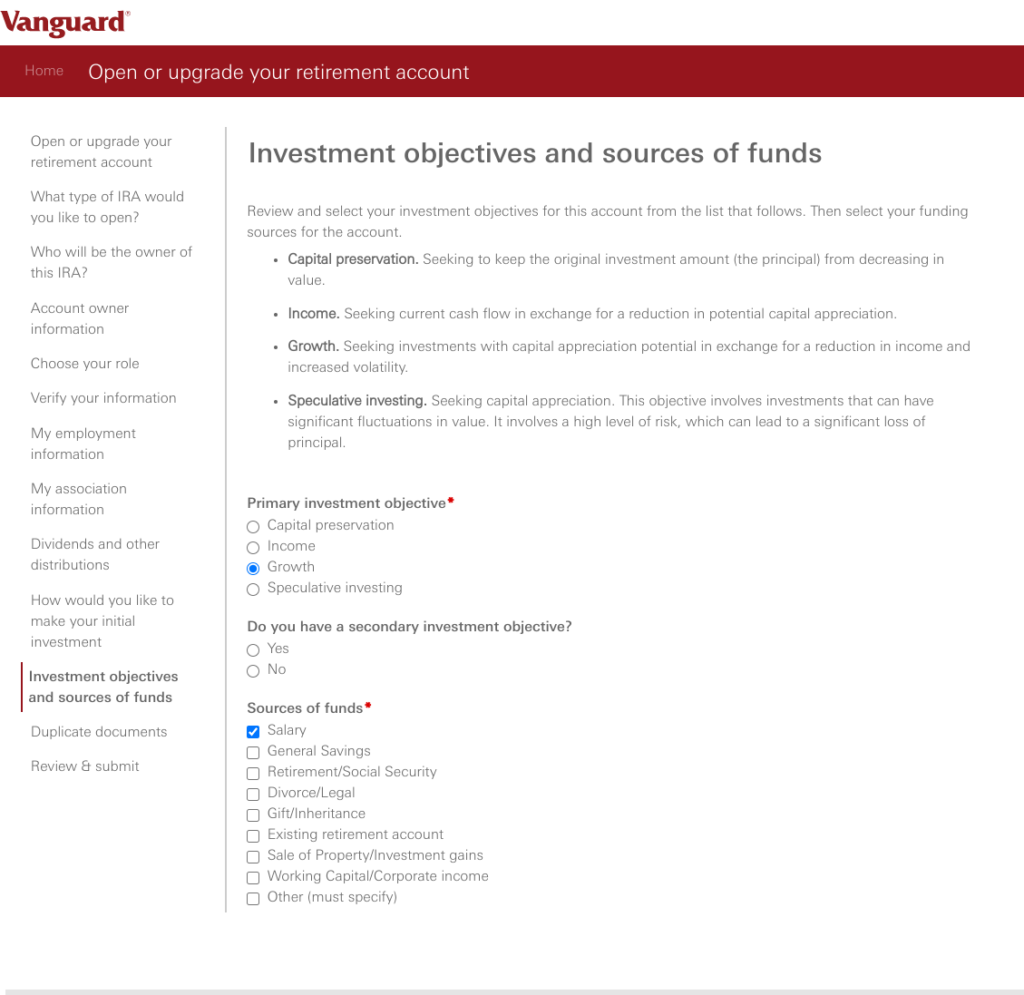 This one's all up to you. I don't need any more paperwork in life…
Now it's time to check things over. I would recommend taking a minute to do this and not just click "Submit." A mistake could be a real pain in the butt to correct later…
Once you submit the application, it's time to do a DocuSign electronic signature…
Finish that and you're done!
It took a day or two for the custodial Roth IRA account to show up on Vanguard's site for me. I was surprised that I didn't get any emails communicating the process along the way. I just happened to log in and there it was.
It also showed up automatically in Empower (formerly Personal Capital) since that account falls under the same Vanguard login I use. Empower (formerly Personal Capital) helps me easily track our net worth, see all our accounts in one place, and manage our investments. I highly recommend trying it out (free!) to get your finances in order.
In this case, though, I deleted Faith's account from Empower (formerly Personal Capital) because her retirement account is not part of our net worth. I also don't include her savings account, 529 plan, or taxable brokerage account.
---
You can fund your child's account in whatever way works best for you. In my case, Faith has a separate online savings account already set up with Ally Bank. So when I pay Faith for photos she takes to use on this site or for her modeling for the blog, I'll pay her from my Route to Retire business checking account. That money goes into her savings account at Ally. Then I'll go to her account in Vanguard and pull the money from her savings and invest it accordingly.
Using the above system will help keep everything in line on a transaction-by-transaction basis in case I would ever get audited. I also created a quick spreadsheet that I'll use to keep track of her earned income every year – again, this will help ensure that we're complying with all the rules in the case of an audit.
That's it, folks! I hope you found this helpful. I wish that I had opened a custodial Roth IRA for Faith earlier. But at 10 years old, this should be a great start to the habit of saving for retirement. And when she gets a regular job at around 16, I hope to push her to continue contributing to the account without missing a beat.
If you have kids, do you have or have you considered opening up a custodial Roth for them?
Plan well, take action, and live your best life!
Thanks for reading!!
— Jim