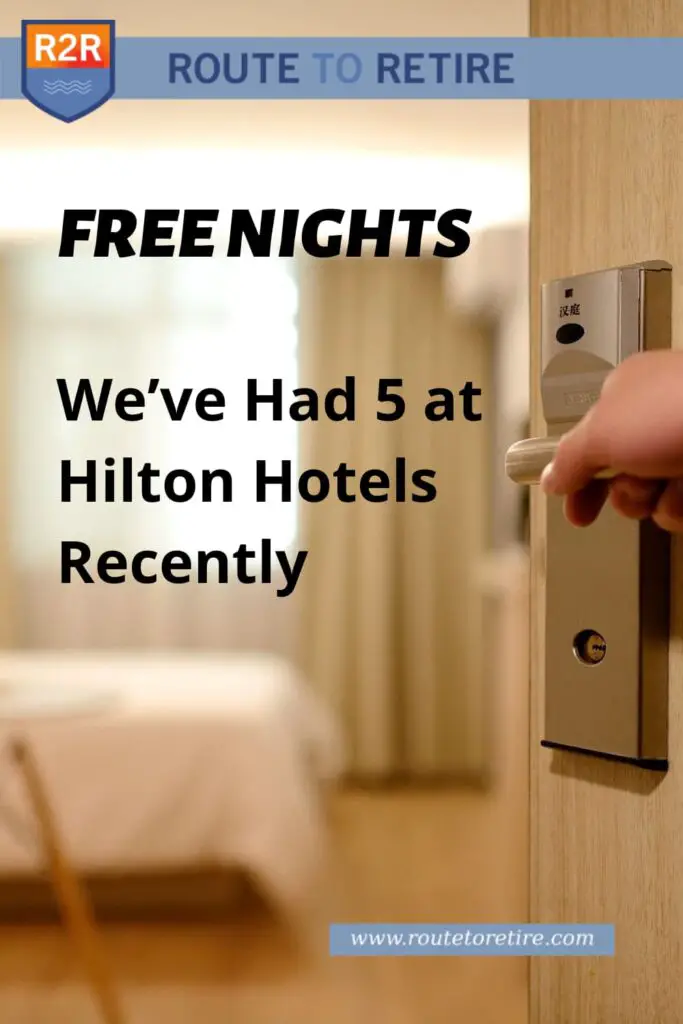 Getting free stays at a hotel can be such a winning feeling. But free nights at various Hilton Hotels makes it even nicer!
Our recent 40-day road trip took us through a lot of the country. On leg one and leg two of the trip, we didn't really need a hotel to stay at. We spent time camping, staying with friends and family, and even had a few nights sleeping in the car (including once in a Cracker Barrel parking lot!).
But once we started continuing our loop and making our way back east, we didn't really have a lot of folks along our path to stay with. Throw in that the overnights were getting a little too cold for camping and we knew we'd be staying at a few hotels along the way.
For those of you who know me, you know that I don't like spending excessive money if I don't need to. And more importantly, I like the game of finding ways to get something for free or at a steep discount.
So today I'm going to tell you how we stayed for free at a handful of different Hilton Hotels recently.
Getting free nights at Hilton Hotels is pretty easy
Ok, I'm going to let you in on a secret – free nights at Hilton hotels aren't hard to come by. In fact, it's just a matter of playing the credit cards travel rewards game.
For those new to this, if you're in good shape with your credit cards and pay them off every month, the bonuses offered for signing up can be very lucrative. I didn't realize just how valuable these were until we were solidly on the route to retire.
Then around the beginning of 2017, I started to look at how these credit card bonuses could save us a ton of money in traveling. Since that time, we've stacked up hundreds of thousands of points that we've been able to use for a lot of free flights and free nights at hotels. We even attained the coveted Southwest Companion Pass. That means every time I book a Southwest flight for myself, Lisa flies for free!
For more info on what the world of travel rewards is all about, you can find more info in my first post about it, Travel Rewards – 12 Free Flights Earned in 9 Months!. If you decide to start down this path (or you already have been), I'd highly recommend keeping track of where you're at with each card:
When you signed up
When the deadline is for each bonus
The amount of money you need to spend to get the bonus
If there's an annual fee and when it's due
How many cards you've opened in the past two years (for Chase's 5/24 rule)
If only there was already a good way to keep track of all of this stuff? Oh, wait – good news – I've got you covered!
I created a spreadsheet that lets you easily record all this info so you know exactly where you're at in the process. It's what I use so I don't lose my place on any cards we sign up for. It even keeps you up-to-speed with how many cards you've opened in the last 24 months so you don't break Chase's 5/24 rule…
Sign up here and I'll send you a link to get this tracker pronto…
Nice job on signing up – you won't be disappointed!
So by now, you might be thinking that the way we scored our free nights at Hilton Hotels was through a credit card bonus… and you're 100% right.
The Hilton Honors American Express Surpass Card
Once we got back from Panama in July, we decided to start planning a road trip just for fun since we weren't sure if we'd be able to get back to Panama (we're still hoping!). As part of that planning, we knew we'd be staying at some hotels along the way. So at the end of July, I signed up for the Hilton Honors American Express Surpass Card.
There were several reasons I decided on this card, but here were the main ones:
125,000 Hilton Honors Bonus Points after spending $2,000 in the first 3 months
Complimentary Hilton Honors Gold status
Complimentary Priority Pass Select membership
No foreign transaction fees
There's other good stuff as well like earning 6X Hilton Honors Bonus Points for every dollar on restaurants, supermarkets, and gas stations. And you get 3X Hilton Honors Bonus Points for all other purchases on the Card. You can also earn a free weekend night or diamond status for hitting spending thresholds in a calendar year.
However, the bullet items were what I was after. Spending $2k in 3 months on a credit card is easy for us – we just put all our spending on that card and we hit it quickly. 125,000 HHonors points can provide a good number of free nights at their hotels.
The Gold status was a nice little perk, too. That gave us a couple of free bottles of water and a snack each time we checked into one of the hotels. And we also got to enjoy a free breakfast each morning.
But the other big benefit that we were after was the complimentary Priority Pass Select membership. This wasn't in the American Express main marketing bullet points but I found it in the terms.
If you're not familiar with Priority Pass, they provide access to over 1,300 airport lounges. That's a big deal for us because it gives us a nice, quiet area to relax during layovers on our travels. They usually have some free food or snacks and drinks, WiFi, and more. This is a huge bonus as far as I'm concerned.
The Hilton Honors American Express Surpass Card gives you 10 free lounge visits per year. You have to sign up for this separately so I'm waiting until just before we need it to do that. If I understand it correctly, that's when the year will kick off with them so I want to give myself as long as possible to use the free visits.
Be aware that these were the benefits at the time I signed up. The offer might have changed (possibly for the better!) since then. But you can always get the latest info on my Recommended Credit Cards page.
It's also worth noting that there's a $95 annual fee for the card. This was far from a deal-breaker for us since we made that up several times over with the card. As a side note though, it's very possible that I'll cancel the card before the year is up since you burn a lot of the value out of the card with the one-time points you get for signing up.
Enjoying our free nights at different Hilton Hotels
We were able to knock out the $2,000 required spend amount in just the first month – not sure if that's a good thing! Regardless, our 125,000 bonus points posted after our first statement. We also received 8,448 points from our actual spending over that month. That gave us a total of 133,448 HHonors points by the end of August.
As I mentioned, we didn't need the hotel stays until the third leg of our road trip in early to mid-September. But once we started our trek back toward Ohio from the Grand Canyon, we stopped periodically at different Hilton-branded hotels.
It was nice that we were able to be a little pickier in where we stayed because we weren't specifically looking to be by any particular sites or cities. It's also a pandemic summer so the rates are really low in general. So for us, we had a lot of flexibility in our point spending to make the points worthwhile. Here are the hotels we stayed at for free on the way back…
| Hotel | Location | Number of Nights | Points Used for Stay |
| --- | --- | --- | --- |
| Hampton Inn | Alamosa, CO | 1 | 26,000 |
| Home2 Suites | Kansas City, KS | 2 | 50,000 |
| Embassy Suites | Indianapolis, IN | 1 | 20,000 |
| | | TOTAL POINTS USED: | 96,000 |
96,000 points for 4 nights – not too shabby! But if you noticed, that's only four hotel nights and the title of this post is Free Nights – We've Had 5 at Hilton Hotels Recently. Wow, you're an observant one, aren't you?!
Well, you are correct. We stayed four nights at Hilton Hotels during our road trip. Our next free night is scheduled to be used next week. If everything falls into place, we're planning to fly back to Panama next week. Our flight is early in the morning so we're going to get dropped off at a hotel the night before right by the airport. Then we can just take a shuttle from the hotel to the airport in the morning.
With this upcoming stay, here's what our free nights at the Hilton Hotels look like…
| Hotel | Location | Number of Nights | Points Used for Stay |
| --- | --- | --- | --- |
| Hampton Inn | Alamosa, CO | 1 | 26,000 |
| Home2 Suites | Kansas City, KS | 2 | 50,000 |
| Embassy Suites | Indianapolis, IN | 1 | 20,000 |
| Hilton Garden Inn | Cleveland, OH | 1 | 25,000 |
| | | TOTAL POINTS USED: | 121,000 |
We've also earned a few more points along the way and still have just over 17,000 HHonors points left. In the meantime, we decided to keep spending on this card for the time being to ensure that we can get at least one more free stay out of it.
---
We've saved thousands of dollars since we went down the road of travel rewards. It really doesn't cost us anything since we just do our normal spending and put it all on the card we're focused on to make sure we get the bonus. And each month, we pay off the card in full.
In the case of the Hilton Honors American Express Surpass Card, this has been a great card. You can see that we've likely already saved what I would guess to be at least $500-600. Points will vary with each hotel, the days you book, and the type of room so it's all about figuring out what makes sense for you.
But when all is said and done, we should receive one more free stay, bringing us to a fantastic six free nights at the Hilton properties! Even with that $95 annual fee, we've paid for this card several times over and have enjoyed our stays at each of the hotels.
If you're interested in earning some free stays of your own, here's some more information on the card and a link to apply:
Hilton Honor American Express Surpass Card
I have a feeling you won't be disappointed!
Do you maximize your rewards with credit cards? Have you earned free hotel nights because of it?
Thanks for reading!!
— Jim
If you enjoyed reading this, here are all the posts from this road trip: