I recently started a new series called "Here's Why I'm Liking…" to help showcase awesome products, services, and apps I come across. Today I'm going to tell you about a cool website/app I started using called RV Parky.
For those of you following along, we recently completed a big ol' road trip. When done, it ended up covering 5,863 miles over 40 days. It was a wonderful time and we're blessed to be able to just pick up and go for such a long time.
Part of the fun of going on a road trip is planning it all out. The problem is that there aren't a ton of great sites or apps to help with this part. I came across a few that did some of the things that I wanted, but most just really weren't that good.
But then I stumbled onto RV Parky.
This website/app was perfect for our trip and really helped us map out our plans.
And the best part is that it's 100% free!
Using RV Parky
Once you create an account on RV Parky, you can create a new trip to get everything laid out. As a side note, it'll let you create multiple trips and store them for reference later, too.
You just input some basic information and you're ready to roll…
Once you click Ok, you'll get your blank canvas to start making your plans!
Now comes the fun part! You can add the cities or places you want to visit and increment the number of nights you want to stay in each place. That'll start building out your map…
You can also add in sites that you want to visit to make the map on RV Parky a little more accurate. For instance, #8 on our map was the Grand Canyon. Although we didn't stay overnight, I added it to the trip (with 0 nights selected). That way it still showed the path we'd be taking.
Finding places to stay with RV Parky
Ok, so you have a map of your road trip. It's cool, but there's more fun to do – it's time to find places to stay! RV Parky lets you research and add campgrounds, parking lots, etc. All you need to do is click on the "Find a place to stay" button under the city you're looking at (or you can click on the "Search" tab along the top).
And this, my friends, is where RV Parky really shines and what I like so much about it.
The ability to filter what you're looking for is fantastic. You can show RV parks, tent campgrounds, Walmart stores, and so much more. Plus you can filter for amenities like if you need electricity, water, WiFi, etc…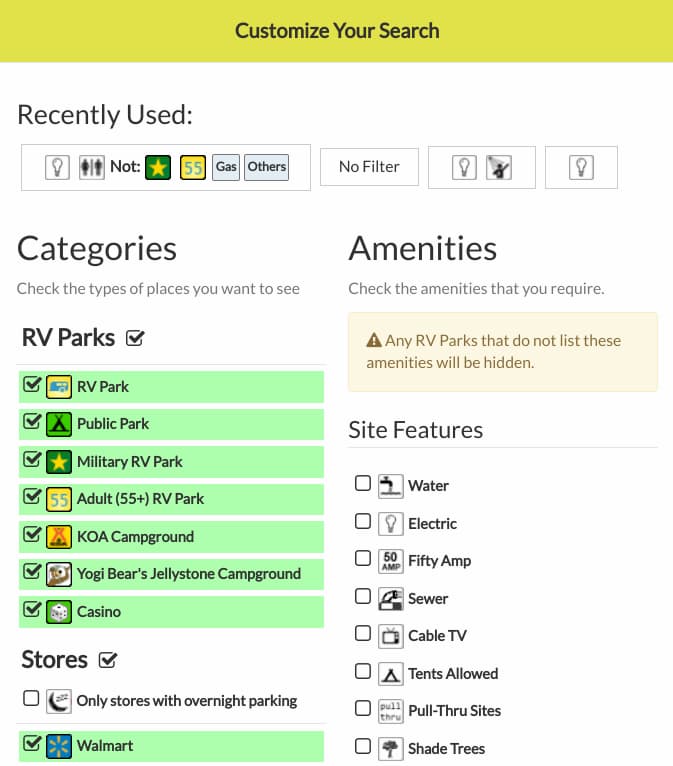 So far so good right? It gets better. Once you click on a place, you'll get all the information that RV Parky has on the site from other users. It's crowd-sourced meaning it's up to us to update the information in here. But that means you'll possibly find helpful details including amenities, costs, reviews, photos, a link to the location's website, and more.
I can't tell you how invaluable it is to find all of this in one place. It makes it easy to compare the different sites and then reach out to book the place if needed. Being able to mark places at favorites is super-convenient, too!
Pulling it altogether
That's really all there is to it. As you plug in your places to stay, your map gets more specific. You can also add a note to each stop, which can be great for those things you need to remember (like a confirmation number, for instance).
We didn't know every stop along the way, so I just continued to update it as we decided on places. Here's the gist of our finished map…
A cool feature is that at the bottom of your trip, it tells you some fun stats – estimated distance, duration, driving time, and fuel costs…
Obviously, the more detailed your information is, the more accurate this will be. In our case, I only put in the major stops along the way except for the Grand Canyon (because it wasn't round-trip from one of our stops). In other words, I didn't include our side trips to Red Rock Canyon just outside of Vegas or other places. That means a lot of our numbers aren't perfect, but it's still cool to see a ballpark of what transpired.
As far as the fuel goes, you have the option of setting an average mpg and an average fuel price. So again, it's not going to be 100% accurate (we saw gas prices between $1.61 and $2.75/gallon), but it'll at least give you a rough idea of what to expect.
One of my favorite aspects of RV Parky is that there's a nice app to go alongside the web page. Everything saves and syncs automatically – what you see or add to the website or app is the same thing as you see on the other. And the app is just as easy to use and add or update your stops.
Not only was RV Parky useful for planning our trip, but because it stores them, we have a reference of our 2020 road trip to use down the line! And if you're worried about RV Parky disappearing down the line, be aware that you always have the option to export each trip to a CSV or GPX file.
GPX files (GPS Exchange Format) are a standard format for GPS applications so you can import those files into other software if needed. As someone who was in IT for almost 20 years, I always make sure that I have a way to get my data out before getting too involved with it.
There are also a couple of other features that I didn't use but you might find useful:
Sharing – You can keep your trip private as I did, but you also can share your trip publicly or just to those you give the URL to.
Journal – If you really want to go all-in, RV Parky will let you add journal entries to your trip with a date, title, and text. It's not some rich editor, but maybe some folks would still find that useful.
---
I know there are some other good options for charting your road trip, but this one worked very well for us and that's why I'm loving it! And, it comes at one of my favorite costs… free!
Here's where to find it:
Have you used RV Parky or something similar for road trips before? How'd you like it?
Thanks for reading!!
— Jim
If you enjoyed reading this, here are all the posts from this road trip: