---
Disclosure: This post contains affiliate links and we may receive a referral fee (at no extra cost to you) if you sign up or purchase products or services mentioned.
---
From Opryland and hot chicken sandwiches in Nashville, Tennessee to camping and hot springs in Arkansas. It's been a fun start to our road trip and it's only just begun!
We decided on our method of transportation, loaded up, and took off. This leg of the trip wasn't exactly slow travel but we've made some headway across the country.
We've gone from Ohio to Tennessee, to Arkansas, and now we're in Texas. We'll be planting ourselves here in Texas for a few weeks before moving on and heading west.
We've had some wins and some headaches so far but that's part of the fun of a good road trip!
It's time to get you up-to-speed on everything going on right now. I'll tell you about some of the mistakes we've made as well as the good times we've been having along the way!
The winning mode of transportation
So when we decided to plan out our road trip a few weeks ago, I talked about all the different ideas we had regarding transportation. We discussed everything from Class A RVs to minivans. And then there was even more talk about renting versus buying. So many options with pros and cons to each.
Well, we decided to buy a used SUV. We went with a 2012 Honda Pilot EX-L with 131,000 miles on it that we got for about $12,000 (we paid cash). My thinking is that when we get done with the road trip, we could sell the car if we want and probably get close to breaking even (or maybe we get lucky and make a buck or two!). If we had rented, the thousands we would have spent would just be gone with nothing to show for it.
Anyway, we went with the Honda for reliability and the Pilot because it's a pretty decent size. We could throw an air mattress in the back and sleep in it for a few hours of shut-eye now and then. Our first mistake – we bought an air mattress that was too tall (something similar to this). An 18" height is great for sleeping in a tent, but not so good in the back of a vehicle… it doesn't leave us a lot of breathing room.
That's ok, we'll be just fine with that.
I also liked that it has a hitch on the back because I wanted to put a cargo carrier on it. A roof rack is great when you only need to get into it once or twice on a trip. Considering that we're going to need to get to our stuff a few times a day, having it on the back is much easier. So that's exactly what I did. I bought a cargo carrier similar to this one and loaded everything up. Here's the result…
The model of the Pilot we bought also has a lot of bells and whistles. It has Bluetooth, a rearview backup camera, sunroof, heated seats, blah, blah, blah. In other words, it's just new enough to have some cool features but old enough that the price was still pretty good.
Finally, my brother-in-law is a mechanic who works at a small dealership. He's the one who's had his hands on this car since they got it and the one who brought it to our attention. Having a reliable mechanic recommend a car to us that he worked on is a big +1!
This leg of the road trip is a little more hurried than we plan to take for the rest of the trip. The reason for this is that we were excited to get to Texas to spend some time with my brother and sister-in-law. They're taking vacation time off work once we get there so we actually have somewhat of our only deadline on this trip.
A last-minute surprise for Tennessee
Since our route to Texas was taking us straight through Nashville, we decided that would be a good opportunity to check things out. We've considered moving to Tennessee as our fallback to our Panama headache. Considering we don't know if we'll ever get back to Panama, that might be sooner than expected!
So, Lisa and I both reached out to a few people we knew who had previously lived in Tennessee to ask their thoughts on places we should check out. We were planning to get to Tennessee and spend a couple of nights tent camping while exploring during the day. 
But then we had a great surprise from my friend, Mandi. She's currently living in Hawaii because her husband, Matt (another good friend of mine), is in the military and that's where he's currently stationed (sounds rough!). He suggested that we stay at their house in Clarksville, Tennessee just outside of Nashville.
What?! I didn't even know that they still had a house there! It turns out that they'd been renting it out for the past six years and their tenants recently moved out. The house has been sitting empty now while his parents do some small repairs.
Score! The place didn't have much furniture, but having a bed, kitchen, dining room table, and a TV is a heckuva lot more than we would have at a campground!
Their house is huge (~3,900 sq ft) and beautiful. Although there's no way we needed all that space, it was super generous of them to offer it to us.
That worked out perfectly. We drove from Akron, Ohio to their house in Clarksville, Tennessee in about 9½ hours.
Of course, we had to stop at White Castle along the way since it's delicious and we don't have those in Panama, Cleveland, or Texas. Lisa is so disgusted by the whole idea of White Castle but she caved and I got my fix. I have to say that the Impossible Slider was good as well. We're not big fast-food folks, but sometimes, you just gotta eat the stuff that'll kill you!
Checking out the sights in Tennessee
There was only one minor issue. Considering we got there on Monday evening and we were leaving on Wednesday morning, that didn't leave much time for determining if this would be the place for us to live or not.
So we did what any retirees on a vacation would do… we put off looking at the neighborhoods and went sightseeing instead!
Mandi hooked us up (again) and gave us a good tip on checking out the Opryland Resort and Conference Center. It's free to walk through and see the cool indoor gardens and waterfalls but they charge a whopping $32 to park!!!!
Mandi gave me GPS coordinates of where to park instead. The mall there has free parking and the coordinates put us right by an entryway in the fence with a walkway directly to the hotel. It was a short 6-minute walk and saved us over $30 – that's a win! In case you ever need them, 36.208832, -86.695237 are the coordinates.
The Opryland Resort was worth the time, too. It was beautiful to walk through and explore and they had an augmented reality (AR) game that Faith loved. She installed an app on her phone and then could search for certain symbols throughout the indoor gardens. Those marks then let her see various animals on her phone combined with real-life as if they were walking around right there… she loved the quest of finding them.
It was also great that the place was as close to empty as it probably ever gets. I would bet that it's usually hopping, but with it being a Tuesday in the middle of a pandemic, the place was quiet as can be.
After that, we stopped at a place in Nashville that just sounded appealing… Hattie B's Hot Chicken. I had heard that a hot chicken sandwich is something that Tennessee does well. Apparently, that was correct… the sandwich was delicious. Even Faith, who doesn't usually like anything spicy, loved it.
Then we headed back to Clarksville. We went walking around the common grounds in the downtown area. It looks like it would normally be a ton of fun there. However, with the pandemic, it was dead and not a lot of places were open. The only place we stopped at was Blackhorse Pub & Brewery (recommended by Mandi). We ordered some food to take "home" with us to Matt and Mandi's house.
And that was it, folks. Somehow, one full day in Tennessee is not enough. Who'd a thunk it?!
We'll be back there again someday and if we decide to possibly move to Tennessee, we'll spend a lot more time evaluating the neighborhoods and figuring out if it's the right place for us.
Bye Tennessee – time for some camping in Arkansas
I wish we had planned a little more time for Tennessee, but that'll have to wait for another trip. Onward we go… Arkansas, here we come!
We decided to break up the trip from Tennessee to Texas into two days of travel. And in between, we'd spend two nights camping In Arkansas.
Funny enough, I almost decided to move to Bentonville, Arkansas decades ago. When I worked as a manager at Walmart, I strongly considered moving to their home office to make use of my IT education. Walmart at the time had one of the largest computer networks in the world, so what better way to go? Then I woke up and realized it was a dry county in Arkansas and I took a hard pass. That one decision changed the entire course of my life. If I had gone that route, I wouldn't be married to Lisa, we wouldn't have had Faith, and who knows if I would have been an early retiree? Crazy to think about.
Anyway, we made Hot Springs, Arkansas our place for a couple of nights, which apparently is Bill Clinton's hometown according to signs scattered throughout the city. It's about halfway between Clarksville, Tennessee and my brother and sister-in-law's house outside of Austin, Texas. It also sounded interesting because of the hot springs (even though it's a little hot out to be enjoying some hot water!).
I have to tell you that we stayed at a KOA for the first time and I wasn't impressed with the surroundings… you pitch your tent on slabs out in the open and alongside all the other tent campers. Maybe I'm spoiled by places like Punderson State Park, but this ruins the camping aura for me. But you know us, we make due and still have fun!
Regardless, the restrooms were both clean and air-conditioned which was a huge perk. We stayed there for two nights and we were able to shower there as well. We wore the flip-flops we specifically bought from the Dollar Tree for showering and everyone made sure to be extra cautious in case there was any COVID contamination.
Anyway, the first night was easy – tent camping and reheating some leftover quesadillas and chicken sandwiches over the fire.
The next day we decided to see what all the hullabaloo was about with these hot springs. The town of Hot Springs is really cool – it's got that small-town feel to it with a lot of little shops lined all along the main drag there. There are also some majestic views if you drive up near the observation tower. We walked around checking out the stores and then we scoped out the hot springs.
I have to say that it wasn't overly exciting but it's crazy to see the steam with just how hot the water is in the springs. We were told they're over 140 degrees Fahrenheit! So obviously, you can't go swimming in them, but Faith and I each dipped a finger in real fast (as if we didn't believe the steaming baths of water were truly hot!).
Once we got back to the KOA, it got interesting. First off, it was incredibly hot out – over 90 degrees but the heat index was in the hundreds. As we looked at the weather on our phones, it looked like there was a really good chance of a thunderstorm or at least some rain overnight.
So we had a decision to make…
We could sleep in the tent, sleep reasonably comfortably, and take the chance of it raining. If it did, ugh – nothing's worse than having to pack up a wet and muddy tent.
We could test out our plan of sleeping in the car which we knew we'd be doing eventually. That meant we'd probably have a rough night's sleep but we wouldn't have to pack anything wet up and we could probably get rolling a little faster in the morning.
We went with option #2.
That proved to be a very rough night for a lot of reasons but believe it or not, it was probably the better choice because the heavens opened up later that night.
So we took down and packed up the tent. Next, we moved everything from the back of the car to the front seats. Then we folded down the back seats and blew up the air mattress. So far so good.
We even put our home-designed screen in place. Lisa had the idea to create this to go over the sunroof so we could leave it open for some air and not let any bugs in (genius!). We had bought some screening from Home Depot and lined the edges with magnets and duct tape.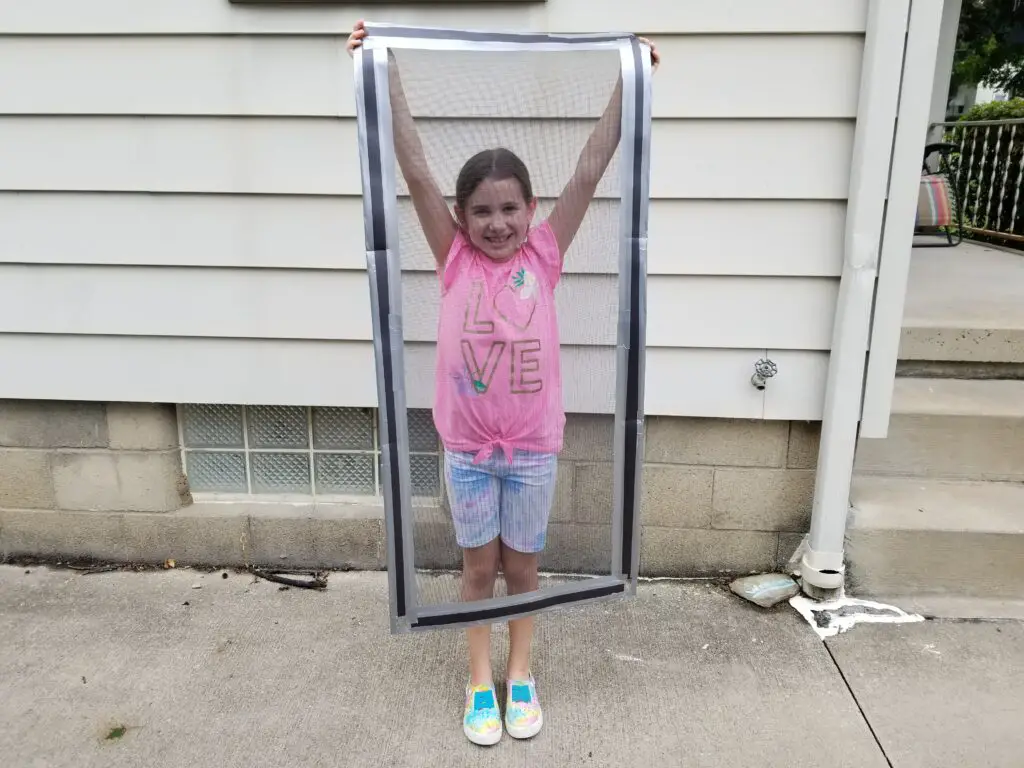 Between that and the tent fan we had going in the car, we had a little bit of airflow in there. Too bad it was still ridiculously hot outside all night so it was just blowing around hot air. Throw in that we have three warm bodies in the car and it was just a sweaty uncomfortable mess.
Faith slept ok, but Lisa and I didn't do very well. At one point probably around 11 pm, I got claustrophobic and just needed to step out for some air. I manually unlocked the back door and the car alarm started going off. I've now learned that if the doors are locked from the remote (which they were), you can't unlock the door without the remote or you get the fun we had. We stumbled to find the keys and silence the alarm. It was probably only 15-20 seconds of this drama, but how embarrassing… we suddenly became those people at the campground.
I think we'll be buying an air mattress that isn't so tall before our next leg of the trip starts. Maybe that'll keep my claustrophobia in check, particularly if it's not 100 degrees when sleeping!
Anyway, we finally fell asleep in all our balmy-hot car… and then the storm started rolling in. It sounded like a drum march as it got closer and closer. And then it hit around 4:30 am – this was like some Panama thunder and lightning. The rains were heavy and the winds strong. I felt bad for the tent-campers on the grounds.
Regardless, that was the end of our little bit of on and off sleep for the most part. And thank God I had pulled off the screen from the sunroof about a half-hour before this storm or we really would have had some fun!
But… we survived. What a night. This was a good trial of sleeping in the car but we need to make a few adjustments. And we need some cooler nights, without a doubt!
And that's it, folks! We cleaned up after the rain in the morning and headed out for the last drive of this leg. Six and a half hours to Austin, Texas. We plan on spending 3-4 fun-filled weeks at my brother and sister-in-law's house and then the road trip continues!
Thanks for reading!!
— Jim
If you enjoyed reading this, here are all the posts from this road trip: