---
Disclosure: This post contains affiliate links and we may receive a referral fee (at no extra cost to you) if you sign up or purchase products or services mentioned.
---
This return trip to Panama is well overdue.  We had a blast, but we're whupped and ready to get back home (we're finally starting to get comfortable calling Panama "home").
We spent over a month in the U.S. enjoying time with friends and family.  Then we took a roundtrip Caribbean cruise out of Miami.
Who'da thunk that we'd be ready to go home after so much fun?!  But we really are – it's time to enjoy the holidays together and get back into our normal routine.
Today, I'm going to tell you a little bit about what the trip was all about and how we managed to save thousands of dollars coming back.
Why we left
A lot of you already know that we moved to Boquete, Panama in August of 2019.  It's been great so far and it's finally starting to feel like home.
However, we didn't know how this adventure would go from the onset.  Maybe we'd love it, but maybe we'd hate it.
To give it a fair shake, we decided we'd stay for a minimum of one year.  That would give us enough time to get past the honeymoon phase, learn the new culture, establish a new normal, and get through a lot of the initial homesickness.
Because we're treating this as a year-long trial (although we're hoping to stay for much longer), we decided not to get residency until after that first year.
Eligibility for a Visa in Panama is actually pretty easy.  But the cost and headaches involved wouldn't be prudent knowing that we're not sure if we'll be staying.
If we do decide to stay after that first year, we'll go after residency.  In the meantime, however, we're simply tourists living in Panama.  As such, we're required to follow the tourism rules of the country.
And one of those rules says that we need to leave the country every 180 days for 30 days.  That's all well and good, but the rules also state that your U.S. driver's license is only valid during your trip to Panama for 90 days at a time.
We didn't know if we'd be getting a car so we decided to play it safe and had scheduled our flights out of Panama after a 3-month visit.  We booked our first trip to Panama in mid-August with our return to the States in mid-November.
Turns out we decided not to get a car for the time being, but that's Ok.  The homesickness was running rampant in our apartment, so we were fine with making the trip and resetting the clock.
The travel dilemma
Here's something interesting about being an expat without residency – when you book a trip to Panama, you also need to have a return trip out.  When you go through Panamanian customs, they wanna know you're planning on getting the hell out as well.
So we had already booked our return trip back for November to my brother and sister-in-law's house in Texas (our state of domicile)… but that was as far as it went.  We still needed to line up a flight to Cleveland to visit family.
We had also found a less expensive roundtrip cruise out of Miami that we wanted to take.  So that meant we needed a flight to Florida and another from Florida to Panama after the cruise was over.
What a lot of travel!
The flights from Texas to Ohio and Ohio to Florida were easy now that we have the coveted Southwest Companion Pass.  We were able to use frequent flier miles for Faith and I and then let Lisa fly for free as my companion… that's pretty awesome!
But that still left us the need to book the flight from Florida for our return trip to Panama.
If you're at all familiar with Panama, you know that almost every flight goes through Panama City first.  Then you can fly to smaller airports from there. In our case, we would want to fly into David, which is a lot closer to Boquete.  Then we could take a bus or taxi home from there.
Here's a visual to see this a little easier…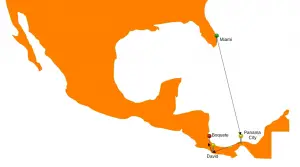 Unfortunately, airlines like Copa only run two flights a day from Panama City to David.  So, even if you time it right, it can still make for a long day.  It's also possible that you might even need to stay overnight in Panama City and catch a morning flight to David the next day.  It's a timewaster and prices are expensive in Panama City.
Easy enough though, right?  We'll just book our flight accepting the day of fun for what it is.  We've done it before when we made our first trip to Panama and somehow we lived to tell the story.
What we were finding, however, was insane…
Some flights were massively expensive, while some involved red-eyes or overnight stays in Panama City  Granted, the flight is two days before Christmas when prices naturally go up, but hoofa, that's a lot of cash.
Hmm, time to think of another option!
The costs start adding up for our return trip to Panama
After I presented those prices to Lisa, her jaw dropped just like mine did.  She shrugged, but I said, "Give me another day to figure out something else."
And that I did.
I found out that Southwest offers flights to San Jose, Costa Rica – that's right, the country right next to Panama!
In other words, we could fly on the airline we enjoy the most, use our frequent flier miles and Southwest Companion Pass, AND skip Panama City altogether!  Fantastic!
Well, lookie here – a direct flight from Fort Lauderdale to San Jose.  The total price for the trip for the three of us was around $380!  And of course, we paid for it with just over 22k of our frequent flier miles.  That's like winning the lottery!
Now, we just need to get from Costa Rica to Panama… hmm.
At the time, there were no direct flights from San Jose to David, Panama – we'd need to fly into Panama City and then into David.  It also looked like we'd need an overnight stay in Panama City.  That's just stupid and still expensive…
What to do?  What to do?
Guess what – there are a couple of bus lines that run routes between Costa Rica and Panama.  One line runs directly from San Jose, Costa Rica to David, Panama.  That's exactly what we need!
A bus?!!  Jim, are you out of your mind?!
Maybe, but I'm currently typing this post while on it with my wife and daughter (not sure how I convinced them to try it!)…
Ok, let's step it back a little bit and talk about this.
Saving thousands on our Panama trip
Yes, we're taking a bus from San Jose, Costa Rica to David, Panama.  And yes, it's a long bus ride.  My understanding from digging around online was to expect about 8 hours depending on the border crossing.  That's a long day!
But it's still better, in my opinion, than overshooting the area of Panama we live, going through the massive Tocumen airport in Panama City, and possibly spending a night there.  In other words, it could actually be a lot less hassle to take the bus.
There were a couple of options for the busses, but we went with a line called Tracopa.  The total cost was only $21 per ticket (excluding the exit tax).  The downside is that it doesn't have any bathrooms on board, but they do stop a few times along the way.
So now things look like this…
By skipping Panama City altogether and instead choosing to fly to San Jose and then take the bus to David, we're saving over two thousand dollars.  Logistically, it makes a lot more sense, too.
Buying our tickets
By now, you know that I'm a planner.  And when it comes to the unknown, I like to get everything laid out beforehand when possible.
This return trip to Panama was no exception.  Yes, I could have gotten our bus tickets when we got to San Jose, Costa Rica, but that would be leaving a big loose end in my mind.
So, I wanted to see if I could buy the tickets before we left Panama in what would be our soon-to-be bus destination (David, Panama).  The city of David is about a 45-minute drive from Boquete though and we don't have a car, so I didn't want to make the trip needlessly.
I ended up running into our friend, Ed, from Boquete Outdoor Adventures.  He led our island party/whale-watching tour when we first got here and we've run into him a few times since.  He's also Panamanian and bilingual.  So I asked him if he would be willing to call Tracopa and inquire if I could buy San Jose to David tickets at the David office.  He made the call and they confirmed that was an option… nice!
So I made the $1.75 bus trip down to David myself one morning…
The bus stopped right by the Tracopa office, which meant I didn't even need to get a cab…
Yeah, well that turned out to be a wasted trip.  Turns out that you need to have your passports on-hand to buy the tickets… I didn't.  And so, back on the bus I went.
A few days later though, we all made the trip to David together while doing some shopping.  This time we brought our passports and I was able to purchase the bus tickets.  $21 each… now that's what I call a deal!  She mentioned that didn't include the Costa Rica exit tax and we'd have to pay that at the terminal in Costa Rica.  No problem!
So that was it.  We were now set for our new adventure… man, these adventures never seem to stop!
After our time in the U.S. visiting friends and family, we flew to Florida and went on our cruise, which of course, was also wonderful.  Afterward, we flew from Fort Lauderdale to San Jose, Costa Rica on our direct flight.
We got in around 3 pm, went through customs, and then took a cab to a cheap Holiday Inn I had booked near the Tracopa bus terminal.  By that time, it was probably around 5:30 pm.  We went and found a local place for dinner and then headed back to the hotel for showers and bed- after all, we had an important bus ride first thing in the morning!
The actual bus ride
We got to the bus terminal with what I thought was early in the morning.  The bus was scheduled to leave at 7:30 am, but we got there just after 6:45 am because we had no idea what to expect.
I was anticipating that we'd be the only ones there that early, but the terminal was packed with people…
We had no idea what to do or where to go.  I approached an information booth and muddled my way through asking in broken Spanish.  She let me know that we should just wait for them to announce the David, Panama bus over the PA system probably in around 15 minutes.
So, we waited.  But this would be a long bus ride and, even though we knew the bus would have a couple of bathroom breaks, we didn't know when they'd be.
Lisa headed to the baños (bathrooms).  She came back shortly after and said that it costs 100 colónes.  That comes out to less than a quarter in USD, but we didn't have any Costa Rican currency.
Not giving up, I approached a nice lady at a cell phone booth and asked in more broken Spanish about the bathrooms.  She was nice enough to trade me 5 colónes coins for $1… perfect!
I came back to Lisa looking like the hero and we were both able to use the bathroom… small victory!  Faith passed on the restroom (she's tough like that!).
Shortly thereafter, they announced the bus trip to Panama.  We gathered up all our suitcases and followed the crowd.
They had a bus porter that took our bags and gave us bag claim tickets.  Then we hopped on the bus.
We were in the front two rows (probably because I made us buy the bus tickets well over a month ago!).  We got settled in as best as we could.  The seats were comfortable but not a lot of legroom.
It's my understanding that these are newer busses that Tracopa purchased a few years ago.  We had brought blankets and sweatshirts because we heard that the A/C would be blasting and we'd freeze otherwise… not so much.  It was comfortable in a t-shirt and jeans, but not cold by any means.
The trip to Panama on the bus pushed off at about 7:40 am.  We headed out and I immediately pulled out my Chromebook and got to work on this post (I love you guys that much!).  I'm actually typing this sentence while on the bus!
At about 8:50 am, we got to a small little marketplace area.  The driver announced that this was an opportunity to use the baños.  Lisa and I got off to use the restrooms and Faith stayed on the bus (that girl's got a bladder of steel!).
I also bought a couple of apples for us and we got back on the bus.  Maybe 15 minutes after arriving, we were off again.
At about 12:25 am, we stopped again – this time for lunch.  The driver let us know that we had about 20 minutes, but it ended up being just after 1 pm when we left.  Regardless, we had plenty of time to buy some food and hit the bathroom again.
On our way again.  At one point, the driver pulled over and passed out Panama customs declaration forms to everyone.  I found it odd he didn't just do that while we were already parked for lunch before leaving, but maybe he just forgot.
Anyway, we got to the Costa Rica/Panama border about 2:15 pm… and that's when the real fun began!
First, we had to get off the bus and stand in line in the wonderful 82° F scorching sun.  82° might not sound that hot, but we all were just standing pillars of sweat.
What were we standing in line for you might ask?  To get our exit stamp out of Costa Rica.
Here's the bad news – once we got to the front of the line after about 15-20 minutes, we were told we hadn't paid the Costa Rica exit tax.  We should have done that at the San Jose bus terminal before we left… oops!
So now we had to run across the busy street to go pay that.  $9 each – thank God they took USD!  And then, you guessed it, back in the sweating line we went again for another 20 minutes.
Once we got our exit stamp on each of our passports, we got back on the bus.  All the passengers from our bus had already walked to the border from there (5-10 minute walk).  I had read that you walk with your suitcases, but that wasn't the case for anyone on our bus.  And because we were last due to our exit tax snafu, our driver drove us to the border – we'll call that a small win!
We got off the bus at the Panama border and talked to immigration.  He reviewed our passports, made us show proof of future travel out of the country, took our pictures and fingerprints, and then stamped our passports.  Pretty painless except the language barrier made it a little bit of a strain for us.
After that, we waited… outside again.  An immigration officer walked around collecting and reviewing the customs declarations we filled out earlier on the bus.  Then after about15 minutes, our bus pulled up to the front.
The bus porter unloaded all our suitcases.  We took our suitcases and walked them into the building we were in front of to be scanned.  That was simple as well.
We then brought our suitcases back to the bus and the porter loaded them all back in… fun, right?
And that was it – we were on our way again.  About another hour drive from the border to David, Panama.  When we finally reached the terminal, the porter unloaded our suitcases and we were done with our Tracopa bus ride.
All in all, it was a little over 9 hours from the time the bus left the San Jose terminal and arrived in the David terminal.  That's a long day.  To top it off, I forgot that Costa Rica was on Central Standard Time (CST) and Panama is on Eastern Standard Time (EST).  That means we lost an hour as well as soon as we crossed the border.  We made it to the David terminal at about 6:00 pm EST.
Unfortunately, regardless of how we got to David (bus or plane), we still needed to get to Boquete.  The good news is that we were already at the bus terminal, which we were familiar with.  So we got on another bus and took that for another hour's drive to Boquete.
By the time we reached Boquete, it was about 7:30 pm.  And the bad news is that taxis pretty much slow down to next-to-nothing after about 7 pm.  We couldn't find one and ended up walking about 0.6 miles uphill with our suitcases behind us… not so fun.
We finally got home at about 8:00 pm EST.  After hauling our suitcases up three flights of steps to our apartment, here I am wrapping up this post just so you'll have something to read in the morning!
Would we do this trip to Panama again?
The bus trip to Panama from Costa Rica wasn't bad at all.  I'm not going to say that I loved sitting on a bus for so long, but the seats were comfortable and we got to take in some gorgeous landscapes of both countries.  And really, we'd just be sitting on a plane or in an airport otherwise.
We didn't enjoy melting in the hot sun at the borders, but that was short-lived.
I'm glad we took the trip simply for the adventure alone.  Sometimes it's great to step out of your comfort zone.  We'd never taken a long-haul bus ride before, much less one going from one country to another!
Having the flexibility of being retired makes this a much easier thing to do than it might be for someone otherwise.  But as to whether or not we'd do it again, I think time will tell.  Sure, you can't beat the cost ($21 each + the Costa Rica exit tax is phenomenal), but it's still a really long day.
However, there's been an exciting change that took place after we had already bought our bus tickets.  Air Panama has just opened up direct flights both ways between David, Panama and San Jose, Costa Rica a few days every week… that's huge!
In fact, when the bus got to the Panamanian border from Costa Rica, we needed to be prepared to show Panamanian customs that we have travel booked to get out.  So we needed to put something in place.
Last-minute, we booked a flight on Air Panama from David, Panama to San Jose, Costa Rica for our next trip to the States in June.  And when I say "last-minute", I mean that we booked it while we were at the Fort Lauderdale airport on our way to San Jose – one day before our bus trip!
We only booked one way for now as we'll decide when our return trip to Panama will be down the line.  But the total cost for the three of us was $422.10.  That's a few hundred dollars more than it would be taking the bus, but it'll shave off a lot of time out of our day.  It's also much cheaper than the cost of flying through Panama City.
I can't say that we'd never do the bus ride again, but I wouldn't completely rule it out either.  If the Air Panama flight is horrendous, we'll have a decision to make.  Either way, Costa Rica seems like a much better option than going through Panama City if we can help it.
For now, I'm glad we gave the bus ride a try and we'll keep that option in our back pockets.  It was a great experience and in the end, it saved us over two grand!
Would the idea of jumping on a bus for 9 hours to save thousands of dollars be worth it to you?
Thanks for reading!!
— Jim