---
Disclosure: This post contains affiliate links and we may receive a referral fee (at no extra cost to you) if you sign up or purchase products or services mentioned.
---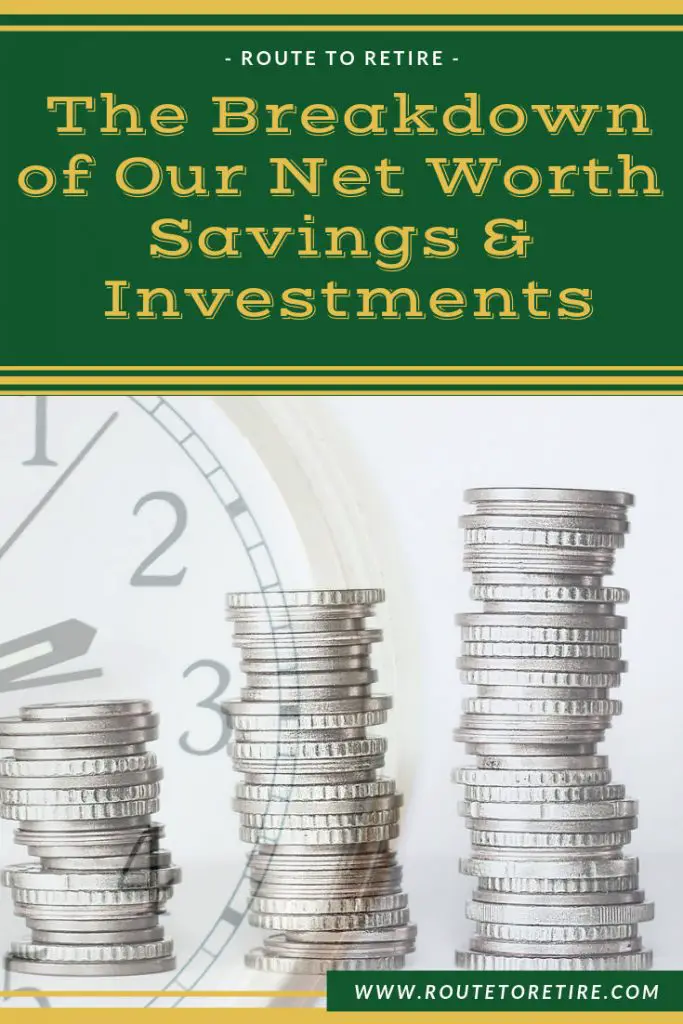 I've been considering providing a breakdown of our net worth for a while now.  I've held off for a couple reasons though:
For some reason, this isn't very common for many bloggers to do.  We seem to consider this to be sacred territory and almost taboo.
I've been making a lot of changes and wanted to let the dust settle a little before talking about this.
Well, I love breaking taboo – if you'd ask my friends, they'd tell you how I tend to say things that seem inappropriate, but are usually what everyone is thinking.  It might be some stirring the pot but it gets some good conversation going!
When our net worth hit the $1 million mark back in 2017, a lot of folks started to become a little more interested in what we're doing.  So let's open up the books and see what's doing!
I also think this can be a great learning experience.  An investment breakdown would not only be helpful for readers who aren't as versed in this stuff, but also for me.  That's right, I'm open to hearing some thoughts on our portfolio.
I know that I'm possibly opening myself up to some harsh criticism because everyone feels their strategy is the best.  However, I also think that the only way to continue to grow is to be open to change and suggestions.
I mentioned that I was making some modifications in our portfolio as well.  I still have a few adjustments we'll be making, but we'll talk about that later in this post.
So, with all that said, let's have some fun with this breakdown!
A little bit of an intro…
First off, I want to credit Fritz from The Retirement Manifesto for helping me to understand why a bucket strategy is so important.  When you're coming up with a strategy for your retirement, you want to structure your investments in a sensible way.  That means you want less risk with the money you need today and more growth for the money you require down the line.
Our buckets aren't carved in the same way as Fritz's are, but the concept is similar.  We wanted to always have a stable bucket of money on-hand to cover us for at least a few years at a time without the worries of market volatility.  And then we wanted a second bucket for long-term growth that should provide more return, but with some ups and downs along the way.
I initially thought about breaking our investments out by dollar amount.  But since our net worth is constantly changing, I decided it would make more sense to use percentages instead.  Additionally, I think adding the dollar amounts would actually detract from what you're looking at anyway.
Now, I think this goes without saying, but this breakdown is specific to our needs.  Everyone's situation is different, so please don't assume this will work for you.
Not only that, but remember that I'm not your financial guy, so definitely don't take this as advice.  Instead, talk to a financial advisor – they're a lot smarter than me anyway!
And finally, I'm pulling some screenshots from our Empower (formerly Personal Capital) account.  If you're not using Empower (formerly Personal Capital) for your investments, you should be.  It's some of the most advanced and easy-to-use software that aggregates all of your financial accounts into one dashboard.
The way it allows you to easily break down your investments and allocations is awesome.  And the tools like the Retirement Planner and the Retirement Fee Analyzer are amazing.  I was able to save tens of thousands of dollars with some insight from the fee analyzer!  Not only that, but it's free and they offer a fantastic free app for your phone as well.
In other words, if you don't have a Empower (formerly Personal Capital) account, sign up here.
The breakdown of our investments
So let's start with a breakdown of our portfolio.  Here's a bird's eye view of what we've got going…
| Investment | Symbol | Expense Ratio | % of Account | % of Portfolio |
| --- | --- | --- | --- | --- |
| | | | | |
| Taxable Brokerage Account #1 | | | | |
| Allegheny Technologies Inc | ATI | | 0.39% | 0.05% |
| Invesco BulletShares 2021 Corp Bond ETF | BSCL | 0.10% | 33.18% | 4.63% |
| Invesco BulletShares 2019 Corp Bond ETF | BSCJ | 0.10% | 32.92% | 4.59% |
| Invesco BulletShares 2020 Corp Bond ETF | BSCK | 0.10% | 33.05% | 4.61% |
| Teledyne Technologies Inc | TDY | | 0.44% | 0.06% |
| Vanguard Federal Money Market Fund | VMFXX | | 0.01% | 0.00% |
| | | | | |
| | | | | |
| Taxable Brokerage Account #2 | | | | |
| Sirius XM Radio | SIRI | | 41.94% | 0.00% |
| Vereit Inc | VER | | 58.06% | 0.00% |
| | | | | |
| | | | | |
| Direct Stock Purchase Plan | | | | |
| First Energy | FE | | 100.00% | 0.06% |
| | | | | |
| | | | | |
| 401(K) | | | | |
| American Funds 2055 Target Date Retirement Fund® Class R-6 | RFKTX | 0.42% | 100.00% | 62.85% |
| | | | | |
| | | | | |
| Traditional IRA | | | | |
| Invesco BulletShares 2022 Corp Bond ETF | BSCM | 0.10% | 49.94% | 4.77% |
| Invesco BulletShares 2023 Corp Bond ETF | BSCN | 0.10% | 50.03% | 4.78% |
| Vanguard Federal Money Market Fund | VMFXX | | 0.03% | 0.00% |
| | | | | |
| | | | | |
| Health Savings Account (HSA) | | | | |
| Vanguard Institutional Index Fund Institutional Plus Shares | VIIIX | 0.02% | 80.45% | 0.96% |
| Vanguard Short-Term Bond Index Fund Admiral Shares | VBIRX | 0.07% | 9.94% | 0.12% |
| Vanguard Target Retirement 2060 Fund Investor Shares | VTTSX | 0.15% | 9.61% | 0.11% |
| | | | | |
| | | | | |
| Roth IRA #1 | | | | |
| Alphabet Inc Class C | GOOG | | 3.31% | 0.20% |
| Alphabet Inc Class A | GOOGL | | 3.33% | 0.20% |
| Amazon.com Inc | AMZN | | 29.22% | 1.77% |
| SPDR Series Trust S&P Dividend ETF | SDY | 0.35% | 4.30% | 0.26% |
| Vanguard Federal Money Market Fund | VMFXX | | 0.19% | 0.01% |
| Vanguard Real Estate Index Fund Investor Shares | VGSIX | 0.26% | 2.42% | 0.15% |
| Vanguard Short-Term Bond Index Fund Admiral Shares | VBIRX | 0.07% | 30.71% | 1.86% |
| Vanguard Total Stock Market ETF | VTI | 0.04% | 26.53% | 1.61% |
| | | | | |
| | | | | |
| Roth IRA #2 | | | | |
| SPDR S&P 500 ETF | SPY | 0.09% | 16.85% | 0.25% |
| Vanguard Federal Money Market Fund | VMFXX | | 0.04% | 0.00% |
| Vanguard Short-Term Bond Index Fund Admiral Shares | VBIRX | 0.07% | 65.18% | 0.98% |
| Walt Disney Co | DIS | | 17.93% | 0.27% |
| | | | | |
| | | | | |
| Cash | | | | |
| Ally Bank | | | 83.57% | 4.05% |
| Charles Schwab Investor Checking | | | 16.43% | 0.80% |
And here's a look at the fees these investments are costing us…
Our expense ratios look good, though my 401(k) plan from my former employer is pushing that margin of comfort a bit.  But, I'll be rolling that account over into a traditional IRA very soon and I'll be able to choose something lower cost like Vanguard Total Stock Market ETF (VTI).
Allocations and Sectors
Here's a look at our allocations…
Overall:
Stocks (U.S.):
Stocks (International):
Bonds:
Alternatives:
And finally, here's a breakdown of the sectors we're covering with our investments…
We're a little high in the tech sector, but some of that has to do with my fun money.  I bought Amazon (AMZN) a number of years ago at $67/share… yeah, it's rocking out at over $1,500/share lately so turned out to be a good pick.
Anyway, that one stock alone accounts for 1.85% of my portfolio.  I hung onto two fun stocks (Amazon and Google) when I moved everything to lower cost funds and I plan to hang onto them until I don't believe in the companies any longer.  As a side note, Mrs. R2R did the same and kept Disney as her little pet to have something exciting to check in on every now and again.
Safety first!
We made some changes recently following the recommendations of our financial advisor, David from Remote Financial Planner.
You might have noticed that we're sitting on a decent amount of cash and bond funds.  After David and I talked, we decided it made sense to always have a year's worth of cash on hand.  Every year, we'll start with one year's worth of living expenses in our Ally online savings account so we can at least get a little bit of a return.
With that, we're basically paying ourselves a monthly allowance.  I have a scheduled monthly transfer set up to move our spending money from Ally to our Schwab Bank High Yield Investor Checking Account.  I mentioned in my last post that we opened this account to avoid foreign transaction fees while we're in Panama.  So I'm in the process of closing our checking and savings accounts at the credit union and moving everything to this one account for daily use.
Then we have a ladder set up using BulletShares ETFs.  This was another suggestion from David and I really liked the idea.  These are corporate bond portfolios so the risk is a little less than it would be with high-yield bonds.  However, even the not-so-exciting return is still better than I could get at the online banks.
So, we have a year's worth of expenses in five of the ETFs (BSCJ, BSCK, BSCL, BSCM, BSCN).  The first will mature this year, the second will mature next year, and so on.  When it matures, we'll then take that money and move it to Ally to start that cycle for our annual expenses for the forthcoming year.
We'll then take another year's expenses from our portfolio to buy a new BulletShares ETF to mature in five years.  This will help ensure we always have a little safety in our near-future years.
Our other investments
Besides our cash, stocks, and bonds, we have a couple other investments in our portfolio.
The first is our duplex.  That rental property brings in a steady cash flow for us month after month.  Even with the property management company taking their share, we still see a healthy cut.
I also didn't include the bank accounts for the businesses we have out there:
Route to Retire
Our real estate LLC
My publishing company
I don't keep an extremely large amount of money in any of these accounts and try to trim the excess off periodically as a paycheck to ourselves.
As I continue to expand each of these businesses, I do hope to start Solo 401(k)s for each.  Since we'll be paying for our expenses from our other accounts, the plan would be to shelter as much of this money from taxes as possible.
Changes to come
We'll always be making small tweaks along the line to optimize our portfolio as much as we can.
However, the one big change is that I'm in the process of rolling over my 401(k) into a traditional IRA.  I had to wait for my profit sharing to post from my former employer first.
Once the rollover is complete, I'll have a lot more flexibility in my investment choices.  I'll likely use most or all of that to buy shares of Vanguard Total Stock Market ETF (VTI).
At the end of this year, we'll also do our first of a number of Roth IRA conversions.  I'm not too worried about what the stock market's doing as we'll be selling the same funds in the IRAs that we buy in the Roth accounts.  There will obviously be a little bit of a price change due to the lag time between the selling and buying, but hopefully nothing too dramatic.
Our plan is to move everything from our tax-deferred retirement accounts into our Roth IRAs in short order.  We'll basically convert everything we can at the end of each year being careful not to bump into a higher tax bracket.
---
No portfolio is perfect and I'm sure there are some things you might observe that would be different than the way you might do it.  However, I guess that's what puts some of the "personal" in personal finance.
Ok, let's get this over with… questions and comments.  I'm looking for the good, bad, and the ugly.  And remember, constructive criticism is a lot more meaningful than a crack on the behind!
Thanks for reading!!
— Jim