Ah, the world of cruise vacations… some people love 'em and some people hate 'em.
Without a doubt, I'm in the former camp. Cruising is my absolute favorite type of vacation and I've even dug into what it would take to live on a cruise ship!
I guess I'm not the only one either. My friend John over at ESI Money wrote a deep-dive post into the subject a few years ago titled, Is Retiring on a Cruise Ship an Affordable Option?
While we might not have enough scratch to be able to retire on a cruise ship (for now!), we'll continue to enjoy the periodic cruise vacations we do get to take.
We just got done with a 7-night Caribbean cruise a few weeks ago and it was wonderful. It was through MSC Cruises and we were on their newest ship, the MSC Seashore. It's a beautiful, monster-size ship but it didn't feel too crowded (though the buffet sometimes seemed pretty hectic).
This cruise stopped at some great places, too. Here was our itinerary:
Miami
Sea day
San Juan, Puerto Rico
Charlotte Amalie, Virgin Islands (St. Thomas)
Puerto Plata, Dominican Republic
Sea day
Ocean Cay, MSC Marine Reserve, Bahamas (MSC's private island)
Miami
Anyway, it was a fantastic time and we're already looking at booking our next cruise soon.
I've gone on 9 cruises over the years so far so we've learned what we like and what we don't. So today, I thought I'd share with you the three rules I have when planning a cruise as well as the three facets of cruise vacations that are my favorite.
There's no doubt that this is going to be a pretty subjective post. My thoughts are bound to be different than yours… but that's half the fun!
Whenever we have one of our cruise vacations coming up, I enjoy reading thoughts from others on the subject. It gets me psyched and sometimes gives me some ideas I haven't thought of before!
My 3 Rules for Booking Cruise Vacations
These are my rules that apply whenever we book a cruise. They've served us pretty well over the years!
Rule #1: Cruise with a line that aligns with you
Everyone has different likes and dislikes. That's why you'll find so many different lines that cater to different people. The trick is finding cruise lines that align with what you're after.
For example, we did a Carnival cruise once back in 2004. It was my wife's first cruise and my second. We hated it. It was just too much of a party crowd for us. Some folks love the constant action, the spring break sort of crowds, and all the deck games that are constantly going on… not our thing.
Lisa despised it so much that she said it was the last one she'd ever do. But I convinced her to give it another go for our honeymoon. This time we went on Princess Cruises. We both loved it.
It was a completely different kind of crowd and more laid-back. We had a lot of fun on that one and then went on another Princess cruise a couple of years later – also great.
Unfortunately, Princess Cruises are a lot more expensive than Carnival Cruises. We tried out a few other lines for our cruise vacations over the years and we eventually gave MSC Cruises a shot. We like Princess better but the cost for MSC is dramatically less expensive.
MSC Cruises are different. Because it's a popular European line trying to gain a foothold in the States, it draws a European crowd. Sometimes the cultural differences with other passengers can be a little irritating – like that it seems as if line-forming is not something that's done overseas. These differences can be a huge turn-off for some Americans who are used to their own way of doing things.
For us, it's an annoyance but not that big of a deal and we enjoyed our cruise. So we've now taken three MSC cruise vacations and we've loved all of them.
We're open to cruises on other lines, but we've found that MSC tends to work well for us. We like the ships, the food, the staff, the activities, and the kids club. They don't specifically market to the party crowd or the much older crowd. Because of that, you see a wide range of passenger ages and ethnicities and I do like that.
So we're happy with MSC because it aligns well with us. Your wants might be different than ours so the key is to find the line that meshes with you.
Rule #2: Go during off-peak times
This can be difficult depending on many variables in life. We're fortunate right now to be retired and homeschooling our daughter… you can't get more flexible than that!
So when do we take our cruise vacations? Not during spring break, I can tell you that! And not during the summer when all the kids are out of school either.
We've found that later in the year has worked best for the majority of our cruises… September through December has really been our sweet spot.
But Jim what about hurricane season?
Yup, hurricane season in the Atlantic is from June 1 through November 30. Guess what – it doesn't bother me a bit… and our Caribbean cruises are right in the mix of where the hurricanes love to be.
One of the things I like best about cruise vacations is that you're on the ocean and moving… you're not stuck in one location. The captain can (and will) adjust the itinerary based on severe weather. With today's technology, it would be hard for a ship to get caught in a hurricane. The biggest struggle would be if a hurricane occurred at your base port in Miami, Port Canaveral, etc., and you couldn't get on or off the ship.
I like that later time of the year because kids are back in school and it's not the busiest. That said, we're always open to a good cruise and January and February could get us away from the winter months here in Ohio!
Rule #3: Once you've booked balconies on cruise vacations, you can't go back!
We booked our first balcony stateroom during our honeymoon and that might have been a mistake. The problem… we absolutely loved it. And I think that once you've done balconies on your cruise vacations, it's hard to turn back.
I'll tell you more about why I love them so much in the next section, but that upgrade is worth it in our view.
You know that I'm particular with our spending (is that just another way of saying I'm cheap or frugal?!). So the chances of us ever upgrading to a suite are pretty slim.
However, we can book a balcony stateroom at what I consider to be a reasonable price for our vacation. That's especially the case because we have the flexibility to book cheaper weeks.
For example, the cruise we just took a few weeks ago was a balcony room for the three of us with an upgraded drink package (even though I quit drinking shortly before the cruise) and an internet package. The total cost from start to finish, including taxes, fees, all gratuities, etc. was $2,481. Throw in our free flights through Southwest using points and our Companion Pass and this is a pretty darn good deal!
My 3 Favorite Indulgences on Cruise Vacations
Now, we come to my favorite facets of cruise vacations. If you didn't think the first part was subjective, you sure as heck will think that this is.
Keep in mind that I'm a simple man and it doesn't take much to keep me happy! I love the cruise experience as a whole, but here are a few of my favorite parts of our cruises…
Favorite #1: Enjoying that balcony!
I love being at sea. I don't know what it is but it's just so mesmerizing to me – daytime or night. Funny enough, I don't even care too much about the different ports we go to – I'd be happy just going in one big loop on the ship without ever stopping!
I've found that having a balcony is my absolute favorite part of our cruises for a multitude of reasons.
First of all, sitting on the balcony and reading a book with the beauty of the ocean horizon all around and the waves as background noise is it for me – the pinnacle of enjoyment. I love sitting out at night for a couple of hours and just taking it all in.
Now, you might argue that even with an inside cabin, you can still head out to an outer deck and do the same thing. That's true but there are some downsides to that versus having a balcony stateroom.
When I'm waiting for the girls to shower and get ready to go to dinner, for example, it's so convenient to just step out to your balcony for 10 minutes. You could head to an outer deck to do the same, but it's probably not worth it for those amounts of time.
Then there's the occasional rain shower. On this last cruise, I watched people scatter on the deck below as it started to rain. I sat comfortably on our balcony sheltered from the rain.
And what if I want to sit naked on the balcony? Ok, I don't want to do that and you don't want me to do that (I hope that thought didn't burn a scar in your mind), but I do like the privacy nonetheless. I like that I can just head out there without a second thought and be away from the crowds.
Finally, Faith and I like to sleep in a little whereas Lisa wakes up early whether she likes it or not. So when we're on these cruise vacations, Lisa will sometimes head to the buffet, get a cup of coffee and then come back with some plates of food. And then… we have breakfast on the balcony. It's the perfect start to a morning!
Favorite #2: Anticipating and dining on the food in the MDR
Whenever we go on cruise vacations, we make it a point to try some new foods, particularly in the main dining room (MDR). Since the food is almost always prepared impeccably and it's already included in the price of the cruise ticket, why not?
We've found new foods we love and some that are disgusting (caviar, anyone? YUCK!). But most of the time, the meals are just awesome.
Except for some "classics" that they keep on the menu all week, the menu is different every day. And, although we could head down to the dining room beforehand to see what's on tonight's menu (or use the app on some cruise lines), I like the surprise.
I noticed on this last cruise that I was waking up excited each day wanting to know what would be on the menu for tonight! Weird, but true.
The other bonus is that we generally have a table to ourselves. Some people prefer the traditional dining experience with a big table of folks but I'd rather just keep to ourselves if possible. You also feel a little less self-conscious about what you're ordering and eating without strangers watching.
The reason I mention that is because periodically (and that means most of the time), we'll order a lot of food. Although most folks will order an appetizer, entree, and single dessert off the menu, you're not limited to that. Some nights, we'll order more than one appetizer each or even a second entree. And sometimes we share what we've ordered with each other.
Heck, on the last night of this last cruise, I ordered 2 appetizers, an entree, and 2 desserts. And then the waiter brought us yet another dessert simply as a nice gesture. And Lisa had ordered two entrees that night. We all walked out of there stuffed… but with smiles on our faces!
For anyone curious, here are a few of the menus we had in the main dining room on our last cruise (click for full-size image). Sorry about the shadows!
Favorite #3: Relaxing, spending time together, and just playing cards
Everyone's different and one person's view of fun is going to be different than another's. For me, though, I like taking it a little slower during cruise vacations.
We're into playing dress-up during the formal nights or MSC's "white night." And after the girls get ready, we'll go find a table near the atrium with a nice view of the ocean, order drinks, and then play some cards before dinner… anyone else like Rummy?
The deck of cards tends to go with us to use as a filler before shows in the lounges where we have a table or anywhere else we can play. It's a fun way to fill time on cruise vacations.
For the most part, the three of us stick together (though Faith did do the teen club a few nights on this cruise). I like it. It's nice spending time together exploring the ship and ports of call, and attending various shows and events.
Of course, we like doing some more active stuff, too. The waterslides on these ships are a ton of fun – especially the ones with innertubes. On the MSC Seashore, you could opt to wear a virtual reality mask for the ride down, which really kicked things up a notch!
During one port visit, we only spent about an hour or so exploring and then returned to the ship just because it was just way too hot and humid out. We headed over to the waterslides and nobody was there. We had hours of fun on the slides with no line whatsoever – so cool!
And then there are the ports of call. As I mentioned, the ports aren't usually a big deal to me. We always get off the ship for a little bit, explore the area, walk through town, and sometimes swim or snorkel in the ocean depending on where we're at. Outside of that, it's rare for us to do any excursions – that's just not big on our list.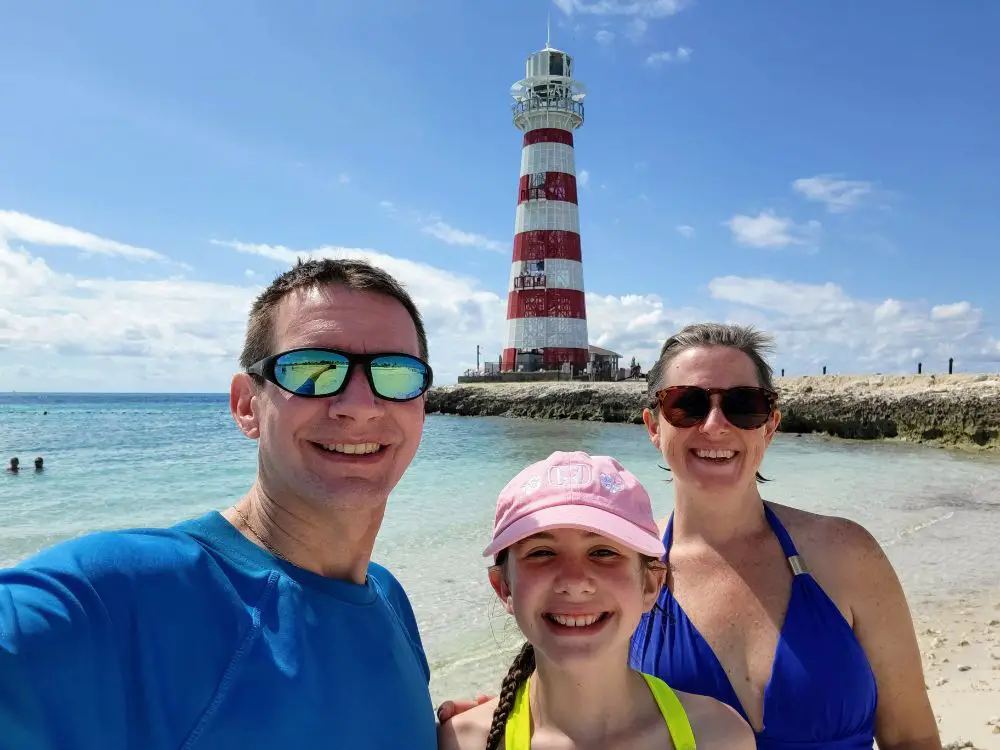 But that's really it – it's all about just chilling and enjoying our time at sea together… and playing some cards while we're at it!
See, I told you I'm a pretty laid-back guy – nothing too fancy on my perfect vacations!
---
Those my friends are my cruising rules and favorites. We always have a great time on our cruise vacations and this last one was no exception. I can't wait to go again!
Ok, I know many of you love cruise vacations, too! What are some of your rules or favorite things about cruising?
Plan well, take action, and live your best life!
Thanks for reading!!
— Jim