Well, that does it… I'm officially FIRE (financially independent / retired early).  12/31/18 was my last day of "working for the man" hopefully for the rest of my life.
Whoa.  Hang on – I just need a second to process that.
Damn, that feels good to think about!  Woo-hoo!!!!
Ok, thanks for that – I really needed to get it out of my system.  The idea is still a little surreal and will probably take a while to make it feel like more than a normal vacation.
Let's get back to why we're here today though.  I thought it would be interesting to talk about what I've learned throughout my last year of work.
Some of the things that transpired at the office were expected and some weren't.  Regardless, it's a good time to reflect and determine what's useful and what's not.
What I've Learned Throughout My Final Year of Work
Co-workers surprised me on two fronts
When I initially told people at the office that I was leaving, I was a little uncomfortable saying that I was retiring early.  I hemmed and hawed and came up with different lines as to our plans.
However, the amount of support I received from co-workers made it much easier to just tell it like it is.  Some were a little surprised, but no one really balked at our plans.
The other thing that was unexpected in my head though was that no one asked me for more details on how we're pulling this off.  After all, it's not every day that someone retires in their forties.
I actually thought there would be more people curious about the whole idea of FIRE and how life-changing it could be.  But, even though I get very excited about the subject, I try not to preach to anyone who doesn't ask.
What I've learned: Be careful making assumptions about people – they might surprise you.
FIRE is outside of the realm for some to accept
I worked at my company for 19½ years.  Believe it or not, there were a number of folks who have been there longer than I was, but the amount of time is far from minuscule.  I developed some strong bonds with the people I saw and worked with on a daily basis.
And because I was in management, I worked alongside the president of the company helping make company decisions as needed.  The two of us have had a good working relationship over the years probably because we tend to think pretty similarly on a number of things.
The company is around 40 people strong and the average tenure is around 13 years (including all the new hires).  In other words, it's not a huge company and there's a closeness that you don't always see in organizations with higher turn-over.
Over the past handful of years, we've had a number of employees retire.  And with every one of them, we've thrown a surprise retirement party.  It's a way of saying goodbye and good luck to the retiree.  As a nice gesture, they also usually receive a Chromebook or other nice gift.
I didn't get the same treatment.
Although the HR manager had talked about a retirement party for me in months prior, her tune changed as we got closer to December.  And then one day, she mentioned that there wouldn't be a retirement party for me because I'm not really retiring.  She said that I'd probably end up working at some point.
Ouch.
I have a pretty good feeling that her thoughts changed to coincide with the president's view.  And it didn't really bother me at first though – I'm not a guy who wants a big hurrah.   I like a good get-together, but I don't need it to be about me.
But then it did start to bother me… a lot.
It wasn't so much about the party – it was more about the idea that my retirement was being thought of as less important than others.  I worked hard to be able to make this happen and now it was being dismissed as unlikely to work.
I don't mean to be a crybaby, I just felt like it was a real slap in the face after working for the company for all these years.
In fact, I couldn't sleep one night thinking about it and decided to sit down with my boss to discuss it.  I didn't want to leave with a grudge for something this silly, so I wanted to talk it out.
I asked him if the lack of real acknowledgment was because of my age (43).  He quickly said it wasn't.
He tried to say that I would probably end up working again so it wasn't really retiring.  I told him that I was in better financial shape than most of the other retirees that left the company.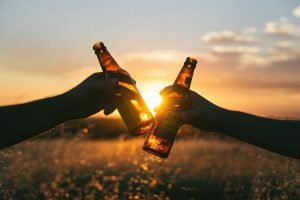 Then he tried to build me up by saying I'd find some work to fill my days so it's not really retiring.  When I mentioned that another former retiree spends his days working on all his rental properties, he had nothing to say.
We went back and forth on it until I finally ended up funneling him into admitting that he wasn't considering this to be retirement because of my age… bingo.
I like him a lot, but he's a very conservative guy.  And I could tell that the idea of doing something outside of the norm like this doesn't sit well with him.  The idea of early retirement is not something he can easily wrap his head around.
Although we didn't really come to an agreement on this, I felt better getting it out in the open and talking about it.
More importantly, the VP of the company stepped up and we got about half the company out for drinks one evening.  So, no formal retirement party, but I'd prefer this any day… it was a really fun night out!
And, I went out and got a Chromebook for myself.  I decided I wanted to give this a try over a regular notebook.  Since I'm pretty picky about things, this gave me an opportunity to get the exact specs I wanted anyway.
What I've learned: Some people struggle with non-traditional ideas… such is life.  It's hard to fault him.  FIRE is a tough idea to understand for someone not in the mix.  It even took Mrs. R2R a long time to get on board until she understood it a lot more.
I'm through with IT and management
When I first started in the realm of information technology, I loved it.  I was blown away by the excitement of something new and exciting.
Getting my first job in IT in 1999 was wonderful.  Going to work was truly fun – every day was something new and different.
On top of that, I got to be a part of something that involved helping people.  Customers were happy to have an engineer helping them get things up and running again.
But over the years, things changed.  IT got so much more complex – the number of new products and technology continue to grow and everything now integrates with everything else.  Getting things to work together has become extremely challenging and that's if you can get it to work at all.
And then the people have changed.  Customers have become a lot more demanding.  Everything's now a life or death situation (it's not) and it seems like the friendliness has decreased over the years.
In other words, it's not as much fun to me anymore.
Besides that, I moved into management in 2005.  Middle management is unfortunately right up my alley.  Organization is one of my biggest strengths, so after a while, I was able to get the position pretty streamlined.
However, if you haven't been in that position before, know that it's generally one of the crappiest jobs in a company.  And it also wasn't IT anymore – it was managing people.  That's fine, but my technical strengths have slowly started to diminish since I haven't had a need to keep up on that side.
But honestly, I'm glad to be out of touch with a lot of that.  I still enjoy keeping up on the device side of things (like Android phones and such),  but I even bailed and got my first Chromebook to use for my day-to-day tasks.  No more IT problems for this guy!
What I've learned: Some stress is good for you and can help keep you motivated to learn and grow.  However, too much stress isn't good.  I'm glad to be done with management as that's the "too much stress" part of things in my life.
I'm also glad to be done with computers.  I enjoy some tinkering, but I think after doing this for almost 20 years, we should just be at the point where things just work.  So, I'm now going for some more simplicity in life – no need to complicate things that don't need to be.
I'm ready
I would have thought that as we got closer to my last day of work, I'd start to get a little nervous about not having a perfect road ahead of us.
I didn't.
Things can go wrong… and they will, but the key is to just adapt and figure it out.  And the good news is that we're good at that sort of thing.
A great example just took place on 12/31 – my last day of work.  Because the health care system is more complex than it needs to be, we've been jumping through hoops to get Liberty HealthShare some documentation they need from a visit Mrs. R2R had at the doctor's office a couple of years ago.
The problem isn't Liberty at all – the problem is with the hospital.  Skipping all the boring details and the huge amount of cursing the hospital we've shared over the past month, we just found out that we're not going to have coverage starting on January 1.
One idea is to panic, but it's really not that big of a deal.  We took a breath and I talked to the HR manager.  We're going to utilize COBRA if needed for the month of January until everything gets processed with Liberty.  Yes, it will cost more money for the month, but it'll let us sleep a little better at night.  Problem solved.
What I've learned: Just because we're no longer going to be working at regular W2 jobs anymore doesn't mean that all problems disappear.  And does that scare me?  Not in the least.  Life is an adventure and I want to make the most of it.
We're going to be moving to Panama in the summer and there will be @#$% that is going to go wrong.  In fact, there will probably be a ton of @#$% that will go wrong since you don't know what you don't know.
But, I'll take that over just sitting at home and doing the same old every day.  We'll save that boring stuff for when we're old and gray.  Now's the time we want to see what's out there and give it a shot.
New beginnings
You'd think that we'd be excited about this being my last year as an end-of-the-road type of thing.  But it's exactly the opposite.  This is the start of an entirely new adventure and we're super excited about it.
I'm looking forward to being able to put some more time into this site.  Hopefully, in the near future, you should see some changes for the better on my site layout along with an improved logo.
And, I really need to update the format of my mailing list.  It serves its purpose and gets the information out there, but it really looks like crap.  Yeah, I said it.
What?!  You're not on the mailing list?!  Well, you need to be – you're missing out!  Seriously, sign up here.  I won't send you a bunch of useless emails (generally one every Tuesday morning) and your info is kept private.  And soon enough, it's going to look a lot better as well!
What I've learned: Money is a tool and that's it.  If you can change some minor habits and become more conscious in your saving, you can get to the point where you can focus on what's more important… living the life you should be living.
More importantly, if you're not a subscriber to my blog, you should be.  Seriously, do it.  Do it now.  Stop reading this until you click the Submit button on the form.
I hope you all have a wonderful New Year!  Don't let the year decide how it's going to be for you – make your own path and live the best life you can!
Thanks for reading!!
— Jim