---
Disclosure: This post contains affiliate links and we may receive a referral fee (at no extra cost to you) if you sign up or purchase products or services mentioned.
---
We made it! Our trip to Panama went well and we're back at our condo in Boquete safe and sound and enjoying the beautiful weather again.
It was only a couple of months ago that we thought we'd be unable to get back to Panama at all. But in an unexpected turn of events, Panama announced they were going to reopen Tocumen International Airport to tourists starting October 12, 2020.
Although I wasn't confident this would actually happen, we booked a flight anyway.
And guess what – here we are back in Boquete, Panama!
I've seen so many people in the expat Facebook groups wanting to know what a trip to Panama is looking like now that borders are reopening. So I wanted to take you through our experience in making our way here.
The negative COVID test requirement
I'm not going to go into this too much since I wrote an entire post on it last week, but the first requirement to get into Panama right now is to have a negative COVID test. This test has to be taken less than 48 hours prior to your arrival time in Panama That doesn't leave you a lot of breathing room to get your results.
Although they're now offering this on arrival at Tocumen International Airport for $50, there are two big reasons we didn't do this:
What if we arrived in Panama, took the test, and tested positive? Not only does that mean we could have infected others on our trip to Panama, but now we'd be put into quarantine in Panama City… no thanks.
Our airline (United) was requiring us to have a negative COVID test during check-in. I'm sure that this requirement was dictated by Panama but regardless, that meant we had to take the test before our flight out of Cleveland.
So we took our test (the antigen test) about 47 hours before our scheduled arrival at Tocumen and had the results ready to go for our trip to Panama.
Again, please check out my post Getting an Antigen Test to Travel to Panama… Ugh! for the details on getting the COVID test.
The affidavit
Ok, the next part of our trip to Panama involved some documentation that I came across on the official tourism site (Visit Panama) site on the requirements to enter the country. In a nutshell, they instruct you to electronically fill out an affidavit gathering all your info, stating you've taken a COVID test with negative results, and agreeing that you'll comply with all sanitary measures in Panama.
Fine, I'd prefer to do this online instead of scrambling to gather my info later anyway. Plus, the language barrier sometimes comes into play in fun chores like this. Being able to do this before the trip to Panama should make it a little less stressful.
It wasn't.
It was a big old waste of time. I created my account, activated my account via an email link, and then filled out the form. The form took a while to fill out since they need passport info, addresses, phone numbers, etc. If printed, I would bet it would be about 4-6 pages long.
No problem though, I just need to submit it. What the what?! The button was grayed out.
Maybe I made a mistake, so I went through each field again on the form just to make sure I didn't miss anything. Nope, everything was correct. So now what?
I turned off my ad-blocker, refreshed the page, and started all over… nothing different. Then I used a completely different Internet browser and tried again – same stupid problem. Ugh!
Well, maybe that was just my account. So I created an account for Lisa, verifying the correct email address, and then waited for the activation email. Yeah, we're still waiting for that email (and no, it's not in her spam folder).
So here's the deal, I got a little anxious and called United. They said that everything we needed would be provided during check-in and while in flight.
I wasn't confident but what choice did we have. And I'm very computer-savvy – I imagine there would be plenty of folks who aren't very computer literate who wouldn't have even known or attempted this so at least I would have comfort in numbers.
As a side note, I talked briefly on Facebook with a new friend who happened to be traveling to Panama on the same day as us. He was able to get the form successfully submitted. That didn't make me feel much better!
Anyway, we took our chances without it.
The flight on our trip to Panama
Our flight out of Cleveland was at 6:30 am on Wed., October 14. That was early so we stayed the night at the nearby Hilton for free using our points. Travel rewards, folks – fantastic!
I wasn't able to check in on United via the web or mobile app because there were details that needed approval. That would be the verification of our negative COVID test.
So when we got to the airport at a ridiculous 4:12 am, we went to check-in and a counter agent went through the process of verifying our passports and our COVID test. We had no problems with that and everything went smoothly there.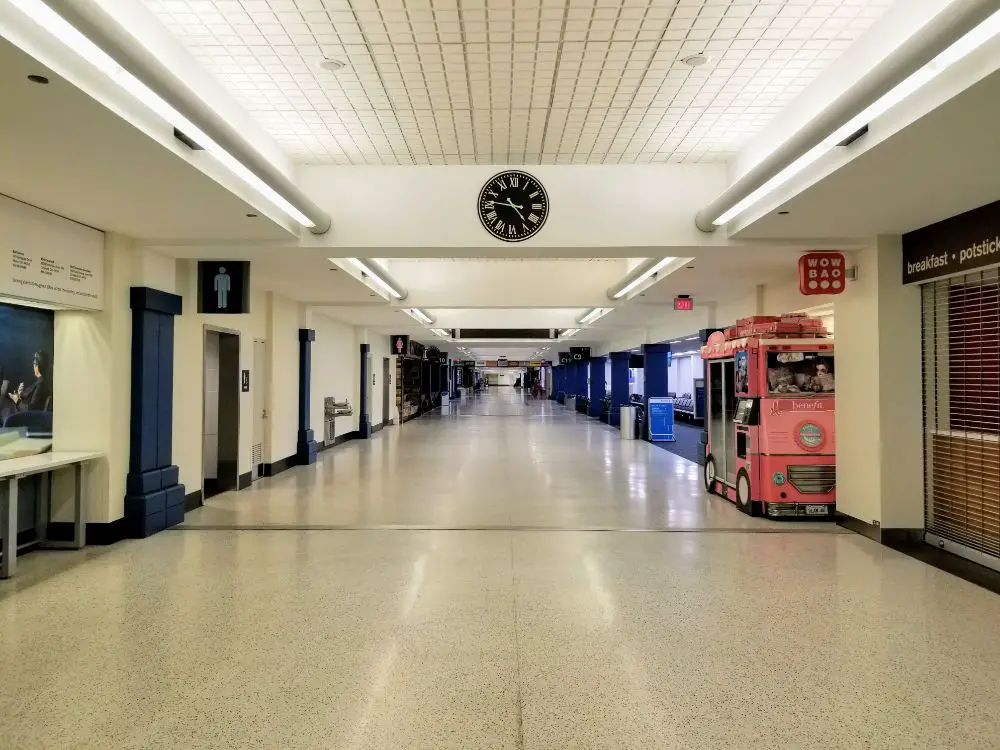 We flew to Houston for our layover, had some lunch, and then jumped on the plane to Tocumen airport in Panama. Nothing was required as we boarded this leg but the United agent working the counter did ensure that everyone had their passports on them.
The flight took off around 10 am and was relatively normal. The exception to normal being that everyone was wearing masks and they handed out already-prepared bags of snacks, bottled water, and a wipe.
Then about an hour before we landed, the flight attended handed out affidavit forms to everyone on the plane. There were two different forms – one for residents and one for tourists.
We don't have residency in Panama so we took the tourist form. Remember how I said the form online probably would have printed out at 4-6 pages? Yeah, well this one was just one page with just a handful of basic questions… and that was it. It took only a few minutes to fill it out. Very strange, but I'll take it.
As a nice bonus, our flight arrived about a half-hour early in Panama! We landed a few minutes before 2:00 pm.
Too easy at Tocumen International Airport
Here was the part I had some hesitation about – seeing how this new system of rules would play out at the airport. There had to be some kinks they still needed to work out since they had just opened up to tourists only two days before this.
I was ridiculously surprised by just how easy everything flowed. First off though, be aware that the airport was not crowded at all. That's to be expected until more folks feel comfortable flying again. Except for the humanitarian flight we took in July, I've never known Tocumen airport to be this uncrowded. So this smooth flow may change over time.
We walked off the plane and headed toward customs/immigration. As we got closer, there was a place now designated for COVID testing. There were less than a dozen people in line so even if we needed a test, that's better than what I expected.
We skipped that since we already had the negative results for our COVID tests. We got into a very short line leading downstairs. There was an employee at the top of the steps checking that we had our passports and COVID test results in-hand.
Then we headed down the steps and were directed to a table of reviewers. One of them reviewed our COVID test results, compared the names to our passports, and collected our affidavits. As a side note, she didn't even look at the affidavit – just stacked it in a pile with a bunch of others.
After that, we headed to customs. There was no line here at all and we walked up, talked with the immigration officer about how long and where we were staying, got fingerprinted, and moved on. That took about five minutes.
The next step was picking up our luggage. We noticed a lot of people standing around filling out something right before the baggage carousels. So I walked over and saw that the form was the customs declaration.
I filled one out (one per family) and we went and picked up our luggage. We took our bags over to the next area where again we didn't have a line. We turned in our customs declaration form to the agent, put our bags on the belt to be x-rayed, and then we headed out.
When all was said and done, we made it to the parking lot by 2:45 pm. In other words, it only took us about 45 minutes from the time we landed to get done with everything – and most of that time was spent waiting to get off the plane… not too shabby!
Ending the trip to Panama with a looooooonng drive
When we booked our trip to Panama, we had a couple of options on how we would get back to Boquete from Panama City…
Take a small puddle-jumper plane back to David
Hire a driver to take us from the airport in Panama City to Boquete
The obvious choice would be to just take the small flight to David since it's a short 1-hour flight versus the expected 8-hour drive.
However, that option comes with a price. First, they were only offering those flights in the morning. That would mean we'd have to stay overnight and then take a flight the next morning. So we'd have the cost of a cab to a hotel, the hotel cost, another cab back to the airport, the flight cost, and then a cab from David to Boquete. Plus, it would turn into a hassle of things to do and become two days of travel instead of one.
Although the drive is long, this made the most sense for us (on this trip at least). It was actually significantly cheaper than it would be to do the whole project I just mentioned. And it would be a long day of travel, but we'd get it done and over with.
So we went with the second option. I had hired a driver once we had booked our flight to Panama – the same one who had driven us to Panama City for our humanitarian flight. Luis Arce is a super nice guy, speaks great English, and goes out of his way to help out with everything he can.
If you need a driver, here's a link to Luis' Facebook page with his contact info. His van seats himself plus 10 passengers so we had plenty of room to space out and relax.
To save on cost, he worked to find someone else to share the ride. However, the other person wasn't due to arrive for a couple of hours after our flight did. So Luis picked us up and took us to grab a late lunch / early dinner (linner?) while we waited.
After eating lunch, we drove back to the airport to pick up the other passenger. We ended up leaving the airport at 5:00 pm to start heading toward Boquete… and then we hit traffic again and again.
It ended up taking us almost 9 hours to get to Boquete! That's a lot of time for movies, studying Spanish, and squeezing in some cat naps. Faith was out cold by the time we got our condo at 1:45 am. With the time change from Cleveland, that's over 22½ hours from the time we got to the airport in Cleveland.
Our trip to Panama was a long day for sure, but we were glad to be back. We brought in our luggage (and carried in Faith), checked on a couple of things real quick, and then went to bed. When I woke up, it took me a minute to even realize where I was!
---
So, except for the long day, I'd say that my concerns for our trip to Panama were pretty much dismissed. Everything went much smoother than anticipated and I would bet it'll just get easier as most airports start offering rapid-result COVID testing over the next few months.
Everything's starting to loosen up here. As of this past weekend, Saturdays are no longer under quarantine leaving only Sundays as full quarantine days. Other than that, there is a regular curfew of 7 pm to 5 am in place. But it sounds like both of those restrictions will be ending soon as well.
Time to enjoy the beautiful weather and life here in Panama again!
Are you considering any international travel anytime soon?
Plan well, take action, and live your best life! Thanks for reading!!
— Jim
If Panama's on your radar as a possible place to retire to, check out Retire in Panama Tours. It's a first-rate way to see different parts of the country, learn about the pros and the cons of living here, meet other ex-pats living here, and gain a lot of the right resources to make the transition easier (immigration attorneys, for example).

Oscar, Rod, and Megan are great people, too. They have the knowledge to guide you through Panama, answer your questions, and ensure that Panama's the right place for you. Check out Retire in Panama Tours for more info!