The term "perpetual tourist" was one I wasn't familiar with until we got serious about the idea of moving to Panama several years ago. Sometimes you might also hear it by the name "perpetual traveler", "permanent tourist", "prior taxpayer", or even just by the letters "PT."
A perpetual tourist is someone who isn't a legal resident of the country they are living in. Be aware that this is completely different than an illegal immigrant. PTs still play by the tourism rules of the country or countries they're in.
To take it a step further, PTs might not have a home base at all. Technically, by not spending more than 183 days in one country, you can legitimately eliminate taxes completely in most countries.
But that's not what this post is about. In this case, we're looking at a PT as someone essentially living as a legal tourist in the country they want. It's almost as if they're a long-term vacationer.
When we moved to Boquete, Panama in 2019, we planned to live here for the first year as tourists and then get residency. I'll tell you why we still haven't gotten residency and the pros and cons of that decision.
Why not just get residency in Panama?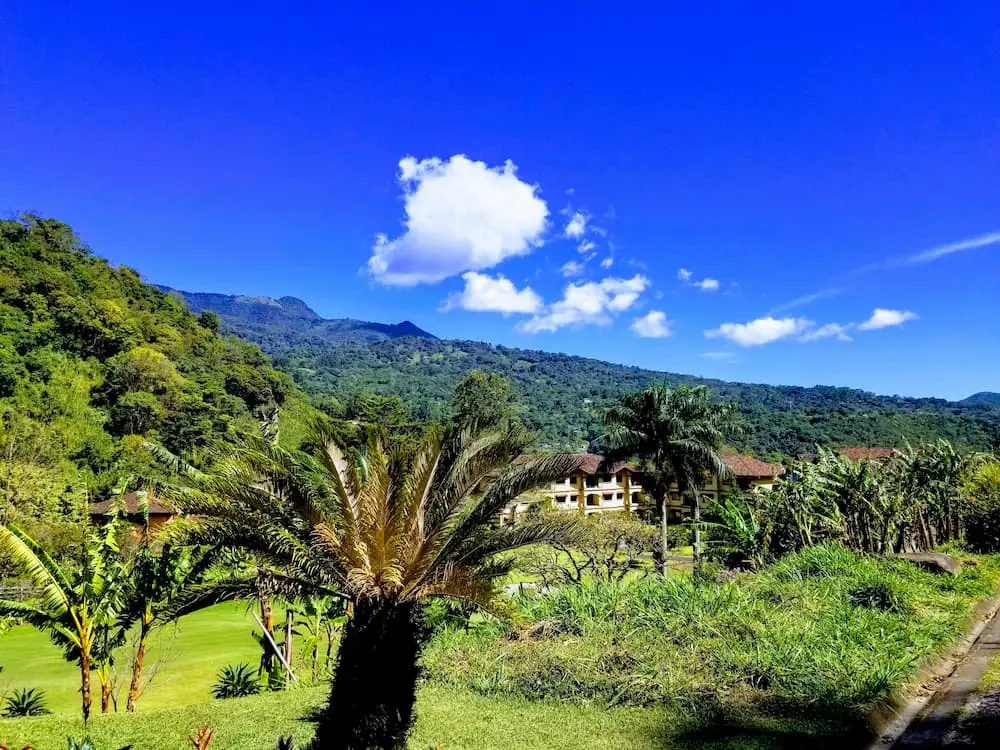 Obtaining residency in Panama isn't too crazy. Saying it's easy wouldn't be the right way to put it because it does take a good amount of time and requires a fair amount of hurdles to jump through.
A better word might be "attainable" in that seeking common Visas here like the Friendly Nations Visa or the Pensionado Visa are relatively straightforward. Panama wants people from other countries to show up and spend their money here.
Depending on the type of Visa, some of the things that might be required to obtain residency include:
Other than that, it's not that big of a deal. It just takes time and is best served by using a lawyer for the process. You definitely want an attorney to do the hand-holding on this process.
Ah, yes… a lawyer. I see the dollar signs fluttering through the air!
And that was our only hangup. The reason we decided we'd stick with the perpetual tourist label for the first year is because of the cost to gain residency. The attorney costs are all over the map, but in general, It would likely run us no more than $7,500 total for the three of us to obtain the Friendly Nations Visa here.
So here's the deal – that kind of money isn't the end of the world. But what if we moved here and decided we didn't like it? Boy, that would be a big waste of money!
The alternative is to live here in Panama as a tourist, which is what we've done here in Boquete for more than a year and a half.
Tourist rules in Panama
Every country is different in how they handle tourists. Luckily for us, Panama is very tourist-friendly.
First off, Panama doesn't require a tourist visa when coming from most countries in the world. That's different than a lot of places and it makes things extremely easy – you just show up for the most part. Here are the requirements for entry:
A passport valid for at least three months past the date of entry.

A return ticket to home country or onward destination.

Money – either $500 in cash or its equivalent, or credit card, bank statement, letter of employment or travelers checks.

Criminal Record Restriction – Panamanian immigration reserves the right to deny entry to any person with a criminal conviction.

Travel.state.gov
And, at least for the time being, you also need to present negative COVID test results taken within a couple of days before your arrival.
Easy enough, right?
After that, you're able to stay in the country of Panama for up to 180 days without penalty. Six months is a generous amount of time!
It used to be that when it came time to leave, you could just do a "border run" or "border hop" to reset the clock. You could head somewhere like Costa Rica for a few days before getting your passport stamped and coming back. But a handful of years ago, a new law was enacted in 2017 requiring tourists to leave for 30 days before re-entry was allowed.
Essentially, you can stay for six months but then you need to leave for a month. You don't even need to go back to your home country if you don't want to – you just need to get out of Panama.
For us, that's been fine. We want to go back to the U.S. to see family and friends – this just gives us an excuse to make it happen. We've also done a few weeks in the States and followed it up with a week-long cruise before going back to Panama.
And because we efficiently use travel rewards, we're usually not paying much, if anything, for the flights to and from Panama. You can read my post Travel Rewards – 12 Free Flights Earned in 9 Months! on how we do that. You can also check out our Recommended Credit Cards page for some of our favorite cards we use to accomplish this.
The pros of being a perpetual tourist
Be aware that being retired gives us some choice in what we decide to do. Not needing to get a job in Panama gives us a lot more flexibility than we'd have otherwise.
Also, know that there are some things you might think you need residency for in Panama but don't. A couple of quick examples that come to mind:
So you can still live a normal life here even as a non-resident. We don't plan to buy property (we like the freedom of renting right now) but it's still good to have that option.
Even so, there's really only one pro I can think of when it comes to being a perpetual tourist…
The savings on the cost and hassle of getting a Visa
As I said before, it ain't cheap to get your Visa here once you factor in all the costs of an attorney. It also takes some time and effort to get everything needed and make it happen.
Assuming a number like $7,500 for our family of three is a lot of money to drop. That's especially true if you don't know if you're going to live in the country for the long haul. That's our case with Panama. There's a pretty good chance we'll be moving back to the U.S. in the fall due mostly in part to ensuring we're doing the best thing for our daughter, Faith.
For many of you though, some of these factors come into play:
If so, it's probably a sound investment to obtain residency and get your Visa in Panama.
The cons of being a perpetual tourist
On the flip side of the coin, being a perpetual tourist has its fair share of disadvantages…
Leaving the country as required
Without a doubt, this is the biggest negative. Regardless of whether you want to stick around for more than 180 days or not at one time, you're not allowed. Technically, the fine issued isn't really big, but as law-abiding folks, we get out as we're told.
As I said, getting the Friendly Nations Visa or Pensionado Visa brings with it some hassle. However, the work in leaving the country every six months is an ongoing bigger pain.
Planning the travel back to the U.S. for us usually involves:
It's a real pain in the @#$. And guess what – one of those dominoes tends to fall apart and makes us redo some or all of the other ones. Oh, and that's just one way – we have to do the reverse for the way back.
And, that's just the planning – then we have to do the travel. Not only do we have to knock out what's on that list, but there are airport shuttles involved, Uber/Lyft, and all sorts of other fun. It's a long couple of days of travel when all is said and done! During these fun times, it also involves a lot of caution plus self-quarantine when we arrive.
The timing can also be bad for whatever reason on when you go back… who wants to go to Ohio in the winter? But timing it right isn't always going to happen. Anything from wanting to be with family during the holidays to family/friends getting sick can throw off when you go back to the U.S.
And you're at the mercy of the clock at that point.
A good example is when COVID hit last year. We waited things out here in Boquete for a long while. But eventually, we jumped ship and took a humanitarian flight back to the U.S. getting us to Ohio in early July.
The problem was that the Panama borders were closed to non-residents so we couldn't get back there. They re-opened the borders on October 12, 2020, and we flew back to Panama two days later.
That's all hunky-dory, but it threw off our schedule. Now to ensure we comply with the tourist rules (and to handle some other things we need to do), we missed the holidays in the States (as did most folks anyway) and we're heading back to Ohio in February. Have you ever been to Ohio in February?! Ugh.
It'll be great to get back there but definitely the wrong time of year. But when you're a perpetual tourist, sometimes you just have to roll with it.
You can't drive after 90 days as a perpetual tourist
I mentioned this earlier but your foreign driver's license is only good for 90 days at a time in Panama. Why wouldn't it be the same as the 180 days you're allowed in the country as a tourist? No idea. But it doesn't matter – it is what it is… them's the rules folks!
If you're planning on driving while living here as a perpetual tourist, you have two choices:
Drive your heart out for 90 days and then let the car sit for the remaining 90 days of your allowed time here.
Leave the country every 90 days for 30 days to reset the clock.
Neither option is ideal by any means.
That isn't as big of a deal for folks like us who don't own a car here but it can still throw a wrench in the works regardless. Our neighbor's been out of the country for a couple of months now and was extra generous in letting us use her car while she's been gone.
We've only used it a few times since we like walking everywhere we can here. However, we planned to pick her up from the airport when she returned. Then her flight got pushed back by a couple of weeks… and it's now past our 90 days where we're legally allowed to drive here. Now we can't pick her up, which is a lousy way to pay her back for letting us use her car.
A perpetual tourist loses out on some rights a legal resident has
Don't worry – a tourist has the same legal rights as a resident here as far as staying out of trouble. It's not anything major that you have to worry about regularly.
But there are certain circumstances where not being a resident can be to your disadvantage. As I mentioned before, a perfect example was leaving the country during COVID. With the borders shut down, only residents were allowed back in. That nearly ended our time in Panama very abruptly.
It's interesting twists like these that can make life more complex.
---
Being a perpetual tourist over the past year and a half has served us well. But know that it doesn't come without hassle when trying to live a normal life. If we knew that we'd be staying here for the long-term, it would be worth the cost to help simplify our lives more.
Plan well, take action, and live your best life!
Have you ever considered staying in a different country or hopping around as a perpetual tourist?
Thanks for reading!!
— Jim