If you've been following along, you know that I hit a rough patch in my mental wellness last year. You might also know that I'm now back on track and working on bringing back the eye of the tiger in life.
Between reading various books on finding your purpose, doing a ridiculous amount of thinking, and spending time mapping things out, I feel more on track now than I have in a long time.
As a lover of spreadsheets, I created a workbook that includes a matrix to help you cull your passions and strengths and determine ideas for your next chapter in life. It also includes a really cool template for building a much-needed bucket list for your life.
This might sound like two completely different themes. However, what I realized is that there can be quite a bit of overlap between the two. Because of that, I've been able to figure out a lot of what I want to be doing with my time now and what I want to do, well… before I die.
Don't think of this as morbid though. I'll tell you why both of these are important and, maybe a little surprisingly, why they can be a lot of fun to do as well. And, of course, you can have a copy of this masterpiece to use, too!
Let's start simple… what's a bucket list?
Simply put, a bucket list is a list of things you want to do before you die. Although the idea of making plans for things you want to do before it's too late has been around for centuries, the term "bucket list" traces back only to the late '90s.
The term was used in 1999 by American and British screenwriter Justin Zackham in his screenplay for the 2007 film The Bucket List. Zackham had created his own list called "Justin's List of Things to Do Before I Kick the Bucket" which he then shortened to "Justin's Bucket List".

— Wiktionary: bucket list
Sure enough, when the movie The Bucket List came out with Jack Nicholson and Morgan Freeman in 2007, the term gained immense popularity. Although the movie is about death and dying, it's got some good humor in it, too – worth watching, if you haven't seen it!
So that's it. It's just setting goals for things that you want to do or accomplish before you die. You can make this as high-level or overly complicated as you want. And what you put on the list can be anything (there are no rules here!)…
Run a marathon
Write a book
Learn how to juggle
Visit every country in the world
Create a charity
Learn to play the piano
Dinner in Paris
Swim with sharks (count me out for that one!)
Get a tattoo
Ride in a hot air balloon
There are millions of ideas and no restrictions so get creative and feel free to stretch your imagination (I have "fly to outer space" on mine!). But I will say that it helps to step away from everything (TV, family, etc.) and really take the time to focus on what you'd love to do in your lifetime.
Maybe you only have a few things that you really want to do or perhaps there are hundreds – I'm not here to judge.
Where it can be fun though is getting your significant other or friends to do this as well. Then you can compare lists, have some great discussions, get even more ideas, and see what overlaps… maybe you and cousin Johnny will end up going to get tattoos together at some point!
And what the heck is a next-chapter matrix?
So, if a bucket list is a list to do before you die, what's a next-chapter matrix?
Ok, I've got no reference for this term because I made it up. Ooh, I might have just coined my first term!!
But here's the idea…
1) List out all your interests – whether it be tinkering with electronics or cars, playing baseball, writing, informally teaching others, playing the piano, learning about personal finance… whatever it is, make a note of it. Even if it's something you don't know how to do or you're not great at it, if you find it interesting, jot it down.
2) Grade each interest – For each of the interests, you jotted down, give a point to each one for areas such as:
This is fun to me
This is work for others
I'm good at this
This excites me
This comes naturally to me
I lose track of time when I'm doing this
This is something I want to try/learn
You can create your own categories – these are just some ideas.
3) Tally them up – Get a total of points for each of the items of interest on your list.
4) Sort the list from most points to least – can't get more self-explanatory than that!
Hmm, this sounds like a great avenue for a spreadsheet, doesn't it? 🙂 Good news, we'll be getting to that shortly!
What you now have is a matrix of some ideas for the next chapter in your life. The interests that top that list might be some great areas for you to shine, too! I was actually a little surprised to find that the top 3 on my preliminary list all revolved around technology:
Excel/Google Sheets
Coding/Programming
Learning about and testing new technology
What you do with this list is up to you. For me, this has been some great inspiration to start learning Kotlin, which is a programming language that can be used to develop Android apps. Will I make a second career out of it? Probably not, but if you do something you enjoy, that's the most important part. And in most cases, money will follow regardless.
I have a couple of Android app ideas that have been floating around in my head for years, so I want to give this a shot. If they end up making a little money as well, great. If not, no big deal since that's not what it's about.
Notice the overlap
The reason that the next-chapter matrix (tell your friends… you heard that phrase here first! 😉 ) and the bucket list go together is that you're bound to find at least some overlap.
I'm sure your bucket-list item to "eat real Mexican food in Mexico" isn't likely to also be on your next-chapter matrix, but what about something like "learn to play the piano" or "invent something useful and bring it to market"? Things like these have the potential to be both a current interest and a dream to fulfill.
Finding some of these unique overlaps can be that spark and epiphany you need in life to pivot toward something new and exciting. And again, if you find an overlap that people will pay you for, too… well, hot damn, that's a bonus!
That's why both the bucket list and next-chapter matrix have been important to me. I was so frustrated and lost after we moved back here, but the more I took time to map these things out, the clearer things are becoming.
Why is this spreadsheet so special, Jim?
Yeah… spreadsheet talk! That's right, it's time to get to the fun!!
When I stepped back and was trying to figure things out in my life for a little bit, I started building a spreadsheet. It started with the Next-Chapter Ideas Matrix which we've been talking about and then extended into the Bucket List.
So bear in mind that I created these for myself initially and only later decided that others like you might find it worthwhile as well. Once that happened, I started to tweak several things to make it a little more helpful for all of us (plus it was fun to do!).
Spreadsheet #1 – Next-Chapter Ideas Matrix
Let's start with the Next-Chapter Ideas Matrix. This sheet's not as fancy as the Bucket List but it gets the job done so that's the important part…
As you can see, it's pretty straightforward – you just list your interests in no particular order in the aptly-named "Interest" column (I'm a genius like that!). With the columns to the right, you can rename the headers or add new ones to make it appropriate for determining what's important in your next chapter in life. It's all about finding purpose and direction for yourself…

Then, you just go through the matrix and mark the corresponding cells when an interest meets your criteria for the header. I went with "x" on mine but you can use whatever you want – the points are tallied by counting non-blank cells so the world is your oyster, my friend!
As you're making your marks, you'll see that the "score" is being updated in the far left column. You'll also see that the ones with the highest marks will be highlighted in green…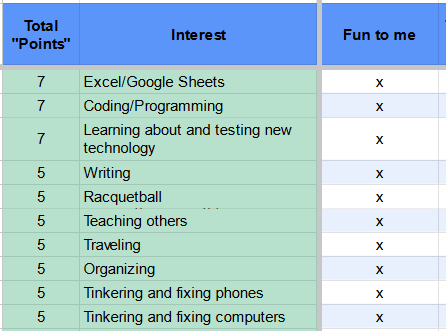 When I initially made this for myself, I then just sorted the data by point value with the highest at the top. However, I know that not everyone knows how to do that, so I added a button (everybody loves a button!) with some code to make that happen for you. When you're done with your matrix, just click on the "Click to Sort by 'Points' Button" and it'll do the sort for you…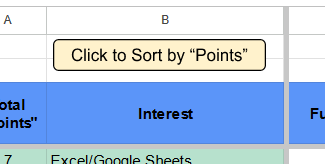 If you add more data or change some of your marks, you can just click the button to run the sort again. Easy peasy!
Spreadsheet #2 – Bucket List
While I think the Next-Chapter Ideas Matrix is a huge asset in helping you find the direction you need to go, the Bucket List spreadsheet definitely has more pizazz to it!
I wanted to make it colorful and enjoyable to use because it's supposed to be fun! Then, I decided to share this with you so I needed to tweak it to make it flexible and easy to use.
Here are some other screenshots of this awesome bucket list blueprint (you can click on any photo to open it in a new tab)…

I think it's pretty self-explanatory, but I'll give a quick walk-through and tell you some of the cool things that I did to it.
When you're creating a new item, start with the "Bucket List Item" column. Once you fill that out and hit Enter or Tab, it will automatically do a few things:
Add an unchecked checkbox to the "Completed" column for that item (due to some sorting code, I couldn't easily have it there beforehand)
Set the priority to "N/A" for that item to start with
Sort the item into the list by priority
Put the active cell back on the item you just added (most of the time!)
That's right, no fancy "Sort" button on this sheet! Doing it automatically on the Next-Chapter Ideas Matrix wouldn't have made sense and might have been problematic. But on the Bucket List, it flows a lot better with it. Highlighting the cell you were working on after the sort was a little tricky but it seems to be working fairly well!
After that, it's time to pick a category. Don't like the categories I have in there? Feel free to change them on the last worksheet in the spreadsheet called "Bucket List Categories"… yeah, I'm like a creative naming master!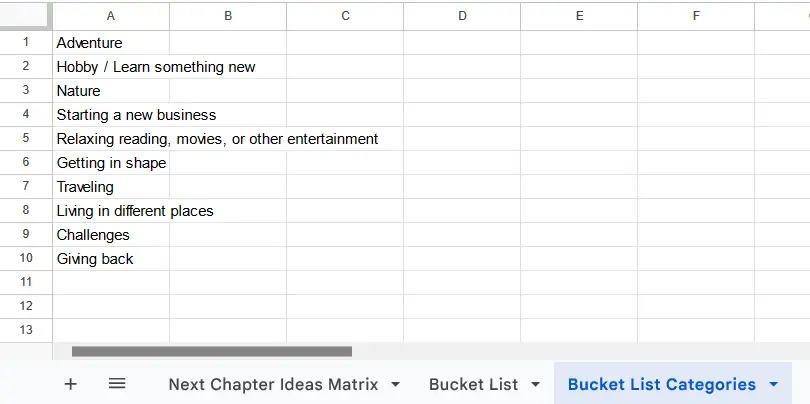 As far as the colors go on the actual dropdown boxes though, you might be on your own. That's listed in the data validation rules for the dropdown boxes and I couldn't find an easy, flexible way to allow you to do that yourself… call me lazy if you want!
The other fields are pretty straightforward, too:
Description (if you want to add more information than you had put in the item name)
Location (where's it going to take place?)
People (are others involved in this bucket list item?)
Notes (anything else that you don't want to forget)
Planned Date (if you know when it's going to happen)
Date Started (was there a date this already started?)
Date Completed (um, when it was completed, of course!)
All of those are optional fields so don't feel like you need to fill them out if you don't want to. You'll notice on mine I don't have a lot of them filled out because that's not important to me but if it is to you, go for it!
I will tell you that the "Planned Date" and "Date Started" fields add a little flair to the list though. When an item has a "Planned Date" entered, the row will be highlighted with a beige-ish color. It'll also add it to the "Scheduled" count up top:

"Date Started" works similarly in that the row will be highlighted in a light purple color and it'll add it to the "In Process" count at the top.

You might assume that the "Date Completed" does something fancy, but not so much. The reason why is that you might not know when it was completed, especially if you decide to add some cool things that you've already done in life for historical purposes to show off your kick-ass life!
But… that's where the "Completed?" checkbox comes into play in the first column. Check it to mark an item as complete and -boom- the row is highlighted in green and automatically moved to the bottom of the list. It also tallies it in the "Done" count at the top of the sheet. Uncheck it and it'll move it back up for you.
I'm by no means an expert in coding with Google Apps Script, but it was so much fun learning how to do it. That said, you might see a second or two of delay here and there while the scripts are doing their auto-sorting.
I like it and the small delay doesn't bother me, but I'm here for you, my friend. If you don't like the auto-sorting of the checked items or the items by priority you can turn them off with the dropdowns I added…
And THAT, my dear reader, is how we build an awesome and flexible bucket list! Not to mention, of course, the life-changing Next-Chapter Ideas Matrix!
Here's a copy for you for the huge cost of… FREE!
Now, I know that you already have your wallet out and will pay any price that I set for this treasure. Heck, you'd probably think it would go for $2,500, but put your wallet away, friend! For you, I'm making this bit of awesomeness 100% free! You heard me right – how can this possibly be??
Look, when I come up with stuff that works for me, why not share it with you? This Next-Chapter Ideas Matrix and Bucket List spreadsheet has helped me tremendously in pivoting and getting back on track. Hopefully, you'll find them useful as well.
Plus, what's more fun than making a bucket list of all the cool things you've been dreaming about in life?!
Here's the deal – if you're currently a subscriber, you already got a link to this in your email this morning. See, it pays to be on the Route to Retire team!
What's that? You're not already a subscriber? Tsk, tsk, what a shame! Here's some good news though… sign up here and I'll send you a welcome email with this spreadsheet as well as a bunch of other freebies that others love like the:
No-brainer, right? Give it a whirl and you can unsubscribe anytime you like (though I'm always sad to see someone go!)…
What about you, Jim?
Ah, so glad you asked! The screenshots throughout this post are from my actual Next-Chapter Ideas Matrix and Bucket List (that's why a few of the more personal items are blurred out). Each of these sheets is far from complete for me. I'm actually just getting started. You might be surprised by how hard it is to dig deep into these things.
So I do want to take more time to really explore what I truly want to get out of life and these sheets will absolutely morph as I do.
In the meantime, I've started an online course in coding with Kotlin so I can create a couple of my own Android apps eventually… which of course I'll tell you about when they become a reality! If they make a little money, bonus, but it's really the interest driving me to learn it.
And I just spent a lot of time (maybe too much time!) working on various scripting in this bucket list/ideas matrix spreadsheet for you. I'm not guaranteeing it's perfect, but it seems to run well and it was a lot of fun to do.
Finally, there's the bucket list side of things. It's a dream list, of course, but the goal is to make most, if not all of these, a reality. The key though isn't just to check them off the list though, but rather to be in the moment and savor each one for what it is. Here are several of the top ones from my list that I'm super excited about…
Live on a cruise ship for 6 months or more
Slow travel in Mexico and Central America
Do another backpacking trip
Slow travel across the U.S.
Skydive
Learn Kotlin for Android
Take up a martial art
Fly up to outer space (yeah, I said it!)
Learn to code in Python
Live in Mexico
Live in a cabin in the woods
Hike part of the Appalachian Trail
Take an advanced Excel (or Google Sheets) class
A few of these bucket list items are also found near the top of my Next-Chapter Ideas Matrix:
Learn Kotlin for Android
Learn to code in Python
Take an advanced Excel (or Google Sheets) class
That's a sign that I'm on the right track!
The first step to making your dreams a reality is to determine what they actually are. From there, start doing what you might need to in order to make it a reality. Hmm, that sounds a lot like the closing line I've been including at the bottom of each and every post for years now…
Plan well, take action, and live your best life!
Thanks for reading!!
— Jim