---
Disclosure: This post contains affiliate links and we may receive a referral fee (at no extra cost to you) if you sign up or purchase products or services mentioned.
---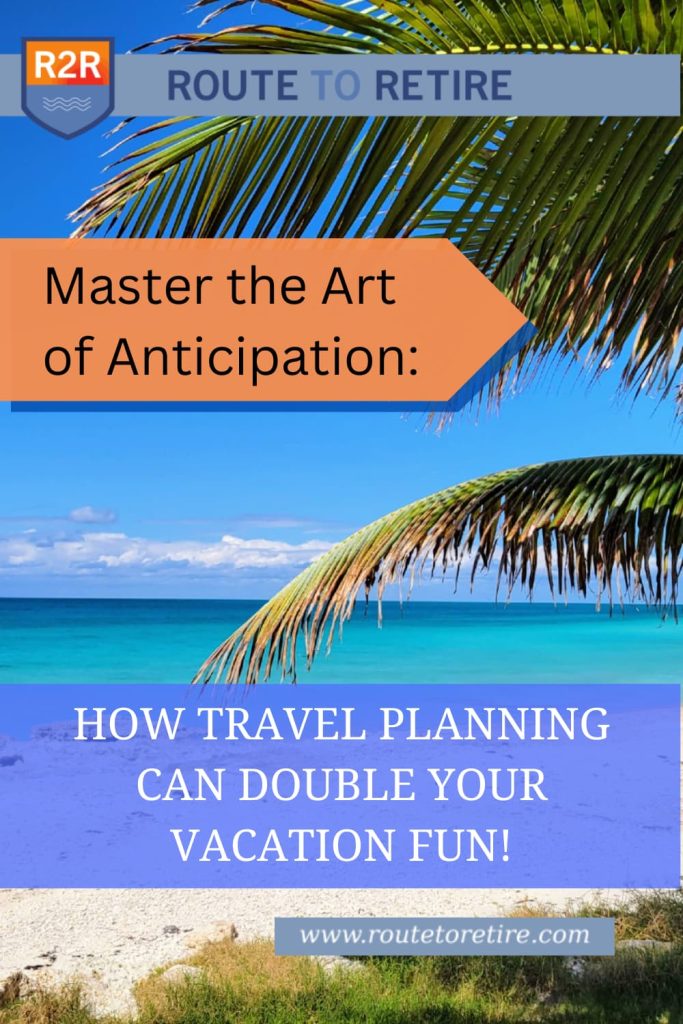 It's hard not to enjoy a good vacation… a chance to get away from the "same old" just for a little while. Traveling can be an opportunity to visit places you've never been, see new sites, meet interesting people, and maybe even try some different foods!
Whether traveling just a short distance away, flying to another country, or cruising around the world, just the idea of travel gets the vacation-goer chomping at the bit.
And that's what's so interesting – the travel planning itself really is a giant part of that excitement. Not only are you building an itinerary for a thrilling vacation, but you now have the anticipation building up until the trip itself.
We've decided we'll likely be taking four trips this year:
A week-long trip to Pawleys Island, South Carolina
A week-long cruise (I'm working on getting this one for next to nothing!)
Possibly a week-long trip to visit my brother and sister-in-law near Austin, Texas
So let's have some fun today and talk about some of the trip tools and ideas that we like to use to make trips like these successful.
Some cool travel planning tools
We love to travel and have made that a priority in our lives. Over the years, we've learned a lot about what works best for our travel planning. I'll share some of my favorite resources that we use, but if you've got some of your own, please share them in the comments!
General travel planning resources
Kayak is a name I'll bring up a few times in this post. Not only is it a great resource for planning your trip, but it's got a couple of other tricks up its sleeve as well.
Kayak Explore – If you're looking to save good money, it can make a lot more sense to let the cost drive the destination. Instead of picking a place and then trying to find good airfare prices, why not look at the prices of places around the world first and then choose the destination based on that?
Kayak Explore lets you do exactly that. You put in where you're going to be flying out of and see what kind of cool destinations are out there. There are a bunch of filters to help narrow things down too like the number of stops, duration, and even the type of trip (i.e. beach trip or skiing).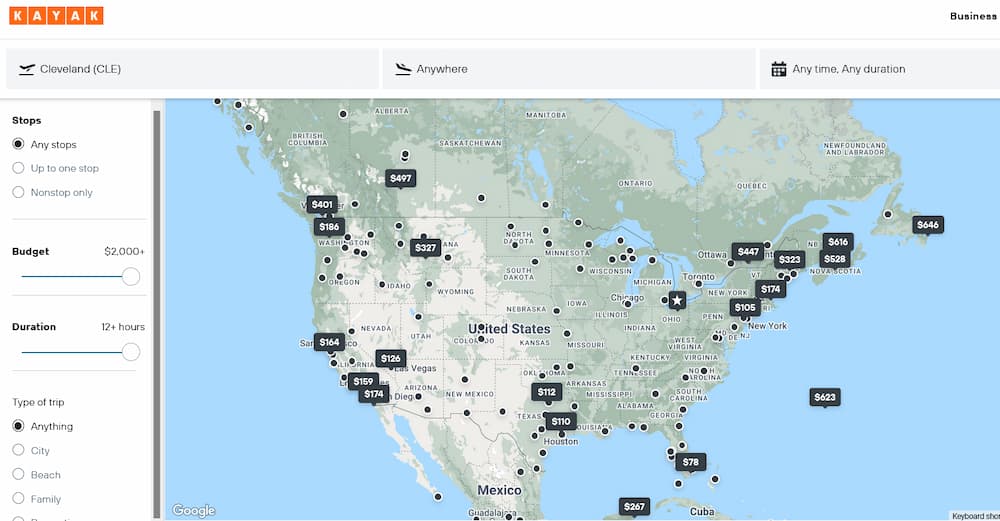 This can make for some creative vacations!
Kayak Trips – My favorite feature of Kayak and maybe even travel planning, in general, is Kayak Trips. It's free and allows you to see your entire itinerary in one place and you can easily share it with others as well. When you get an email confirmation for a flight, lodging, rental car, cruise, or whatever, you just forward it to Kayak and it automatically creates and adds it to the trip culling all the important information into a nice chronological itinerary. It even adds the email as an attachment in case you need to refer to it later.
You can access Kayak Trips on their website, but the app is where it's at. It caches your trips locally so you can keep an eye on your plans even when you're out of service – like on a plane. A lot of times, I'll open the app while we're flying just to see approximately how much time is left on the flight.
The notifications are fantastic as well. A few times, I've been notified of flight changes well before the airline's official app notified me. In one case, I headed to the desk at our gate after a notification about a flight delay and there was no one in line. I asked the agent about the delay and she didn't even know there was a change. She punched it up on the computer and was surprised to see it. Impressive, right?
Kayak's not the only player out there (TripIt and TripCase are a couple of other examples), but I've come to appreciate how well Kayak works and the price of "free" never hurts either!
You can use whatever tool you want for travel planning here, but I love the simplicity of creating notes in Google Keep for our trips. Depending on the trip, I usually end up with at least a few notes or checklists in Keep:
• To Do – I'll create a list of any sites we want to visit wherever we're going, restaurants we want to check out, and people we want to see (if it's a place we know anyone).
• Packing – It's easy to forget things and a packing checklist is a great way around that! If I ever go on a similar trip later, I'll just make a quick copy of the checklist and modify it as needed.
• To Do Before We Go – These are usually some reminders to charge things like my Kindle Paperwhite, cell phone power bank, my earbuds, or my razor. And then there are those little last-minute things to do like setting the thermostat, taking the garbage out, and putting the mail on hold.
It's quick and easy, the notes sync between my computer and phone, they can be shared with my wife and daughter if I want, and it works offline. Simple and effective.
If you want to build something bigger in this aspect, you might also want to check out Trello. You can create one big board for a trip with all sorts of lists then inside that board. That worked fantastic for our gigantic move to Panama in 2019, but I tend to find it overkill for just some general travel planning.
Travel planning tools for booking hotels and other lodgings
Everyone's got their favorite sites for hotel searches but here's what I've generally found as the best…
I tend to start with Kayak for my initial travel planning search. It does a nice job of giving you an idea of what's out there and the price ranges. It includes hotels, rentals, and unique stays so you can see a little bit of everything. There are also many filters, which can be extremely helpful in narrowing things down.
But after that, it depends on what you're after. Airbnb loves to fee you to death. If you're booking a short stay, you're probably going to be better off price-wise looking at a hotel for your travel planning. For a week or more, Airbnb or Vrbo might be a better option.
So if we're leaning toward a hotel, I'll then look at my two go-to sites/apps:
• Priceline – Regardless of how many different travel sites I look at for domestic travel, Priceline seems to beat the other hotel prices the far majority of the time. And if we don't need a specific hotel (maybe we're stopping at a place for a night), I always look at their Express Deals, too. We've saved some good money doing that and have gotten some steals on nice hotels as well!
• Booking.com – While Priceline usually gives the best pricing on hotels here in the U.S., I find that the best deals on international hotels usually show up on Booking.com instead. In fact, I just booked three stays on Booking last week for our trip to Panama this summer where we'll be bouncing around while there.
Also, sometimes you get better deals on a site's mobile app than you do on the desktop website. So, before you book, make sure to log in to their app and double-check the pricing.
And if you're really hoping to come out ahead, take a minute or two to call the hotel directly (the local hotel and not the chain phone number) to ask for a better price. A good strategy is to book a cancelable room at Priceline, Booking.com, Kayak, or wherever, and then contact the hotel. Let them know what you paid and ask if they can do better. If they can't no harm, no foul.
But hotels don't like these aggregate sites as much because they don't make as much money through them. So they might offer you a better price or even an upgrade. And if they do, that's even better because you have the opportunity to earn the hotel's loyalty points – something you don't get through third-party sites.
Rakuten – Here's a final tip that's a real bonus. Rakuten is an easy way to get free money for nothing (you might remember them as Ebates years ago). This small browser/extension works affiliate relationships out with companies and then shares a piece of that pie with you. Essentially, you shop like you normally would and then click on their icon to activate it if you want to buy something…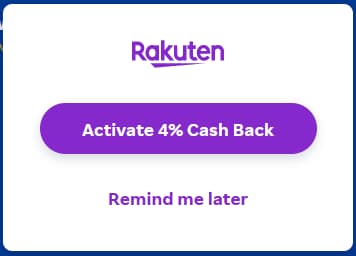 You then just continue making your purchase and when they get paid, so do you. This one's a no-brainer and is one of the first extensions I add to my browser.
I've made pretty good easy money using this over the years – and it's real money, not a gift card. Since it's usually a percentage of the price you pay, the bigger the purchase, the bigger the bonus. And since traveling can get expensive, you've got some good opportunities to make a little more money back.
As of now, Priceline and Booking.com are both partners so that's an easy opportunity during your travel planning. But there are thousands of sites that it works with so it's great to have when doing any of your online shopping – not just for travel. Get Rakuten here.
Travel planning tools for booking flights
Booking flights is always an interesting experience. The same flight can cost hundreds of dollars difference just during various times of the day. The old strategies you might remember of things like booking on Tuesday evenings aren't relevant anymore… thanks a lot dynamic pricing!
Here's my usual strategy when booking flights during travel planning when trying to save some money. First off, let's put these two things out there:
1) It's ridiculously cheaper to travel when you have flexibility. Traveling during the off-season, when kids are in school, or even just during the week can be tremendously less expensive than doing otherwise. That's a huge benefit of our early retirement and of homeschooling our daughter. Flexibility is key.
I know we don't all have that benefit, but it's still important to make sure we're all understanding that point regardless.
2) A benefit that most of us can take advantage of though is credit card travel rewards. Let's be honest, travel subsidized by your credit card's financial institution makes for a happier day than travel paid for out of your own pocket. Here are a bunch of posts I've written about how to reap the travel rewards from credit cards:
Ok, outside of those important points, let's look at the travel planning tools to use when booking flights. I generally will look at four sites/apps when booking flights:
Kayak (yup, again)
Southwest
Google Flights
Hopper
Kayak – Kayak does a nice job of giving you a clear picture of what's out there. I like that you can do a "+-" of up to 3 days on a flight to show you a matrix of prices departing and arriving up to three days before and after your set dates. For instance, maybe it's worth the cost of a hotel for an extra night to save $100 per person on flights just because of the price difference in flying out a day later.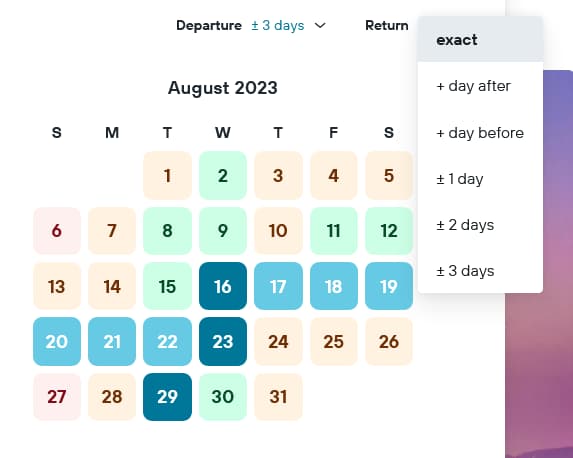 Kayak's filters in their searches are great for zoning in on what you're after, too.
Southwest – The one thing Kayak doesn't have (or any flight search engine for that matter) is access to Southwest's flights. Southwest doesn't allow that so you need to go to their website directly to look up flights. Southwest is no longer the cheapest airline out there by any means, but they're still my favorite to fly (I know that's something you might not feel similarly about but that's why competition is good to have!). We also usually have a lot of frequent flier miles as well as the Southwest Companion Pass so that doesn't hurt either.
Google Flights – If you haven't used Google Flights before, you'll want that in your arsenal of travel planning tools. There's a lot of flexibility in this tool that you can't find elsewhere. A super cool feature is that you can be broader on where you specify that you're flying to so you can see what your options are going to be. Instead of saying that you want to fly to Cancún for instance, you can simply choose Mexico to see what else is out there…
Or get more specific and choose the state of Quintana Roo if you know you want to be in that area…
Another nice facet about Google Flights is that you can view a matrix of what the best flight prices are going to be when you're selecting your dates (sometimes you need to be patient while it loads)…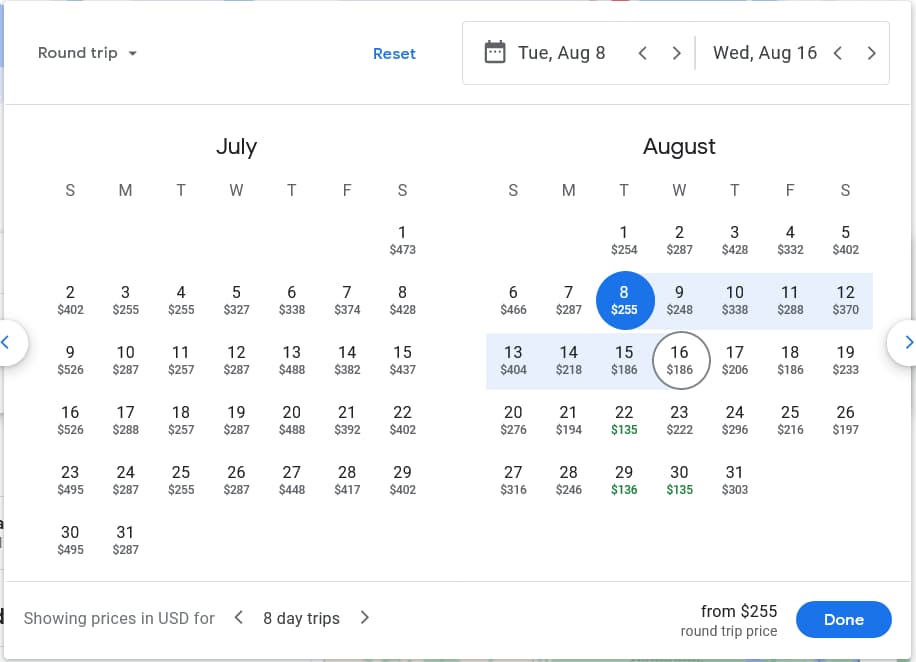 A huge benefit of Google Flights is that they let you track flight prices as well and can alert you when there's a solid price change. This works well and is definitely worth setting up to keep an eye on flight prices.
Hopper – Hopper is unique in that it'll tell you when you should book. As they put it…
"Backed by 63 trillion price points, our machine learning algorithms are able to predict future prices with 95% accuracy."
I was a bit hesitant to rely on this because I'm one of those people who like to just get it done and off the list. And waiting? That's nerve-wracking to me – what if the price goes up?!
But I decided to put my trust in Hopper and I used it to tell me when to book our trip to Panama this summer. It worked like a champ and when I got an alert to book one day, I made it happen immediately and got a great price. Mind you, I used our Capital One Rewards to pay for it, but our miles stretched a lot further because of it.
I've still been monitoring our flight through an alert on Google Flights just to keep an eye on it anyway and the price still hasn't been beaten. Thank you, Hopper!
Travel planning tools for booking all-inclusive resorts
I've gotta admit, we haven't done many all-inclusive resorts over the years. I can think of three that I've been to total… unless you count cruises in that to which we've been on a lot!
However, we learned a couple of things when we booked an all-inclusive resort in Cancún for last spring. Here are a couple of worthwhile sites for travel planning all-inclusive resorts…
Groupon – I don't spend a lot of time on Groupon… but I probably should. There truly are some good deals on there and travel is a big opportunity for rewards there as well. Lisa found a deal on Groupon and that's how we initially booked our Cancún resort for last year at a nice bargain.
Costco Travel – But then I remembered Costco. The more I learn about Costco, the more I appreciate the company. I found the same resort for less money through Costco Travel with some other perks like transportation to and from the Cancún airport and a Costco gift card. At the time, we didn't even have a membership anymore (we were living in Panama). But when we came back to the U.S. for a visit, it was worth becoming members again due to the savings we got on this resort.
Here's where it gets interesting though. While at the resort, we got pushed to a special private line for check-in. Later we noticed that our wristbands were a different color than most everyone else's there. I talked to our concierge there and she said that visitors who book through Costco are considered more valuable and should get a little more attention.
The reason? Apparently, Costco is a behemoth in the travel industry and places like these resorts want to do their best to please these customers so they don't lose their massive amount of business.
Who woulda thunk it?!
Travel planning tools for booking cruises
We don't have much in our toolbelt for cruise travel planning, unfortunately.
Costco Travel is a great place to start because of the discounts and perks they offer as well as the filtering capabilities. Expedia is pretty decent as well to see what's out there (though I feel you'll find better deals through Costco Travel most of the time).
However, Costco Travel doesn't include MSC Cruises, which has been the cruise line we've taken on our last three cruises. And although we've booked some cruises through some third-party sites in the long past (like Sterling Cruises, which is now Cruise Rewards), we've generally gotten the best deals booking directly with the cruise line.
That said, this is another area where effective travel planning points to flexibility. When we want to go on a cruise, we sort by least expensive (while still ensuring a 7 or 8-day cruise with a balcony) and go whenever. Usually, this means going in the fall when the kids are back in school. And it pays off with a good deal – it ain't too painful that there's not usually a million kids on board either! 😉
I'm very close to booking a nearly-free cruise here soon through a different method. If I can successfully pull that off, I'll dedicate an entire post on how to make that happen.
Less can be more
As I said before, travel planning is half of the fun of a vacation. The excitement of deciding where to go and what to see can be a great experience in itself. And then the anticipation and countdown until the actual travel is amazing, too.
So why not take more vacations?
That was something that Scott Keyes, the founder of Scott's Cheap Flights (now Going), talked about in his book, Take More Vacations: How to Search Better, Book Cheaper, and Travel the World.
His suggestion was to take more of the smaller trips instead of fewer bigger trips. Rather than taking one big vacation you take every year, for example, you take two smaller trips. If you took maybe a 3-night trip somewhere and a 4-night trip somewhere else later in the year, you now have TWO trips to look forward to instead of just one!
I thought about that quite a bit after I read it and I really like that idea. Imagine always having at least one trip on the schedule to look forward to at any given time. That's enough to make any travel-lover giddy!
---
The key to good travel planning is realizing that knowledge is power. The more you know about what your options are and the tools you have at your fingertips, the better results you're likely to get.
I'm sure there are a ton of great resources that I've left out – we all have our favorites. Do you have any travel planning tools or tips to share?
Plan well, take action, and live your best life!
Thanks for reading!!
— Jim